VOTE: Player of the Week – Week 9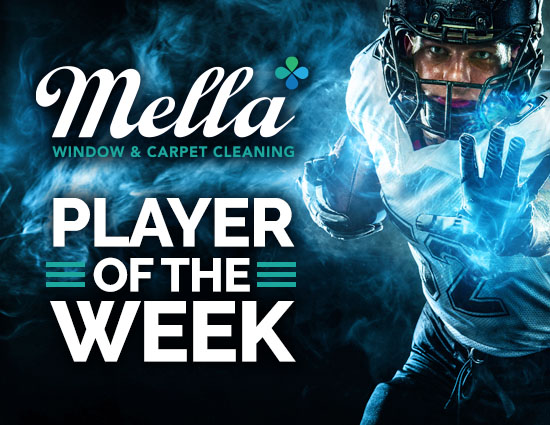 TriStateFootball.com is proud to present the Mella Window & Carpet Cleaning Player of the Week for the 2020 regular season. Players will be nominated from the Cincinnati, Northern Kentucky and Eastern Indiana areas throughout the season.
Each week a group of nominees will be selected from a large list of some of the area's top performances and will be included in an online voting poll to determine a winner. The poll will launch weekly on Sundays. Voters can vote once per hour, per IP address (we track it on back end so cheating will result in votes being voided) through Wednesday at 12:00 PM Eastern weekly.
Once a player has won, they were ineligible to be nominated a second time. Players can only be nominated three times during the course of the season.
All of the season winners will be recognized and receive a plaque at the TriStateFootball.com Year in Review Show in February of 2021 (more details announced once season concludes).
+++
Take advantage of this internet special at Mella Window & Carpet Cleaning:

SAVE $30 ON CARPET CLEANING – COMPLETE DETAILS
+++
Here are this week's nominations…
Joey Faulkner, Anderson, Jr, WR – Caught 19 balls for 175 yards and a touchdown as the Redskins knocked off previously unbeaten Piqua, 29-22.
Brayden Fraasman, Ross, Jr, – Ran the ball nine times for 109 yards and three touchdowns in the Rams 48-12 win at New Richmond.
Cam Hergott, Beechwood, Sr, QB – Tallied 251 yards of total offense (151 pass, 100 rush) and accounted for four touchdowns (three pass, one rush) as the Tigers roared past Newport, 56-7.
Malaki Herndon, Newport Central Catholic, Sr, QB – Went 6-11 for 165 yards and accounted for four scores (three pass, one rush) as the Thoroughbreds raced past Bellevue, 42-7.
CJ Hester, Wyoming, So, RB – Ran for 188 yards and three touchdowns as the Cowboys corralled Graham, 34-14.
Devin Holt, Oak Hills, Sr, QB – Ran for 202 yards on 14 carries and threw two touchdown passes as the Highlanders got past Harrison, 35-9.
Matthew Howard, Lakota West, Sr, K – Knocked down three field goals including ones from 51 and 40-yards in the Firebirds 23-7 victory over Colerain.
Charles Kellom, St. Xavier, Jr, RB – Found the end zone four times two rush, two rec) and had 115 yards from scrimmage (78 rush, 37 rec) as the Bombers flew past Elder, 56-28.
Jeremiah Lee, Cooper, Sr, ATH – Had three towns rushing, one passing and one defensive score as the Jaguars beat Highlands for the first time since 2015.
Jaydan Mayes, Fairfield, Sr, RB – Ran for 276 yards, had 395 all-purpose yards and found the end zone twice on the ground in the Indians 46-22 rout of Dunbar.
Lucas Moore, Badin, So, ATH – Returned a kickoff 98-yards for a touchdown, had 120 all-purpose yards on three touches and went 4-6 for another 37 yards passing as the Rams rocked Tippecanoe, 35-14.
Ethan Spaulding, Lloyd, Jr, RB – Ran for 195 yards and two touchdowns as the Juggernauts beat Holy Cross, 21-14.
*Nominate players weekly by emailing us at staff@tristatefootball.com by 9AM Sunday mornings.