Cincinnati Round-Up: Bombers fight on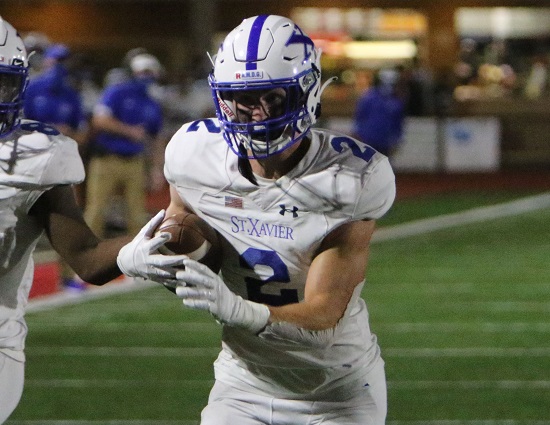 The first Friday night of November brought the highest stakes of the season to date in the Buckeye State and a pair of Cincinnati teams took one more step towards becoming state champions.
ST. XAVIER 12, SPRINGFIELD 10
The Bombers got one step closer to grabbing another Ohio DI state title as they advanced over the Wildcats in a slugfest.
St. Xavier has been one the area's highest-scoring offenses most of the season, but on this night it was their defense that made the difference.
The Bombers uncharacteristically turned the ball over five times, but still found a way to win. Liam Clifford, who pulled in the game-winning TD last week vs. Elder came up large again in this one finishing with nine catches for 124 yards and the team's only TD.
With the win, St. Xavier advances to take on Pickerington Central next week in the Ohio Division I state championship game in Columbus.
LA SALLE 35, WINTON WOODS 10
For the 26th time in their last 27 postseason contests the Lancers came away victorious. Their latest win came Friday as they pulled past the Warriors to claim the Ohio Division II, Region 8 title. It marked their fifth regional championship in the last seven years.
Zach Branam rushed for 212 yards and four touchdowns on 27 carries and added another TD through the air to go along with 107 yards on 9-of-13 passing to lead the La Salle.
Winton Woods was held to just 200 yards of total offense and lost the time of possession battle as the Lancers had the ball for nearly 17 minutes more in the contest.
Up next, La Salle will play in the Ohio DII state semifinals next on November 13.
ALTER 35, ROSS 21
The historic playoff run by Ross came to an end Friday night in the Ohio Division III, Region 12 Championship game as they fell to Atler.
Brande McDonald led all rushers with 168 yards and a touchdown on 22 carries for the Knights, who outgained the Rams on the ground by 315 to 217 margin. Quarterback Brian Shane added a passing TD and rushing score of his own in the win.
Ross got another big effort from C.J. Boze, who finished with 22 carries for 151 yards and three touchdowns. He finished his senior season with 1,217 yards and 17 touchdowns on 156 attempts.
Here's a look at Saturday's Cincinnati playoff action:
Division IV, Region 16
Wyoming at Clinton Massie – 7PM
Division V, Region 20
Springfield Shawnee at Roger Bacon – 7PM
Check out complete scores on The Underground Sports Shop Scoreboard.
*Stay updated on high school football updates by following @TSFootball on Twitter.