2020 TSF Leaders: Rushing Yards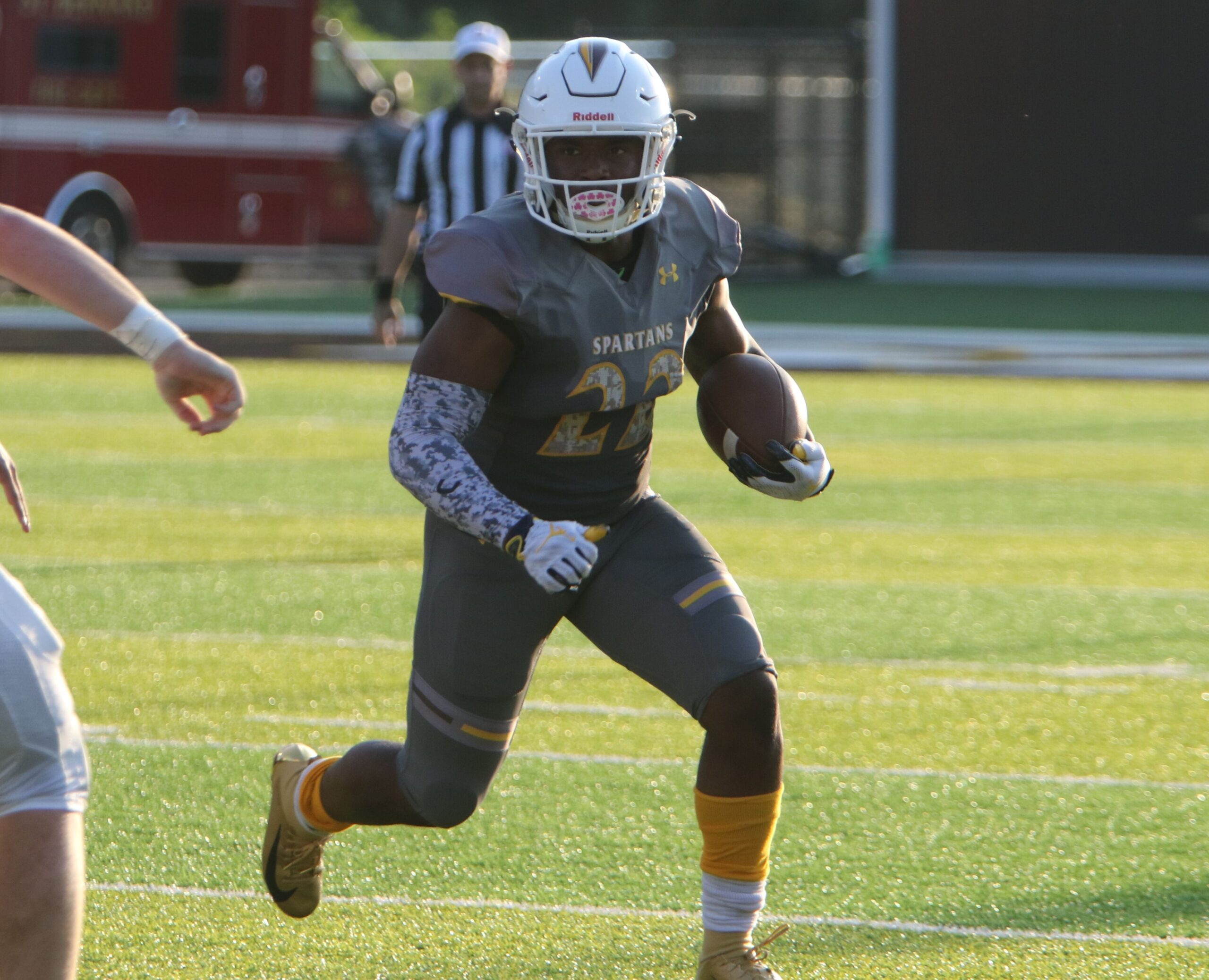 Roger Bacon RB Corey Kiner (photo by Dan Bieneke/TriStateFootball.com)
For a second straight season Corey Kiner tops our list for most rushing yards. The LSU commit was named Ohio Mr. Football for his work. Eight times in 11 games, Kiner ran for more than 100 yards including a career best 363 versus
Norwood.
There were 25 players that ran for more than 1,000 yards. Cole Wallace (202.3) was the only player to average more than 200 yards per game on the ground. He did it, in a season shortened to seven games. Braxton Newborn (182.7), Branden McDonald (171.5), Kiner (169.6) and Jackson Gifford (151.6) were the only other runners that averaged more than 150 yards per contest.
Seven of the top 17 rushers were quarterbacks – Zach Branam, CJ Boze, Quantez Calloway, Jeremiah Lee, Charlie Noon, Garrett Yoon and Cam Hergott. Branam, Yoon and Hergott also threw for more than 1,400 yards.
Here is a look at the 33 players from the 150-plus schools that TSF covers, who ran for 900 yards or more in 2020.
1,866…Corey Kiner, Sr, Roger Bacon
1,827…Braxton Newborn, Jr, Ludlow
1,715…Branden McDonald, Sr, Alter
1,536…Zach Branam, Sr, La Salle
1,516…Jackson Gifford, Sr, Ross
1,498…Carson Vanhoose, Jr, Clinton-Massie
1,416…Cole Wallace, Sr, Rowan County
1,279…Kyle Guenther, Sr, Carroll County
1,217…CJ Boze, Sr, Ross
1,121…CJ Hester, So, Wyoming
1,115…Keyshawn Stephens, Sr, Hamilton
1,103…Blake Neumaier, Jr, Milton-Union
1,095…Quantez Calloway, Sr, Holmes
1,093…Jeremiah Lee, Sr, Cooper
1,089…Charlie Noon, So, Highlands
1,083…Garrett Yoon, Jr, Lawrenceburg
1,078…Cam Hergott, Sr, Beechwood
1,062…Ramon Browder, So, Xenia
1,053…Austin Pohlman Sr, Batesville
1,043…Jaydan Mayes, Sr, Fairfield
1,033…Ty Stylski, Sr, Kings
1,027…Keith Farr, Sr, Lebanon
1,008…Hunter Warner, Sr, Fairborn
1,008…Adam Burd, Sr, Lawrenceburg
1,004…Cade Chisman, Sr, Western Brown
983……Tyrek Spikes, Jr, Winton Woods
950……Talon Borders, Jr, Carlisle
949……Deondre Bothast-Revalee, Jr, Talawanda
924……Charlie Sumerel, Sr, Indian Hill
915……Talon Fisher, Fr, Fairfield
909……Logan Gibson, Jr, Madison Senior
907……Joey Runyon, Sr, Newport Central Catholic
906……Jayden Lawson, So, Simon Kenton
2020 TSF Leaders, GWOC, MVL, SWBL, CGL Co-eds, GCL South, GMC, ECC, SWOC, SBAAC, CHL, MVC, CMAC, Class 1A
District 4, Class 2A District 5, Class 2A District 6, Class 4A District 7, Class 5A District 5, Class 6A District 6, EIAC