2020 TSF Leaders: Rushing Touchdowns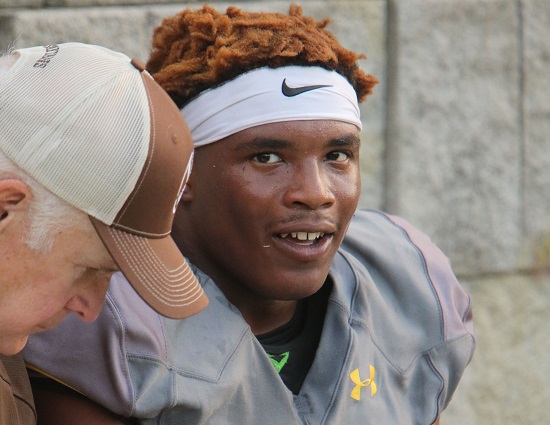 Roger Bacon RB Corey Kiner (photo by Dan Bieneke/TriStateFootball.com)
You guessed it, for a second straight season Corey Kiner tops our list for most rushing touchdowns. The LSU commit and Ohio Mr. Football honoree had at least two rushing touchdowns in 10 (all wins) of the Spartans 11 games. Of his 35 rushing touchdowns, 28 of them came before halftime including 18 first quarter scores. He found the end zone once every 4.9 carries. Kiner tied his career high with seven touchdowns versus Norwood.
Only five players found the end zone 20 or more times on the ground. All were in the top six in rushing yards as well. Branam was a touchdown short of making a perfect six for six in the two categories.
Six of the top 16 players were quarterbacks – Branam, CJ Boze, Jackson Kuhn, Toby Brogan,
Caleb Jacob and Cam Hergott. Kuhn (24) and Hergott (26) also threw for more than 20 touchdowns.
Here is a look at the 30 players from the 150-plus schools that TSF covers, who ran for 12 or more touchdowns.
35……..Corey Kiner, Sr, Roger Bacon
30……..Carson Vanhoose, Jr, Clinton-Massie
26……..Braxton Newborn, Jr, Ludlow
23……..Jackson Gifford, Sr, Ross
21……..Branden McDonald, Sr, Alter
19……..Zach Branam, Sr, La Salle
19……..Kyle Guenther, Sr, Carroll County
18……..Jackson Kuhn, Sr, Anderson
17……..CJ Hester, So, Wyoming
17……..CJ Boze, Sr, Ross
17……..Cade Chisman, Sr, Western Brown
16……..Cole Wallace, Sr, Rowan County
16……..Ty Stylski, Sr, Kings
15……..Caleb Jacob, Sr, Covington Catholic
15……..Toby Brogan, Sr, Greensburg
15……..Cam Hergott, Sr, Beechwood
14……..Charlie Sumerel, Sr, Indian Hill
14……..Trevor Schadler, Sr, Bishop Brossart
14……..Garrett Yoon, Jr, Lawrenceburg
14……..Drew Ramsey, Sr, Elder
14……..MJ Flowers, Jr, Colerain
13……..Joey Runyon, Sr, Newport Central Catholic
13……..Keyshawn Stephens, Sr, Hamilton
13……..Talon Borders, Jr, Carlisle
13……..Tyrek Spikes, Jr, Winton Woods
13……..Carter Frank, Jr, Clinton-Massie
12……..Jack Webster, Sr, Goshen
12……..Keith Farr, Sr, Lebanon
12…….. Blake Neumaier, Jr, Milton-Union
12……..Tyron Darby, Jr, West Carrollton
11……..Ca'ron Coleman, Sr, Piqua
11……..Adam Kelly, Sr, Franklin County
10……..Pierce Rohlman, Jr, Dixie Heights
10……..Jacob Gaines, Jr, Walton-Verona
10……..Charles Kellom, Jr, St. Xavier
10………Logan Pierce, Jr, Lawrenceburg
10……..Charlie Noon, So, Highlands
10……..Tayquan Calloway, Sr, Holmes
10……..Alex Krikorian, Sr, Mariemont
10……..Austin Pohlman Sr, Batesville
10……..Mike Molloy, Jr, New Richmond
10……..Luke Lytle, Sr, New Richmond
10……..Trey Robinette, Sr, New Miami
10……..Brennon Moore, Sr, Brookville