2020 TSF Leaders: Receptions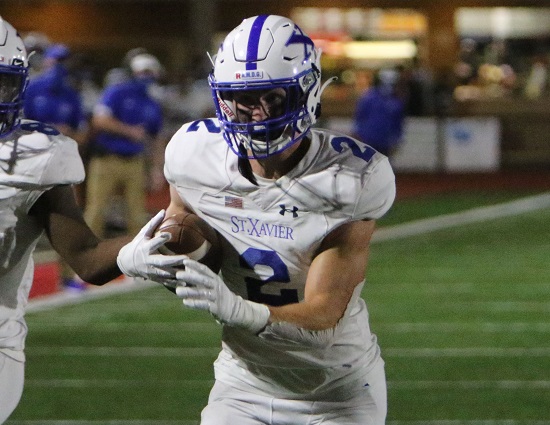 St, Xavier WR Liam Clifford (photo by Dan Bieneke/TriStateFootball.com)
They were flinging the ball around at St. Xavier this past fall. Bombers senior Liam Clifford had an area high 72 receptions. His classmate Jalen Patterson had the third most catches.
Clifford, a Penn State commit, had at five receptions or more in nine of the 12 games that he played for the state champions. His efforts earned him OPSWA Division I Offensive Player of the Year honors. It was the second straight year that Clifford had caught 70-plus balls. He finished his Bombers career with 166 receptions and at least one catch in 24 straight contests (five-plus in 19 of those affairs).
Anderson had three players with 50 receptions or more – Joey Faulkner, Andrew Williams and Evan Upchurch. Half of the leader board is compromised of players from four schools – Anderson, St. Xavier, Batavia and Norwood.
Here is a look at the 18 players from the 150-plus schools that TSF covers, who had 48 receptions or more.
72……..Liam Clifford, Sr, St. Xavier
65……..Joey Faulkner, Jr, Anderson
63……..Jalen Patterson, Sr, St. Xavier
60……..Markus Allen, Sr, Northmont
59……..Dahya Patel, Jr, Lawrenceburg
59……..Devin Holbert, Jr, Dixie Heights
58……..Gauge Dunn, Jr, Bethel-Tate
58……..Kevin English, Sr, Norwood
56……..Logan Campbell, Jr, Western Brown
55……..Kellen Epps, Jr, Batavia
55……..Drew Ramsey, Sr, Elder
54……..Andrew Williams, Sr, Anderson
52……..Jaden Wood, Sr, St. Bernard
52……..Max Applegate, Jr, Batavia
51……..Cam Herring, Sr, Harrison
50……..Evan Upchurch, Jr, Anderson
49……..Dylan Carter, So, Norwood
48……..Sam Severt, Sr, Carroll