2020 TSF Leaders: Receiving Yards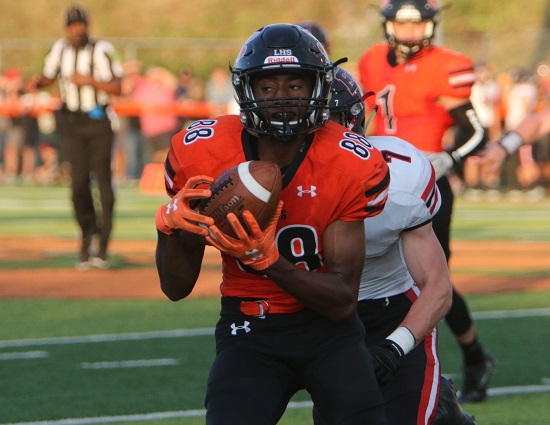 Lawrenceburg WR Dahya Patel (photo by Dan Bieneke/TriStateFootball.com)
He may be on of the area's best kept secrets. Lawrenceburg receiver, Dahya Patel, has quietly become a major offensive force for the Tigers. He led all local players in receiving yards this past season. The breakout junior campaign saw Patel being named to the IFCA Junior All-Indiana team.
Norwood (Kevin English, Dylan Carter), Anderson (Joey Faulkner, Evan Upchurch) and St. Xavier (Liam Clifford, Jalen Patterson) each placed a pair of receivers on the leader board. Clifford was the only player with at least 60 receptions and more than 1,000 receiving yards.
Here is a look at the 20 players from the 150-plus schools that TSF covers, who had at least 700 yards receiving.
1,118…Dahya Patel, Jr, Lawrenceburg
1,099…Kevon Grant, Sr, Northwest
1,090…Liam Clifford, Sr, St. Xavier
923……Devin Holbert, Jr, Dixie Heights
899……Logan Campbell, Jr, Western Brown
884……Markus Allen, Sr, Northmont
864……Jalen Patterson, Sr, St. Xavier
862……Reis Stocksdale, Sr, Little Miami
862……Joey Faulkner, Jr, Anderson
825……Anthony Brown, So, Springfield
825……Kevin English, Sr, Norwood
823……Scott Nieman, Sr, Elder
821……Evan Upchurch, Jr, Anderson
820……Gauge Dunn, Jr, Bethel-Tate
762……Drew Ramsey, Sr, Elder
740……Jake Vance, Sr, Rushville
734……Nic Pucci, Sr, Harrison
719……Cam Smith, Jr, Centerville
719……Ethan Reardon, Sr, Covington Catholic
701……Dylan Carter, So, Norwood