2020 TSF Leaders: Receiving Touchdowns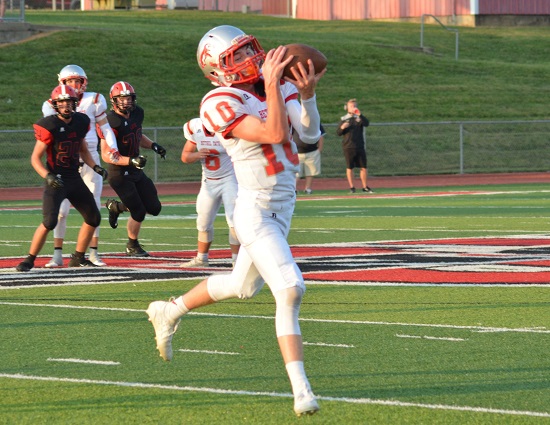 Bethel-Tate WR Gauge Dunn (photo courtesy of Bethel-Tate athletics)
There were 11 local players that had 10 or more touchdown receptions last season. Leading the way were Gauge Dunn and Kevon Grant. Lawrenceburg had two players with 10 or more touchdown catches – Dahya Patel and Aiden Gilmour.
Grant was explosive, averaging 29.7 yards on 39 receptions with the 15 trips to the end zone. His work earned him OPSWA Division III Second Team All-Ohio accolades.
Dunn garnered OPSWA Division IV Second Team All-Ohio honors for his effort. With one year left, Dunn is on pace to end his career in the Top 20 all-time in receptions and receiving touchdowns in the state of Ohio. He currently has 179 receptions and 33 receiving touchdowns in a Bethel-Tate uniform.
Liam Clifford was the only player to be in the top three in the receptions, receiving yards and receiving touchdowns categories last fall.
Here is a look at the 26 players from the 150-plus schools that TSF covers, who had at eight touchdown receptions or more.
15……..Gauge Dunn, Jr, Bethel-Tate
15……..Kevon Grant, Sr, Northwest
14……..Markus Allen, Sr, Northmont
14……..Kevin English, St, Norwood
12……..Liam Clifford, Sr, St. Xavier
11……..Jayden Bradshaw, Jr, Fayetteville-Perry
11……..Reis Stocksdale, Sr, Little Miami
11……..Dahya Patel, Jr, Lawrenceburg
11……..Aiden Gilmour, Jr, Lawrenceburg
11……..Cam Smith, Jr, Centerville
10……..Gary Powell, Sr, Western Brown
9……….Trey Ferguson, Jr, Walton-Verona
9……….Anthony Brown, So, Springfield
9……….Jalen Patterson, Sr, St. Xavier
9……….Derrick Crutchfield, Sr, CCPA
9……….Luke Scaggs, Sr, Batavia
8……….Devin Holbert, Jr, Dixie Heights
8……….Trey Little, Sr, Simon Kenton
8……….Garrett Jostworth, Sr, CHCA
8……….Logan Campbell, Jr, Western Brown
8……….Cam Patterson, Sr, Scott
8……….Luke Hammond, Sr, Indian Hill
8……….Dylan Carter, So, Norwood
8……….Rod Moore, Sr, Northmont
8……….Drew Ramsey, Jr, Elder
8……….Troy Coulter, Sr, Valley View