2020 TSF Leaders: Interceptions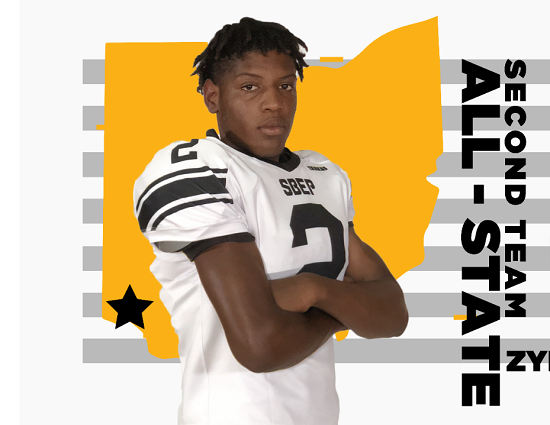 St. Bernard-Elmwood Pace QB/DB Zykeem Hunley (photo courtesy of SB-EP athletics)
Both sides of the river were well represented as two players, Zykeem Hunley and Kel Hawkins tied for the area high with eight interceptions. Hundley and Hawkins have reason to be proud of their accomplishments. Each player had three games with two picks.
Hunley managed to do his damage in a conference (MVC Gray) that had two OPSWA Division VII Second Team All-Ohio quarterbacks. Hawkins had a pair of games versus Ryle with two interceptions. He also had three other picks against two quarterbacks that won state champions.
Of the 14 seniors on the leader board, six had 10 interceptions or more in their careers – Hunley (15), Branson Smith(15), Brendon McClendon (15), Tayquan Calloway (13), Brien Hill (12) and Billy Knott (11). Delian Bradley (11) head into his senior year having already eclipsed that mark. Hunley and Jaden Wood were the only teammates on the leader board.
Here is a look at the 21 players from the 150-plus schools that TSF covers, who had at five interceptions or more.
8……….Zykeem Hunley, Sr, St. Bernard-Elmwood Place
8……….Kel Hawkins, Jr, Dixie Heights
7……….Dwight Lewis, Sr, Fairborn
7……….Branson Smith, Sr, East Clinton
6……….Caleb Lamb, Sr, Waynesville
6……….Delian Bradley, Jr, Springfield
6……….Gabe Dubois, Sr, St. Xavier
6……….Gavin Garlitz, Jr, Tippecanoe
6……….Gavin Severt, Sr, Xenia
6……….Brogan O'Brien, Jr, Ludlow
6……….Brien Hill, Sr, Rowan County
5……….Konnor Maloney, Sr, Madison Senior
5……….Casey Bell, Sr, Madeira
5……….Billy Knott, Sr, Anderson
5……….Tayquan Colloway, Sr, Holmes
5……….Brendon McClendon, Sr, Holy Cross
5……….Bo Snider, Jr, New Richmond
5……….Jayden Bradshaw, Jr, Fayetteville-Perry
5……….Mark Burns, Sr, Purcell Marian
5……….Alex Wood, Sr, Roger Bacon
5……….Jaden Wood, Sr, St. Bernard-Elmwood Place