2020 TSF Leaders: Sacks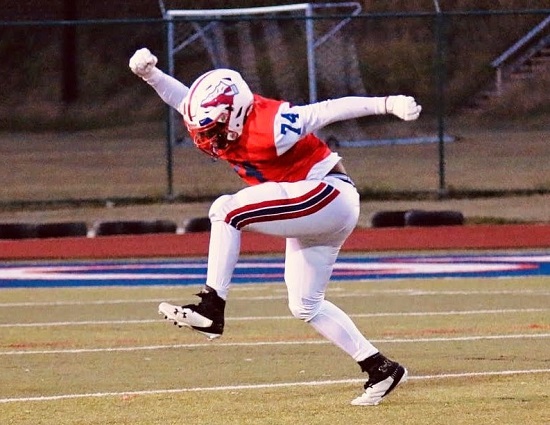 Norwood DL Quinterrius Jemison (photo courtesy of Norwood Athletics)
Talk about exploding onto the scene. Norwood defensive linemen Quinterrius Jemison did just
that in 2020. Jemison had an area high 20.0 sacks. He is the only sophomore on the leader
board. There will be many uncomfortable quarterbacks in the Miami Valley Conference over
the next two years with this Indian on the hunt.
Jemison had three games with at least three sacks including a career high five-and-a-half
against Summit Country Day. He was named OPSWA Division IV Second Team All-Southwest
District for his efforts.
We asked Norwood head coach Brian Pitzer to confirm the eye-popping numbers by Jemison.
Pitzer replied, "we went back and double checked, I was very impressed!"
Eight players reached double figures with at least 10.0 sacks. The MVC Scarlet and SBAAC
National each had three players in the top eight. The MVC Scarlet had three of the top four
sack leaders.
Four teams had a pair of players combine for at least 20.0 sacks: Summit Country Day – Brady
Griffiths(19.0) and Nick Pauly (7.5); Clermont Northeastern – JJ Stricker (13.0) and Logan Pottorf
(9.0); Purcell Marian – Kylin Macklin (12.0) and Jeremiah Jackson (9.0); Piqua – Jerrell Lewis
(11.5) and Landon Hare (9.0).
Here is a look at the 35 players from the 150-plus schools that TSF covers, who had six-and-a-
half sacks or more.
20.0…..Quinterrius Jemison, So, Norwood
19.0…..Brady Griffiths, Jr, Summit Country Day
13.0…..JJ Stricker, Sr, Clermont Northeastern
12.0…..Kylin Macklin, Jr, Purcell Marian
11.5…..Jerrell Lewis, Sr, Piqua
10.0…..Brandon Smith, Sr, Fairfield
10.0…..Drew Hendrix, Sr, Fayetteville-Perry
10.0…..Patrick Salvatore, Sr, Bethel-Tate
9.0…….Max Spelder, Sr, Madeira
9.0…….Evan Cox, Sr, Madison Senior
9.0…….Landon Hare, Jr, Piqua
9.0…….Jeremiah Jackson, Sr, Purcell Marian
9.0…….Logan Pottorf, Sr, Clermont Northeastern
9.0…….Owen Mattes, Sr, Bethel-Tate
9.0…….Phillip Davis, Jr, East Clinton
8.5…….Alex Westerfeld, Jr, Greensburg
8.5…….Kevin Thompson, Sr, Tippecanoe
8.0…….Dontay Corleone, Sr, Colerain
8.0…….Wilson Pendleton, Sr, Ryle
8.0…….Jaden Wood, Sr, St. Bernard-Elmwood Place
8.0…….Greyson Peters, Sr, Gamble Montessori
7.5…….Tyshaun Thomas, Sr, Withrow
7.5…….Nick Pauly, Sr, Summit Country Day
7.5…….Zack Gaither, Sr, Xenia
7.5…….Dawson Catlett, Sr, Walton-Verona
7.5…….Joe Vormbrock, Jr, Simon Kenton
7.0…….Byron May, Jr, Rowan County
7.0…….Trevor Lockard, Sr, Brookville
7.0…….Brandon Zimmerman, Sr, East Clinton
7.0…….Seth Green, Sr, Mariemont
7.0…….Jack Mileham, Jr, Mariemont
6.5…….Ben Dickhaus, Sr, Covington Catholic
6.5…….Aden Miller, Jr, Lakota West
6.5…….Alex Greene, Sr, Troy
6.5…….Harry Hilvert, Jr, Taylor