2020 TSF Leaders: Kicking Points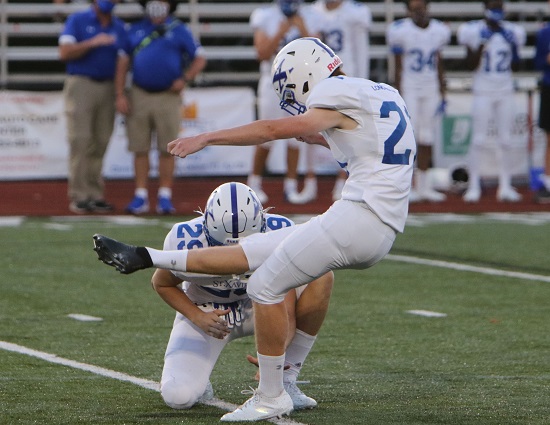 St. Xavier K Mason Rohmiller (photo by Dan Bieneke/TriStateFootball.com)
Mr. Automatic should be the nickname for St. Xavier kicker, Mason Rohmiller. last fall,
Rohmiller led the area with 85 kicking points for the state champion Bombers. Seven of his 11
field goals were from 32 yards or longer including three of 40-plus yards.
Rohmiller averaged 7.1 points per game. Ten times in 12 contests he had at least six points with highs of 12 and 11 points. Rohmiller closed out 59 of 61 offensive drives with points including connecting on all 52 of his extra points and 11-13 field goals.
Two of the top scoring kickers were from the GCL South – Mason Luensman and Rohmiller.
Luensman and Cade Phillips are the only sophomores on the leader board. Four players
finished their careers with more that 150 points – Trey Gronotte (321), Colin Graman (208), Jack
Ruffalo (157) and Trevor McGinness (155). Gronotte finished his career with 264 extra points
made, second most in Kentucky history.
Here is a look at the 27 kickers from the 150-plus schools that TSF covers, who had 41 points or
more.
85……..Mason Rohmiller, Jr, St. Xavier (52/52 XPs, 11/13 FGs)
79……..Trevor McGinness, Sr, Clinton-Massie (67/70 XPs, 4/4 FGs)
75……..Colin Graman, Sr, Beechwood (54/57 XPs, 7/9 FGs)
66……..Mason Luensman, So, La Salle (45/46 XPs, 7/7 FGs)
66……..Dylan Rolfert, Jr, Roger Bacon (52/63 XPs, 3/5 FGs)
57……..Brandon Vadnais, Sr, Ross (54/57 XPs, 1/2 FGs)
56……..Jack Hanley, Sr, Madeira (38/39 XPs, 6/8 FGs)
54……..Trey Gronotte, Sr, Covington Catholic (42/44 XPs, 4/8 FGs)
54……..Joey Hibbard, Sr, Lawrenceburg (51/56 XPs, 1/1 FGs)
49……..Sophie Browndyke, Jr, East Central (40/48 XPs, 3/4 FGs)
49……..Jack Ruffalo, Sr, Alter (43/49 XPs, 2/3 FGs)
49……..Sam Lavin, Sr, Newport Central Catholic (37/41 XPs, 4/5 FGs)
49……..Taylor Jordan, Sr, Bellbrook, (44/47 XPs, 1/1 FGs)
49……..Cole Yost, Jr, Springfield (39/45 XPs, 3/6 FGs)
47……..Hayden Brooke, Jr, Anderson (41/41 XPs, 2/2 FGs)
46……..Andrew Mueller, Sr, Elder (37/37 XPs, 3/4 FGs)
46……..Justin Doan, Sr, Wayne (31/33 XPs, 5/5 FGs)
46……..Evan Grimes, Jr, Western Brown (40/45 XPs, 2/2 FGs)
44……..Luke Foulke, Jr, Indian Hill (38/41 XPs, 2/2 FGs)
43……..Spencer Gonzalez, Sr, Wyoming (43/47, 0/0 FGs)
42……..Nick Maddy, Sr, Fairfield (27/27 XPs, 5/7 FGs)
42……..Grant Swope, Jr, Harrison (27/28 XPs, 5/6 FGs)
42……..Caden Phillips, So, Valley View (36/38 XPs, 2/4 FGs)
42……..Ben Bausback, Sr, Greensburg (33/37 XPs, 3/7 FGs)
41……..Owen Hadden, Sr, Tippecanoe (26/27 XPs, 5/8 FGs)
41……..Matt Howard, Sr, Lakota West (26/29 XPs, 5/8 FGs)
41……..Franklin Rogers, Sr, Ryle (23/27 XPs, 6/10 FGs)