Where they're headed: Division I-AA, FCS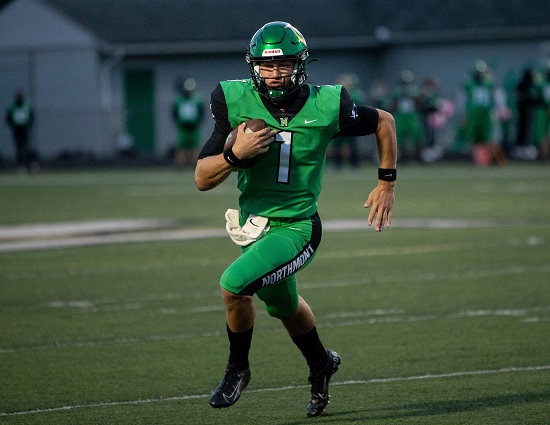 Northmont QB Cade Rice (photo by Shelby Frieszell/TriStateFootball.com)
There is so much value, in the local signee's at this level. The production from these players (most of whom were three and four-year starters) was incredibly impressive in high school. These are some high ceiling kids.
Dayton nabbed the MVL and ECC Offensive Players of the Year in Ca'Ron Coleman and Ty Stylski. Flyers fans, if you like star running back Jake Chisolm (Ryle) you are going to love Stylski just as much. Stylski is about as close to a Chisolm clone as you could get. Logan Miller is cut from the same mold as current UD All-American Brandon Easterling (Fairborn). He has the tools to ascend to Easterling's heights.
Three Patriot League schools, Lafayette, Fordham and Bucknell each inked two players. Lafayette corralled state champion teammates Gabe Dubois and Jalen Patterson from St. Xavier. Patterson set a state championship game record with four first half touchdown receptions. He was a yard short of making it five on his only other catch in the contest.
Heading furthest west to South Dakota State is quarterback Cade Rice. He threw for 7,538 yards with 88 touchdown passes, had another 2,298 yards rushing and 27 scores on the ground in his career. We wouldn't be surprised if Rice is in the talk for the Walter Payton Trophy as the best offensive player in Division I-AA, four years from now.
Here is a look at the area's FCS (Division I-AA) signees:
PIONEER FOOTBALL LEAGUE (PFL)
Butler: Noah Hughes, Moeller, P, 6-3/190; Aidan Shaw, Moeller, DL, 6-3/270; Deuce Shaw II, Moeller, LB, 6-0/205
Dayton: Ca'Ron Coleman, Piqua, RB/LB, 5-9/18; Johnny Mickler, Milford, DL, 6-4/260; Logan Miller, Bishop Fenwick, LB, 5-10/180; Ty Stylski, Kings, RB, 5-10/190
Marist: Xander Kendall, Colerain, LB, 6-1/220
Valparaiso: Mikey Appel, Springboro, QB, 6-3/205; Caleb Rao, Lakota West, WR/DB; 5-11/175
MISSOURI VALLEY CONFERENCE (MVC)
South Dakota State: Cade Rice, Northmont, QB, 6-3/215
Southern Illinois: Ethan Tyla, Fairfield, OL, 6-4/275
Youngstown State: Daryan Bowling, Hamilton, WR, 6-4/170; Jackson Wassler, St. Xavier, OL, 6-7/270
SOUTHERN CONFERENCE (SOCON)
Wofford: Quincy Hughes, Princeton, OL/DL, 6-4/285
PATRIOT LEAGUE
Bucknell: Fredrick Sturgis, Moeller, OL, 6-3/275; Aneesh Vyas, Lakota West, DL, 6-2/270
Fordham: Jerrell Lewis, Piqua, DE, 6-2/243; Hank Perry, Walnut Hills, OL, 6-5/275
Lafayette: Gabe Dubois, St. Xavier, DB, 5-10/170; Jalen Patterson, St. Xavier, WR, 6-1/190

IVY LEAGUE (IVY)
Princeton: Lance Reaves-Hicks, Piqua, DT, 6-0/291
SOUTHWEST ATHLETIC CONFERENCE (SWAC)
Arkansas-Pine Bluff: Kevin English, Norwood, WR, 6-2/170
Grambling State: Roderick Green, Springfield, OL, 6-4/293
NORTHEAST CONFERENCE (NEC)
Robert Morris: William Barber, Lakota West, DB, 5-11/180; Ryan Iiams, Springboro, OL, 6-3/275
COMMITMENT TRACKER: Class of 2021