Senior Salute: Taylor Jordan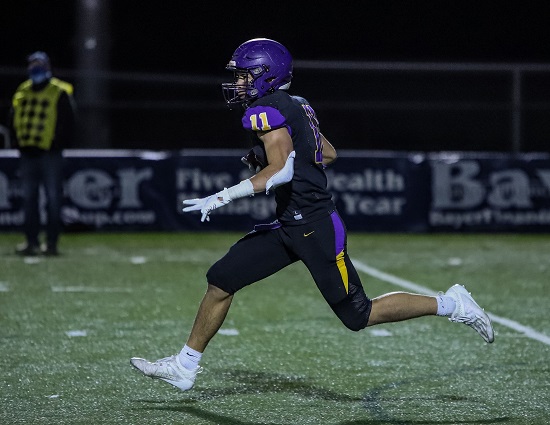 Bellbrook LB/TE/K Taylor Jordan (photo by Shelby Frieszell/TriStateFootball.com)
In the history of Bellbrook football, the chapter for Taylor Jordan should not go underappreciated. He may not have had the eye-popping numbers that Golden Eagles fans would "WOW" over, but his impact on the program should never be dismissed.
In Jordan's three years as a starter, Bellbrook went a combined 26-4. One of the most prosperous periods in the history of the program. In that span, the Golden Eagles defense gave up 10.6 points per game and recorded 10 shutouts.
As a junior, the high-motored Jordan was named OPSWA Division III Third Team All-Ohio as an undersized defensive lineman. He finished the campaign with 51 total tackles, a sack and had a scoop-and-score. Jordan could have easily been named All-Ohio as a kicker as well. He connected on 34/36 extra points and all six of his field goal attempts for 52 kicking points.
Jordan was equally as impressive on defense as a senior. He tallied 65 total tackles, had two-and-a-half sacks, 10 tackles for losses and recovered a fumble. He earned OPSWA Division III Third Team All-Ohio honors at linebacker for his work. On offense, Jordan found the end zone eight times (six rec, two rush) on 21 touches for 498 yards, including 14 receptions for 320 yards (22.8 yards/rec). He also knocked down 44/47 extra points and his only field goal attempt.
Jordan let his actions on the field speak for themselves. The two-time OPSWA Division III Third Team All-Ohio selection finished his career with more than 150 total tackles, four-and-a-half sacks, three forced fumbles, two fumble recoveries, 99 points kicking (78/83 XPs, 7/7 FGs), 20 receptions for 477 yards and 11 touchdowns (eight rec, two rush, one FR).