Senior Salute: Brandon McClendon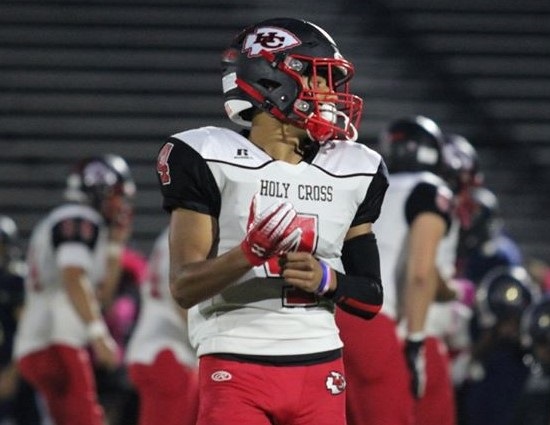 Holy Cross WR/DB Brandon McClendon
Often times, talented players don't get the recognition that they deserve because their teams aren't winning very many games to warrant the limelight. Holy Cross receiver/defensive back Brandon McClendon is one of those players. There weren't nearly enough eyes appreciating his electrifying on-field performances for the futile Indians.
Holy Cross won just four games in McClendon's four seasons as a starter (4-37). It was 23 contests into his career before he finally tasted victory. Despite the lack of team success, McClendon's star shined brightly for the program.
A stellar junior campaign in 2019 saw McClendon haul in 46 receptions for 1,118 yards, average 24.3 yards per with 13 trips to the end zone (nine rec, two KRs, one IR, one rush). On defense, he tallied 50 total tackles, recovered two fumbles and intercepted eight passes including a pick-six. He was named Second Team NKFCA All-NKY (WR) for his efforts.
Covid and injuries limited McClendon to just six games as a senior. Still, he was able to get in on 22 total tackles, recover a fumble and snare five interceptions. That earned him First Team NKFCA All-NKY (DB) honors.
McClendon, who recently committed to Georgetown College is a real steal for the Tigers. He is destined for great things at the next level with his versatility, skills set and intangibles (on and off the field).
McClendon finished his career at Holy Cross with 187 yards passing, 373 yards rushing, 64 receptions, 1,532 yards receiving (24.7/rec), 20 total touchdowns (11 rec, five KRs, three rush, one IR), 123 total tackles, three fumble recoveries, 15 interceptions and 290 interception return yards.