Senior Salute: Trey Robinette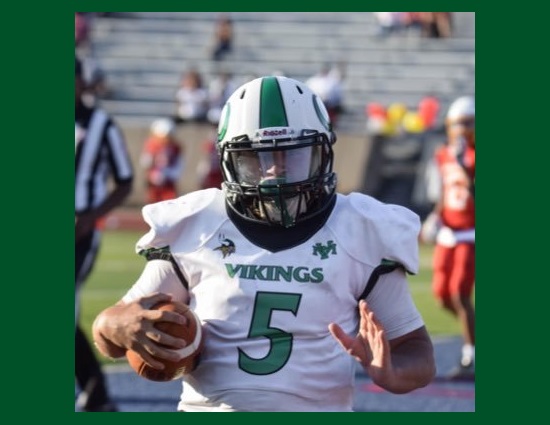 New Miami QB Trey Robinette.
The New Miami football program never had an identity then Trey Robinette hit the field. Robinette commanded the role at quarterback from the moment he started his first game as a freshman. The road to success was rough at first but through all the early lumps, bumps and bruises, Robinette would emerge as a special talent.
Midway through Robinette's sophomore season in 2018, New Miami was sitting at 1-4. He was 3-12 as the Vikings starting quarterback. The Division VII program was in the abyss of Ohio small school football. That would soon change.
New Miami (6-5) went on to win the final five games of '18 and make the playoffs for the second time in school history and its first appearance in 11 years. The Vikings offense flourished under Robinette, during the winning streak, with four straight games of 35 or more points. They had only been above 30 points just three times in his first 15 starts. The defense was equally impressive in the run, allowing no more than 13 points in a contest. New Miami football was writing the first few pages of what is now its prominent and influential chapter.
In 2019, Robinette was clicking on all cylinders and his teammates were soaring with confidence. For the first time in program history, the Vikings finished the regular season undefeated at 10-0. They clinched the #1 seed and a home game in the Region 28 playoffs but fell to New Bremen (who would win the state title a year later).
Robinette completed his junior campaign with 1,512 yards passing, 288 yards rushing, while accounting for 29 touchdowns (18 pass, 11 rush). He was named the MVC Gray Offensive Player of the Year and OPSWA Division VII Second Team All-Ohio.
Covid took its toll on the New Miami season in 2020 but there were some highlights. The Vikings were perfect in four regular season games. Then they beat Fayetteville-Perry in the first round of the Region 28 playoffs. It was the school's first ever postseason victory, in this, its third straight playoff appearance. New Miami (5-1) would fall to Marion Local the following week ending its abbreviated season.
In six games, Robinette threw for 798 yards, ran for 572 yards and accounted for 20 touchdowns (10 pass, 10 rush). He would repeat his honors from the year before being selected MVC Gray Offensive Player of the Year and OPSWA Division VII Second Team All-Ohio.
New Miami won its final 19 regular season games with Robinette under center. The Vikings only three losses in that span were in the playoffs. Robinette finished his career with more than 4,600 yards passing, 1,200 yards rushing with 51 touchdowns passes and 23 touchdowns rushing.
Robinette's impact on the program was immeasurable. "Trey is the winningest quarterback in New Miami history. He broke all the passing records and won the school's first playoff game. He is the best player in New Miami history," Vikings head coach Andy Stuckert exclaims. "No player has ever meant more to a school than Trey. His #5 will never be worn again at New Miami."