2021 Snapshot: Walton-Verona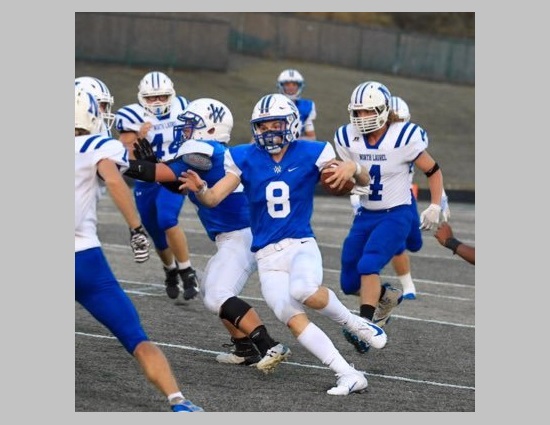 Walton-Verona RB Jacob Gaines (photo from Twitter)
Winning on a consistent basis isn't easy especially at the small school level. Walton-Verona has managed to figure it out. This will be the program's 14th season of football. The Bearcats have not had a losing season in the last 11 years while winning at least seven games in 10 of those campaigns (93 victories in all).
"We are very excited about this group. We have 21 returning lettermen and our largest senior class in school history with 18 players. With a full summer, a large number of returning starters and rotation players, we are looking for a huge 2021 season," head coach Jeff Barth states.
The schedule is loaded with winnable affairs. The combined 2020 record of the teams on the slate was 29-56 (.341 winning percentage). Walton-Verona should be able to keep their success going for another year.
The top tier teams in Class 2A – reigning champion Beechwood, Lexington Christian, West Carter and Mayfield are the gold standard that Walton-Verona is striving to be in. Will this be the season that the program breaks into that upper echelon group? Time will tell but the talent is definitely there to do so.
Class 2A, District 5
2020 RECORD: 7-5, 4-0 Class 2A, District 5
COACH:  Jeff Barth (95-52 at Walton-Verona, 12 years; 95-52 overall)
TOP RETURNEES
Trey Ferguson, Sr, WR/DB – Really blossomed into a very good receiver and defensive back for Walton-Verona in 2020. Ferguson has excellent size, speed, and hands. He could develop into higher level talent. As a junior, Ferguson caught 21 balls for 507 yards, had nine receiving touchdowns, 25 total tackles, three interceptions, three forced fumbles, three fumble recoveries and a scoop-and-score.
Jacob Gaines, Sr, RB/DB – Back for his third season as a starter. Gaines has excellent size and very good straight-line speed, at the running back position.  Mainly an offensive player, he also has abilities to succeed in the defensive secondary. Gaines has 1,378 yards rushing, 22 receptions for 365 yards and 19 touchdowns (16 rush, three rec.), at the varsity level.
Trey Hatmaker, Sr, QB/DB – Took on the unenviable task of switching from wide receiver and linebacker to starting quarterback in a shortened preseason due to Covid. While still new to the position, Hatmaker emerged as the season progressed and should have an outstanding senior campaign. He has excellent arm strength, is a quick study at learning the offense and understanding defensive concepts. Hatmaker set the Walton-Verona single season passing marks with 1,229 yards (becoming the first Bearcat to throw for more than 1,000 yards in a year) and 14 touchdowns. He is primed for a great 2021 campaign.
Carter Burch, Sr, OL/DL – Has an extremely high motor and excellent leadership skills. Carter became a very good defensive end and offensive guard for the Bearcats last season. He has 81 total tackles and three sacks, in his career.
Ethan Art, Sr, OL/DL – Will be a three-year offensive starter at offensive tackle, this fall. Art most likely will get some action on the defensive side of the ball, as well. He is undersized but has an excellent grasp on angles, leverage and overall concept schemes. Art recovered well from a broken femur as a freshman to become a sophomore starter. He progressed very nicely as a junior and is working very hard to have a great senior campaign.
Zach Watson, Sr, OL/DL – A hard worker who is incredibly smart. Watson played center, guard, inside linebacker and interior defensive lineman, as a junior. He has 58 total tackles, in his career.
Nolan Art, Sr, LB – A returning starter at linebacker. Art has 42 total tackles, two-and-a-half sacks and three fumble recoveries, in a Bearcats uniform.
Johnathan Freeman, Sr, RB – Became a valuable member of a deep backfield in 2020. Freeman ran for 387 yards and eight touchdowns.
Wiley Baker, Sr, RB/DB – A solid two-way player, Baker brings immeasurable leadership to the secondary. He also has 514 yards and three touchdowns rushing, in his career.
Tyson Beach, So, RB/DB – Battled back from an early season injury to make solid contributions on the varsity level with 184 yards and two touchdowns rushing, as a freshman. Beach, who has great vision, quick feet, along with very good size and speed, should have a breakout season in 2021.
Christopher Harward, Jr, LB – In his first year as a starter, Harward tallied 60 total tackles, had four-and-a-half tackles for losses, with a sack and a fumble recovery.
Logan Ryan, Jr, LB – A returning starter at linebacker. Ryan has 23 total tackles, 1.5 tackles for losses and an interception, in his career.
PLAYOFF HISTORY (15-11 overall)
District Champion (1) – 2018
2021 SCHEDULE
Fri – 08/20/21 – at Scott (1-5 in 2020) – 7:00 PM
Fri – 08/27/21 – HOLY CROSS (Covington) (2-6) – 7:00 PM*
Fri – 09/03/21 – GRANT COUNTY (3-5) – 7:30 PM
Fri – 09/10/21 – NEWPORT CENTRAL CATHOLIC (8-3) – 7:30 PM
Fri – 09/17/21 – BOONE COUNTY (2-7) – 7:30 PM
Fri – 09/24/21 – at Gallatin County (4-4) – 7:30 PM
Fri – 10/01/21 – CARROLL COUNTY (6-5) – 7:30 PM
Fri – 10/08/21 – OWEN COUNTY (1-8) – 7:30 PM
Fri – 10/15/21 – at Shawnee (1-6) – 7:30 PM
Fri – 10/23/20 – at Trimble County (1-7) – 7:30 PM
Fri – 10/30/20 – BYE
*at Thomas More University
DISTRICT DOMINANCE
Walton-Verona is a combined 34-1 in Class 2A, District 5 play over the past nine regular seasons. The Bearcats have won 27 of those games by 26 points or more. They have lifetime winning records against all-district foes: Gallatin County (12-1), Carroll County (11-2), Owen County (9-1), Trimble County (7-2) and Shawnee (3-0), 42-6 overall (.875 winning percentage).