2021 Preseason All-TSF Team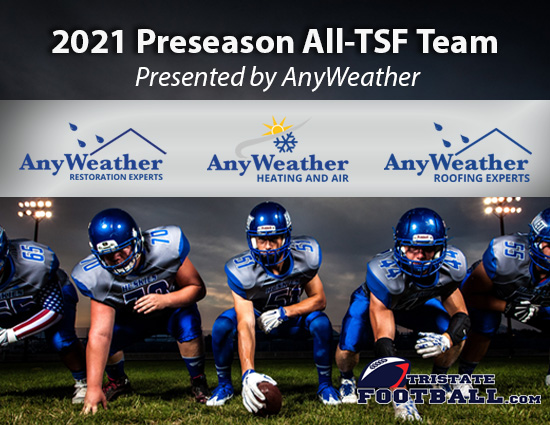 After 10 days of nearly 150,000 votes from over 27,000 different fans and adding in our staff ballots, we've landed on quite a list of talent going from 420 nominees down to a final count of 153 players. Here's our official 2021 Preseason All-TSF Team presented by AnyWeather.
FIRST TEAM
QB: Te'Sean Smoot (Springfield)
RB: Gi'Bran Payne (La Salle)
RB: Kaleb Johnson (Hamilton)
WR/TE: Anthony Brown (Springfield)
WR/TE: Drew Ramsey (Elder)
WR/TE: Josh Kattus (Moeller)
OL: Tegra Tshabola (Lakota West)
OL: Aamil Wagner (Wayne)
OL: Ashton Craig (Lawrenceburg)
OL: Brian Parker II (St. Xavier)
OL: Peyton Dietz (Covington Catholic)
DL: Brody Foley (Anderson)
DL: Bryan Henderson (Lakota West)
DL: Jokell Brown (Springfield)
DL: Antwan Blackshear (Trotwood-Madison)
LB: CJ Hicks (Alter)
LB: Grant Lyons (St. Xavier)
LB: Adam Trick (Wayne)
LB: Aden Miller (Lakota West)
DB: Delian Bradley (Springfield)
DB: Alex Afari (Lakota West)
DB: Jyaire Brown (Lakota West)
ATH: Breeon Ishmail (Hamilton)
PK: Mason Luensman (La Salle)
P: Logan Forcum (La Salle)
RET: Bo Snider (New Richmond)
SECOND TEAM
QB: Cameron Hergott (Beechwood)
RB: Charlie Kenrich (Lakota East)
RB: Tyron Darby (West Carrollton)
WR/TE: Elijah Brown (Wayne)
WR/TE: Rodney Harris II (Princeton)
WR/TE: Shawn Thigpen (Springfield)
OL: Josh Padilla (Wayne)
OL: Paul Haywood (La Salle)
OL: AJ Salley (Miamisburg)
OL: Luke Slusher (Beechwood)
OL: William Edwards (Winton Woods)
DL: Nesta Owens (Chaminade-Julienne)
DL: Gabe Verndon (Hamilton)
DL: Elias Rudolph (Taft)
DL: Harry Hilvert (Taylor)
LB: Gabe Savage (Ryle)
LB: Jaivian Norman (Springfield)
LB: Seven Blue (Winton Woods)
LB: Sam Robinson (Highlands)
DB: Ken Willis (Colerain)
DB: Norey Johnson (Deer Park)
DB: Jasiah Medley (Piqua)
ATH: Mitch Berger (Beechwood)
PK: Mason Rohmiller (St. Xavier)
P: Isaiah Bales (Franklin)
RET: Kenyon Owens (Chaminade-Julienne)
THIRD TEAM
QB: Brogan McCaughey (St. Xavier)
RB: CJ Hester (Wyoming)
RB: Reid Messer (North Decatur)
WR/TE: Cam Smith (Centerville)
WR/TE: Dahya Patel (Lawrenceburg)
WR/TE: Cam Patterson (Scott)
OL: Derrick Shepard Jr. (Alter)
OL: Nick Moore (Northwest)
OL: Cameron Collins (St. Xavier)
OL: Kendrix Goodman (Fairfield)
OL: Evan Wibberly (Dixie Heights)
DL: Tywann January (Springfield)
DL: Aiden Jones (Covington Catholic)
DL: Xavier Campbell (Beechwood)
DL: Trevor Wilson (Covington Catholic)
LB: Clayton Melcher (Conner)
LB: Jackson Belk (Ryle)
LB: Colin Smith (Dixie Heights)
LB: Pierce Baurerle (Franklin)
DB: Christian Kirenga (Alter)
DB: Alijah Thompson (Conner)
DB: Corwyn Hurt (Miamisburg)
ATH: Carter Frank (Clinton-Massie)
PK: Nick Keller (Conner)
P: JT Ferguson (Valley View)
RET: Alec Weeder (Moeller)
HONORABLE MENTIONS (75)
QB: Omar Beckley (Western Hills), Chase Crone (Simon Kenton), Chase Harrison (Centerville), Male'k Hillion (Fairmont), Logan Landers (Dixie Heights), Mekhi Lynn (Princeton), Carson Parmer (North Decatur), Ty Thorton (Indian Hill), Garrett Yoon (Lawrenceburg); RB: Seth Borondy (Bellbrook), MJ Flowers (Colerain), Elijah Jackson (Monroe), Charles Kellom (St. Xavier), Mikey Molloy (Bethel-Tate), Bray Newborn (Ludlow), Logan Reed (Milan), Tyrek Spikes (Winton Woods); WR/TE: Wyatt Burton (Bethel-Tate), Logan Campbell (Western Brown), Gauge Dunn (Bethel-Tate), Joey Faulkner (Anderson), Devin Holbert (Dixie Heights), Jude Hooks (Fenwick), Max Klare (St. Xavier), Isaiah Myers (Princeton), Brandon White (Moeller); OL: Logan Bartholomew (Milford), Henry Birchwell (Badin), Augie Groh (Fairfield), Chris Reber (Monroe), Austin Siereveld (Lakota East), Braden Turner (Bellbrook); DL: Stephen Botts (West Clermont), Sam Buerkle (St. Xavier), Roy Canady (Woodward), Tank Gant (Fairmont), Jayron Gibson (Winton Woods), Ashton Kooken (Bellbrook), Kylyn Macklin (Purcell Marian), Logan Neu (Badin), Sam Westerfield (Franklin County), Alex Wenger (Milan); LB: Ivan Anderson (Moeller), Lavert Jarmon (Colerain), Jack Mumper (Purcell Marian), Casey O'Toole (Anderson), Nick Paff (Elder), Nate Rosario (Lakota East), JJ Ruffin (La Salle), Jamell Smith (Xenia), Dearis Thomas (Deer Park), Colton Trampler (Clinton-Massie); Brick Barker (Edgewood), Scottie Bruns (Carlisle), Will Gilden (Hughes), Aiden Gilmour (Lawrenceburg), Kel Hawkins (Dixie Heights), Eli Kirk (St. Xavier), Jack Moore (New Richmond), Kelby Shook (South Decatur), Chase Stone (Alter); ATH: Isaiah Birl (Walnut Hills), Dylan Carter (Norwood), Tranel "TJ" Engleman Jr. (Princeton), Don'Yae Freeman (Aiken), Caleb Lehman (Oldenburg Academy), Aidan Jones (Little Miami); PK: Grant Swope (Harrison), Lucas Swierk (Little Miami), Carson Taylor (Sidney); P: Ethan Lund (Loveland), Caiden Yorn (Milan); RET: Brice Brewer (Goshen), John "JC" Calhoun (Middletown), Kavonte Turpin (Northridge).