Dayton Round-Up: Fairmont improves to 4-0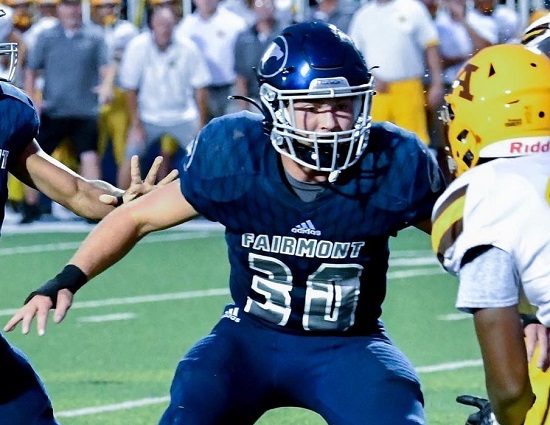 Fairmont RB Drew Baker (photo from: twitter.com/FBFairmont-Gene Peters)
Fun times at Fairmont as the undefeated Firebirds soaring high to start 2021. Their wins are impressive having beat Alter, Trotwood-Madison, Chaminade Julienne and now Northmont while yielding just 35 points on the season. 
FAIRMONT 24, NORTHMONT 21 – Down by 10 points heading into the fourth quarter the Fairmont did what it does best under head coach Dave Miller, run the football and control the clock. The Firebirds got a pair of eight-yard touchdown runs from junior Drew Baker to wear down Northmont. Fairmont is 4-0 for the first time since 2017.
Baker finished with 225 yards and three touchdowns rushing. He has run for 200-plus yards and three scores in back-to-back games. It was the ninth time in the last 10 games that the Firebirds bruising back has ran for 100 yards or more. Fairmont has carried the ball on 215 of its 225 offensive plays this season.
SCORING BY QUARTERS
Northmont 7-7-7-0-21
Fairmont 0-7-3-14-24
SCORING PLAYS
N: Javien Brownlee 84 pass from Cahke' Cortner (Xavier Voung kick)
F: Drew Baker 1 run (Will Holt kick)
N: Dalin Wilkins 75 pass from Brownlee (Voung kick)
F: Holt 27 FG
N: Malachi Staffney 4 run (Voung kick)
F: Baker 8 run (pass failed)
F: Baker 8 run (Baker run)
RECORDS: Northmont (2-1, 0-1); Fairmont (4-0, 1-0)
Northmont hosts Centerville (3-1, 1-0); Fairmont at Springboro (2-1, 1-0)

Here are some other scores from Dayton area teams in action in Week 4:
GWOC
CENTERVILLE 30, MIAMISBURG 13 – Senior Cam Smith racked up 259 all-purpose yards including 128 on eight receptions with a touchdown catch and a 92-yard kickoff return for a score as Centerville handed Miamisburg it first loss of the season. Smith has now caught a touchdown pass in eight straight games. He has had 110 yards or more receiving, seven times in his last 11 games.
SPRINGBORO 40, BEAVERCREEK 9
SPRINGFIELD 21, WAYNE 14
MVL
GREENVILLE 42, FAIRBORN 20 – The Green Wave picked up their first victory of the season behind the wheels of Brock Short. The junior ran for 263 yards and five touchdowns on 17 carries. Short has 1,043 yards (260.8/game) and 12 touchdowns rushing in four games.
TIPPECANOE 49, WEST CARROLLTON 7
TROY 28, STEBBINS 21 OT
SIDNEY 16, BUTLER 0
PIQUA 35, XENIA 6 
SWBL
EATON 21, BELLBROOK 20 – For the first time since 2010 Eaton starts the season 4-0 after shocking Bellbrook on Friday night. Senior Aiden Williams ran for 89 yards and a pair of scores in the win. He has at least one rushing touchdown in six straight games. That coincides with the Eagles current winning streak.
WAYNESVILLE 45, MADISON SENIOR 26
VALEY VIEW 45, OAKWOOD 6
MONROE 33, BROOKVILLE 13
FRANKLIN 7, CARLISLE 0
GCL CO-ED
BADIN 30, ROGER BACON 17
McNICHOLAS 27, HIGHLANDS 21
NORTHWEST 48, CARROLL 14
EDGEWOOD 34, FENWICK 14
AKRON HOBAN 27, ALTER 14
DPL
PONITZ 19, NORTH COLLEGE HILL 0
MEADOWDALE 60, LOCKLAND 36
MOUNT HEALTHY 34, THURGOOD MARSHALL 0
WITHROW 34, BELMONT 0