Dayton Round-Up: Wayne Gets Back on Track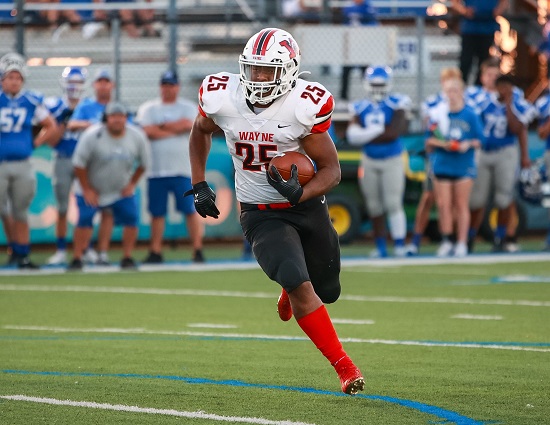 Wayne RB Jordan Ward (photo by Shelby Frieszell/TriStateFootball.com)
Conference play is well under way in the GWOC, MVL and SWBL. Surprising starts have piqued everyone's interest. Springboro, Xenia, Meadowdale and Eaton have emerged as feel-good stories at the midway point.
The GLC Co-ed opens league play next week. Alter, Chaminade Julienne and Carroll find themselves in uphill battles as they try to turn their seasons around. 
WAYNE 34, MIAMISBURG 20 – With just under nine minutes left in the third quarter Wayne took a 14-10 lead on a two-yard run by Jordan Ward. The Warriors never relinquished the advantage behind a 27-point outburst after halftime.
The affair came down to running the football. Wayne churned out 281 yards and averaged 7.2 yards per rush. Senior Tyler Dorsey led the way with a career high 167 yards and a touchdown. Ward finished with 79 yards a pair of scores rushing. Miamisburg was stymied by the Warriors defense which held them to 67 yards on 30 totes.
Freshman quarterback Tyrell Lewis had his third two-touchdown game passing, in his young career, for the victors. He finished the night with 179 yards through the air.
SCORING BY QUARTERS
Wayne 0-7-13-14-34
Miamisburg 3-7-0-10-20
SCORING PLAYS
M: Thomas Monnig 42 field goal
W: Tyler Dorsey 8 run (Luke Daulton kick)
M: Preston Barry 97 kickoff return (Monnig kick)
W: Jordan Ward 2 run (Daulton kick)
W: Ray Greene 15 pass from Tyrell Lewis (kick failed)
M: Connor Smith 9 run (Monnig kick)
W: Bryan Kinley 54 pass from Lewis (Daulton kick)
M: Monnig 27 field goal
W: Ward 1 run (Daulton kick)
RECORDS: Wayne (3-2, 1-1); Miamisburg (3-2, 0-2)
Wayne at Beavercreek (0-5, 0-2); Miamisburg at Northmont (2-2, 0-2)

Here are some other scores from Dayton area teams in action in Week 5:
GWOC
SPRINGBORO 15, FAIRMONT 14 – Perseverance pays off as Springboro (3-2,2-0) outlasts Fairmont (4-1, 1-1) in a dogfight. With 2:11 left in the game Springboro quarterback Sam Feldman and Mason Leach connected on a 25-yards touchdown pass to tie the game. The extra point by Luke Zier was the deciding margin. It was the Panthers only lead of the contest.
The Fairmont defense has been dominant against the run, and they were again on Friday night. The Firebirds held Springboro to just 31 yards on 21 carries. Over the last four weeks Fairmont has held foes to just 2.7 yards per carry and 37.8 yards per contest while yielding only two touchdowns. Feldman got the biggest of those two scores versus the Firebirds on a one-yard plunge right before halftime.
Feldman finished 15-21 for 131 yards with a passing and a rushing touchdown. Leach had 6 receptions for 63 yards, the touchdown catch, and the games only takeaway with an interception. Fairmont junior Drew Baker ran for 139 yards with two trips to the end zone. It was his eighth straight game with more than 100 yards rushing. In that span, Baker has 1,292 yards (161.5/game) and 14 touchdowns on the ground.
CENTERVILLE 38, NORTHMONT 0
SPRINGFIELD 42, BEAVERCREEK 0
MVL
TIPPECANOE 50, STEBBINS 24 – The Red Devils won their fourth straight game behind the arm and legs of quarterback Liam Poronsky. The junior threw for 141 yards, ran for 106 yards (both career highs) and accounted for five touchdowns (three rush, two pass). Tippecanoe (4-1, 4-0) is averaging 44.5 points during its winning streak. Stebbins (3-2, 2-2) has lost back-to-back games for the first time since the first two weeks of October, 2019.
BUTLER 27, WEST CARROLLTON 0
XENIA 21, GREENVILLE 14
TROY 55, FAIRBORN 0
PIQUA 42, SIDNEY 7
SWBL
EATON 35, WAYNESVILLE 7 – In a battle of unbeatens, Eaton (5-0, 2-0) scored the first 35-0 points of the game and was never really challenged by Waynesville (4-1, 1-1). The Eagles are 5-0 for the first time since 2010. Eaton quarterback, Brock Enbright had career highs with 252 yards and four touchdowns passing. No one has scored more than 20 points on the Eagles this season.
VALEY VIEW 43, MADISON SENIOR 6
BELLBROOK 44, FRANKLIN 21
MONROE 49, OAKWOOD 21
BROOKVILLE 42, CARLISLE 0
GCL CO-ED
ALTER 30, NORTHWEST 28 – A thrilling finish saw Alter sophomore kicker Tony Arcuri connect on a last second 34-yard field goal to lift the Knights over Northwest (3-2). Arcuri went 3-3 on field goals in the first varsity action of his career. Senior Chase Stone had a career high 109 yards and one touchdown rushing. He also had personal bests with three receptions and 54 yards receiving.
McNICHOLAS 31, ROGER BACON 16
BADIN 21, ROSS 10
MOUNT HEALTHY 26, FENWICK 7
TALAWANDA 7, CARROLL 0

DPL
PONITZ 34, THURGOOD MARSHALL 6
BELMONT 9, COLUMBUS EAST 6
SUMMIT COUNTRY DAY 65, MEADOWDALE 28