VOTE: Player of the Week – Week 5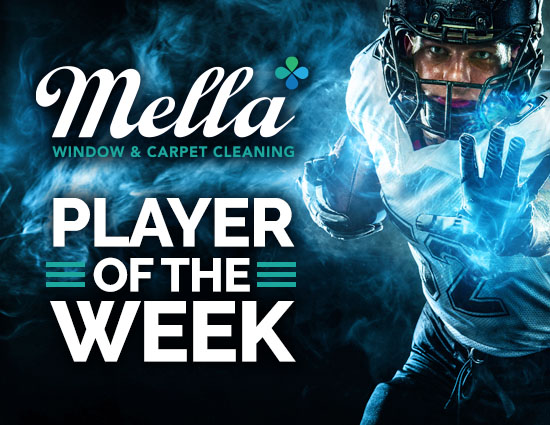 TriStateFootball.com is proud to present the Mella Window & Carpet Cleaning Player of the Week for the 2021 regular season. Players will be nominated from the Cincinnati, Northern Kentucky and Eastern Indiana areas throughout the season.
Each week a group of nominees will be selected from a large list of some of the area's top performances and will be included in an online voting poll to determine a winner. The poll will launch weekly on Sundays. Voters can vote once per hour, per IP address (we track it on the back end so cheating will result in votes being voided) through Wednesday at 12:00 PM Eastern weekly.
Once a player has won, they are ineligible to be nominated a second time. Players can only be nominated up to a max of three times during the course of the season.
All of the season winners will be recognized and receive a plaque at the TriStateFootball.com Year in Review Show in February of 2022 (more details announced once season concludes).
+++
Win FREE tickets from our friends at Mella Window & Carpet Cleaning:
+++
Logan Allen, Bellevue, Sr, QB – Carried the ball 17 times for 252 yards and three touchdowns as the Tigers beat Gallatin County to snap a 16-game losing streak.
Eli Aston, East Central, Jr, WR – Returned a kickoff 85 yards for a touchdown and had a 37-yards touchdown reception in the first quarter of the Trojans romp over Batesville.
Alex Davis, Summit Country Day, Jr, QB – Amassed 301 yards of total offense (199 pass, 102 rush and accounted for eight touchdowns (five pass, three rush) in the Knights 65-26 romp of Meadowdale.
DVion Davis, Boone County, Sr, DB – Forced a pair of fumbles and had three tackles in the Rebels 21-13 win over Walton-Verona.
Cairo Ford, Sycamore, Sr, RB – Ran for 258 yards on 17 totes with two rushing touchdowns and had a pair of catches for another 33 yards in the Aviators 20-14 victory over Middletown.
Rodney Harris II, Princeton, Sr, WR – Caught six passes for 132 yards and a pair of touchdowns as the Vikings eked out a 28-27 win over Fairfield.
Cam Hergott, Beechwood, Sr, QB – Had 173 yards with a pair of scores rushing and completed all five of his pass attempts as the Tigers beat CovCath for the first time since2014.
Elijah Jackson, Monroe, Jr, RB – Churned out 195 yards and four touchdowns rushing as the Fighting Hornets stung Oakwood, 49-21.
Nicholas Keller, Conner, Sr, K – Went 5/5 on extra points, nailed a 42-yd field goal, had five touchbacks on five kickoffs and had a 40-yard punt as the Cougars roared past Campbell County, 38-7.
Charles Kellom, St. Xavier, Sr, RB – Carried the ball 37 times for 210 yards and three touchdowns as the Bombers downed Moeller, 49-16.
Tofa Luani, Milford, So, RB/LB – Carried the ball 13 times for 180 yards and six touchdowns as the Eagles soared past Loveland, 48-34.
Ryan McDole, Turpin, Sr, WR – Reeled in eight receptions for 132 yards and three touchdowns in the Spartans 41-23 victory over Little Miami.
Drew Novak, Western Brown, Jr, QB – Threw for 516 yards and seven touchdowns as the Broncos routed Miami Trace, 63-21.
Luke Runyon, Newport Central Catholic, Jr, RB/WR – Had four receptions for 164 yards, two touchdown catches and a rushing score in the Thoroughbreds, 48-14 win versus Holy Cross.
Griffin Scalf, Anderson, Jr, QB – Threw for 528 yards and six touchdowns as the Raptors shredded Lebanon, 51-26.
Braden Sullivan, Edgewood, So, RB/DB – Had four receptions for 121 yards, a 53-yard touchdown catch and 172 all-purpose yards on eight touches in the Cougars 42-7 triumph over Wilmington.
Mark Smith, CCPA, Sr, QB – Threw for 126 yards, ran for 133 yards and accounted for three touchdowns (two rush, one pass) in the Lions 34-6 win over Newport.
TyRek Spikes, Winton Woods, Sr, RB – Ran for 154 yards with two rushing scores and had an 81-yard kickoff return for a touchdown in the Warriors win over West Clermont.
Pierce Taylor, McNicholas, Sr, QB – Went 11/17 for 185 yards passing, ran for 81 yards and accounted for four touchdowns (three pass, one rush) as the Rockets flew past Roger Bacon, 31-6.
Garret Yoon, Lawrenceburg, Sr, QB – Went 12/19 for 179 yards passing, ran for 129 yards and accounted for five touchdowns (three pass, two rush) as the Tigers shutout Franklin County, 41-0.
*Nominate players weekly by emailing us at staff@tristatefootball.com by 9AM Sunday mornings.