Week 14: AnyWeather Game Balls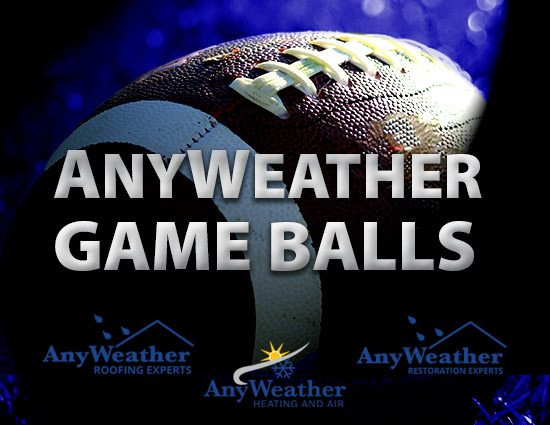 For the final time this season we will be saluting some of the top performances in the Tri-state area with our AnyWeather Game Balls. Go to AnyWeather.com to learn more about the top performer in the market for roofing, HVAC and restoration services.
Here are this week's recipients:
QB Cam Hergott (Beechwood)
4 RuTD, 2 PaTD in just one half of action vs. Walton-Verona
RB Jordan Marshall (Moeller)
19 carries, 123 RuYd, RuTD; 3 catches, 17 ReYd, ReTD vs. Lakota West
RB TyRek Spikes (Winton Woods)
28 carries, 230 RuYd, 4 RuTD vs. Piqua
QB Te'Sean Smoot (Springfield)
26/37 for 363 PaYd, 2 PaTD; 16 carries, 44 RuYd, 2 RuTD vs. Marysville
RB Colton Trampler (Clinton-Massie)
17 carries, 130 RuYd, 2 RuTD vs. McNicholas
RB Jack Walsh (Badin)
23 carries, 151 RuYd, RuTD vs. Bellbrook
Excellence is something AnyWeather never takes from granted. See for yourself:

Which player would you like to add to our list. Comment below and add in the player stats for this week. We will pull from submissions and add names to this list throughout the weekend.