2022 Postseason All-TSF Team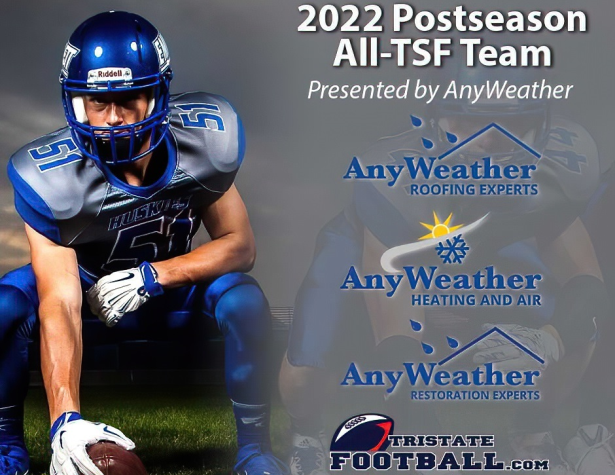 After tallying the ballots from TSF staff, coaches and fans we have landed on the official 2022 Postseason All-TSF Team presented by AnyWeather. Over 150,000 votes were tallied by TSF visitors over the past couple of weeks.
In the coming weeks we will be diving deeper into the members of this team and highlighting some of the performances behind them receiving this honor.
The members of the All-TSF Teams, the TSF Teams of the Year, Players of the Year and finalists from Indiana, Dayton, Northern Kentucky and Cincinnati as well as the Mella Window & Carpet Cleaning Players of the Week and $1000 Community All-Star Scholarship recipient will be recognized at the TSF Year in Review Awards Show on Monday, February 20 at the Holy Grail-Banks – RSVP NOW.
FIRST TEAM
OFFENSE
QB: Drew Novak (Western Brown)
RB: CJ Hester (Wyoming)
RB: Jordan Marshall (Moeller)
RB: Trey Cornist (Winton Woods)
WR/TE: Anthony Brown (Springfield)
WR/TE: Mike Mussari (Kings)
WR/TE: Jackson McGohan (Miamisburg)
OL: Austin Siereveld (Lakota East)
OL: Josh Padilla (Wayne)
OL: Phillip Daniels (Princeton)
OL: Aba Selm (Simon Kenton)
ATH: Josh Ringer (East Central)
K: Jackson Kleather (Tippecanoe)
DEFENSE
DL: Brandon Martin (Moeller)
DL: Austin Alexander (Cooper)
DL: Elias Rudolph (Taft)
LB: Jaivian Norman (Springfield)
LB: Mitch Berger (Beechwood)
LB: Breeon Ishmail (Princeton)
DB: Braedyn Moore (Badin)
DB: Cameron Calhoun (Winton Woods)
DB: Malik Hartford (Lakota West)
DB: Aaron Scott, Jr. (Springfield)
DB: Jermaine Matthews, Jr. (Winton Woods)
P: Sam West (Greensburg)
RET: Jacob Smith (Milford)
+++
SECOND TEAM
OFFENSE
QB: Will Kocher (Kings)
RB: Brock Short (Greenville)
RB: Trei'Shaun Sanders (Xenia)
RB: Reid Messer (North Decatur)
WR/TE: Tremmell Wright (Xenia)
WR/TE: RJ Mukes III (Wayne)
WR/TE: Santos Alvarez (Anderson)
OL: James Owsley (Centerville)
OL: Matty Appel (Springboro)
OL: Dalton Davis (Fairfield)
OL: Jake Wheelock (Stebbins)
ATH: Charlie Noon (Highlands)
K: Tyler Bohn (Lakota West)
DEFENSE
DL: Javon Hammonds, Jr. (Wayne)
DL: Delan Massey-Wright (Winton Woods)
DL: Conner Cravaack (Madeira)
LB: Joseph Jean-Louis (Centerville)
LB: Michael Brankamp (Lakota West)
LB: Joe Ginnetti (Moeller)
DB: Josiah Jackson (Fairfield)
DB: Tayshawn Banks (Taft)
DB: Ben Minich (Lakota West)
DB: Teryhon Nichols (Withrow)
DB: Adam Dunn (Highlands)
P: Sean Krueckeberg (Mason)
RET: Luke Runyon (Newport Central Catholic)
+++
Excellence is something AnyWeather never takes from granted. See for yourself:

+++
THIRD TEAM
OFFENSE
QB: Talon Fisher (Fairfield)
RB: Drew Baker (Fairmont)
RB: Demetrick Welch (Newport Central Catholic)
RB: Tavionne Crosby (Edgewood)
WR/TE: Donte Ferrell (Woodward)
WR/TE: Tennel Bryant (Moeller)
WR/TE: Braylon Miller (Covington Catholic)
OL: Jaylen Eberhardt (Princeton)
OL: Evan Tengesdahl (Wayne)
OL: Kaeden Partenach (Fairmont)
OL: Evan James (Elder)
ATH: Nick Sailers (Mason)
K: Davis Burleigh (Highlands)
DEFENSE
DL: Nathan Frey (Colerain)
DL: Xavier Campbell (Beechwood)
DL: Aiden Harris (Simon Kenton)
LB: Aiden Jones (Covington Catholic)
LB: Michael Mulvihill (Blanchester)
LB: Trenton Roell (Batesville)
DB: Joshua Fussell (Lakota West)
DB: Israel Bradford (Walnut Hills)
DB: Caleb Clark-Glover (Princeton)
DB: Antonio Robinson (Beechwood)
DB: Luke Scheiber (Simon Kenton)
P: Carson Class (Highlands)
RET: Curtez Hill (Holmes)
+++
HONORABLE MENTIONS
QB: Brody Benke (Highlands), Mitch Bolden (Lakota West), Cole Burton (East Central), Chase Crone (Simon Kenton), Alex Davis (Summit Country Day), Jayvian Graves (Dunbar), Austin Hardin (Milford), Clay Hayden (Beechwood), Troy Montgomery (Withrow), Liam Poronsky (Tippecanoe), Alex Ritzie (Badin), Evan Ruzzo (Springboro), Griffin Scalf (Anderson), Bryce Schondelmyer (Springfield), Armaud Seals (Woodward) and Logan Verax (Ryle).
RB: Teagan Bennett (Lawrenceburg), Brodey Berg (Andeson), Zackery Chisman (Western Brown), Eric Davis (Lakota East), Elijah Jackson (Monroe), Jordan Jackson (Faifield), Leland Jones-Royalty (Taylor), Owen Leen (Covington Catholic), Greg Miller (St. Bernard-Elmwood Place), Josiah Payne (Chaminade Julienne), Zayn Satchwell (Carroll County) and Thad Stuckey (Wilmington).
WR/TE: Max Autry (Madeira), Austin Ballart (South Dearborn), Koy Beasley (La Salle), Daylen Bradley (Springfield), Nic Bruder (Centerville), Matthew Frye (Western Brown), Cade Kaiser (Batesville), Trent Lloyd (Lakota West), Kaden Muckerheide (North Decatur), Willie Rodriguez (Covington Catholic) and Jamaal Sharp (St. Xavier).
OL: Thomas Biel (Moeller), Ben Cravens (Mason), John Currin (Moeller), Darrion Fannon (Winton Woods), Evan Fleetwood (St. Xavier), Gavin Frank (Connersville), Gabe Funk (Xenia), Luke Halsey (Edgewood), Jake Kinker (North Decatur), Jacob Langston (Lebanon), Jake Pierce (Lawrenceburg) and Cody Powell (Kings).
ATH: Donaven Cummings (Chaminade Julienne), Jayce Hotchkiss (Cooper), Will Jaisle (Batesville), Ki'Arran Love (Fairfield), Brady Morehead (Franklin County), Adrian Norton (Stebbins), Jaxson Rice (Ludlow) and Alex Witte (Lawrenceburg).
PK: Colson Bunch (Mason), Jordan Brogan (Oak Hills), Jackson Courville (Centerville), Will Holt (Fairmont) and Max Lemasters (Elder).
+++
Earn money for your school's athletic program when you use AnyWeather for your roofing, HVAC and restoration needs with the
AnyWeather Gives Back
program!
+++
DL: Joel Allen (Wyoming), Bryce Faulk (Mason), Dalton Gustwiller (Fairmont), Ted Hammond (St. Xavier), Allon Hill (Roger Bacon), Bryce Hodapp (Franklin County), Quinterrius Jemison (Withrow), Jackson Martin (Badin), Byron May (Rowan County), Carson Parmer (North Decatur), Daymeon Pennington (New Miami), Darrick Perdue (Wilmington), Zach Potter (Bishop Fenwick), Dillon Smith (Ryle), Jamell Smith (Xenia) and Gabe Verdon (Hamilton).
LB: Sam Barhorst (Bellbrook), Bryson Bastin (Ross), Josh Bowling (Simon Kenton), Gavin DeGroat (Valley View), James Evans (North Decatur), Bradyn Gibbs (Valley View), Demico Harris (St. Bernard-Elmwood Place), Dylan Horsley (Norwood), Brayden Johnson (South Dearborn), Matthew Karpinsky (Centerville), Tahj Landrum (La Salle), Cael Liette (Tippecanoe), Jack Lonaker (Cooper), Brach Rice (Dixie Heights), Brayden Rouse (East Central), Kale Shaffer (Bishop Fenwick) and Isaiah Smart (Clark Montessori).
DB: Jake Cameron (Kings), Donovan Dillingham (Colerain), Robert Houston (St. Xavier), Keegan Mehr (Brookville), Jack Moore (New Richmond), Jai'Mier Scott (Mount Healthy) and Beamer Walker (Roger Bacon).
RET: Jeremy Cheatham (Colerain), Jacob Clark (Valley View) and Jaelen Griffin (CCPA).
P: Brennan Green (Colerain), Ryan Hinthorne (Lawrenceburg), and Ethan Page (Moeller).