2021 TSF Leaders: Rushing Yards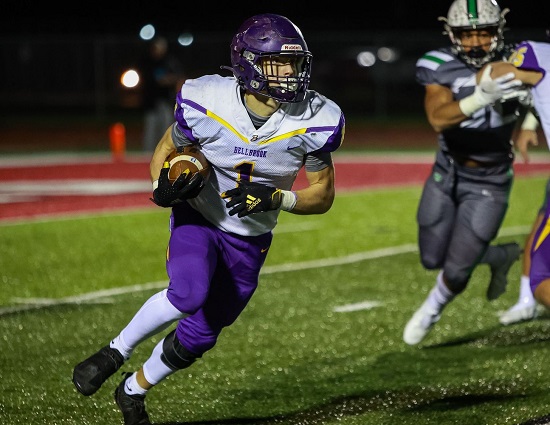 Bellbrook RB Seth Borndy (photo by Shelby Frieszell/TriStateFootball.com)
What a year it was for Bellbrook's Seth Borondy. The senior led the TriState Football coverage area in rushing yards. He was just one of two backs to run for more than 2,000 yards this past fall. Borondy became just the 34th player in Ohio history to run for more than 2,600 yards in a season.
2,613…Seth Borondy, Bellbrook, Sr.
2,484…CJ Hester, Wyoming, Jr.
1,992…Jasiah Medley, Piqua, Sr.
1,950…Carson Vanhoose, Clinton-Massie, Sr.
1,941…Elijah Jackson, Monroe, Sr.
1,916…William Ingle, Sycamore, Sr.
1,911…Jack Walsh, Badin, Sr.
1,858…TyRek Spikes, Winton Woods, Sr.
1,811…Cam Hergott, Beechwood, Sr.
1,795…Cole Wallace, Rowan County, Sr.
1,693…Mikey Molloy, Bethel-Tate, Sr.
1,568…Talon Borders, Carlisle, Sr.
1,551…Keenan Alcalde, Turpin, Sr.
1,542…Ty'aris Stevenson, Withrow, Sr.
1,533…Drew Baker, Fairmont, Jr.