Historic run for Springfield ends short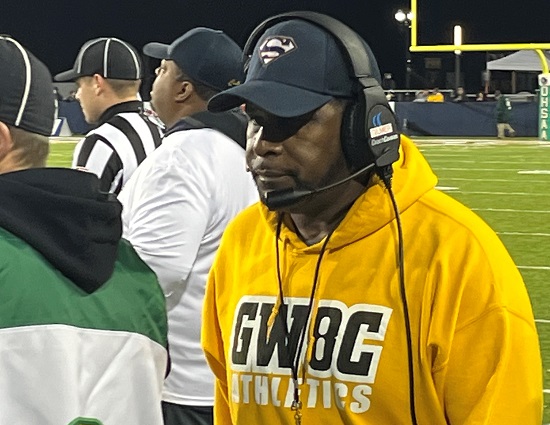 Springfield head coach Moe Douglass (photo by Greg Shoemaker/TriStateFootball.com)
CANTON, Ohio – Danny Enovitch ran or 210 yards on 32 carries and a "bend but don't break defense" helped St. Edward to its fifth state championship (all in the last 11 years). The Eagles held Springfield to a season low 13 points. The Wildcats defense yielded a season high 23 points to the victors.
The first trip to Canton (in the finals) will be remembered as one of missed opportunities for Springfield. Four of the Wildcats nine drives ended up inside the St. Edward 20-yard line only to end in no points (one interception, one on downs, tow on missed field goals). Not being able to establish the run against Eagles front seven magnified Springfield's futility. The Wildcats had (-30) yards on 20 carries.
The St. Edward defense had pressure on the backfield and Springfield quarterback Te'Sean Smoot all night long. They had four sacks, 10 tackles for losses and two interceptions.
Despite the dourest, Smoot an Ohio Mr. Football finalist threw for 349 yards with a touchdown passing and one rushing. He ended the season with 3,006 yards passing, 953 yards rushing, 21 passing touchdowns and 23 rushing touchdowns.
A bright spot for the Wildcats on Friday night and their future was the efforts of junior receivers Shawn Thigpen and Anthony Brown. Thigpen had career highs of 10 receptions and 105 receiving yards. Brown hauled in six catches for 103 yards and a touchdown.
SCORING BY QUARTERS
St. Edward 7-9-7-0-23
Springfield 0-7-0-6-13
SCORING PLAYS
E: Danny Enovitch 17 run (Weston Jonke kick)
E: Safety
E: Connor Goodall 19 pass from Christian Ramos (Jonke kick)
S: Te'Sean Smoot 9 run (Cole Yost kick)
E: Enovitch 9 run (Jonke kick)

RECORDS: St. Edward (15-1); Springfield (13-2)