VOTE: Player of the Week – Week 6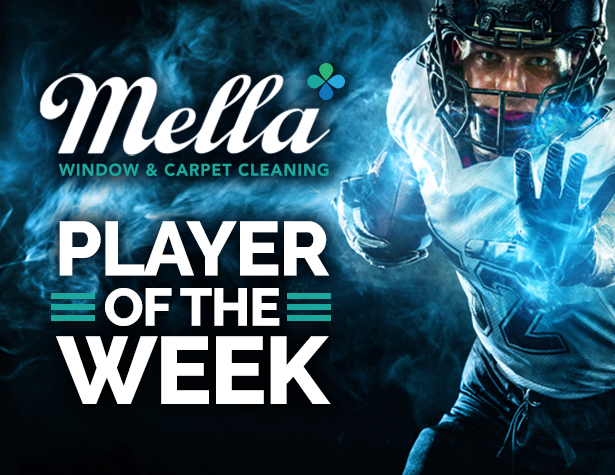 TriStateFootball.com is proud to present the Mella Window & Carpet Cleaning Player of the Week for the 2022 regular season. Players will be nominated from the Cincinnati, Northern Kentucky and Eastern Indiana areas throughout the season.
Each week a group of nominees will be selected from a large list of some of the area's top performances and will be included in an online voting poll to determine a winner. The poll will launch weekly on Sundays. Voters can vote once per hour, per IP address (we track it on the back end so cheating will result in votes being voided) through Wednesday at 12:00 PM Eastern weekly.
Once a player has won, they are ineligible to be nominated a second time. Players can only be nominated up to a max of three times during the course of the season.
All of the season winners will be recognized and receive a plaque at the TriStateFootball.com Year in Review Show in February of 2023 (more details announced once season concludes).
+++
Take advantage of this internet special at Mella Window & Carpet Cleaning:
+++
Trey Cornist, Winton Woods, Sr, RB – Carried the ball 17 times for 317 yards and five touchdowns as the Warriors downed Anderson, 52-31.
Tavionne Crosby, Edgewood, Sr, RB – Found the end zone five times on 20 attempts for 110 yards including the first three scores of the game in the opening stanza as the Cougars won their fifth straight knocking off Mount Healthy, 47-18.
Kellen Davis, Middletown, Sr, QB – Amassed 307 yards of total offense (164 passing, 143 rush on eight totes) and accounted for three scores (two pass, one rush) as the Middies squeezed past Sycamore, 28-24.
Reece Davis, Milford, Jr, WR – Hauled in nine receptions for 144 yards and three touchdowns as the Eagles soared past Little Miami, 42-17.
Damien Dawson, Lockland, So, QB – Racked up 225 yards of total offense (143 rush on 12 carries, 88 pass) and accounted for four touchdowns (two pass, two rush) as the Panthers picked up their first win beating MVCA, 36-12.
Brayden Everitt, Lebanon, Sr, QB – Accounted for four touchdowns (three rush, one pass), had six carries for 127 yards and threw for another 69 yards in the Warriors, 45-14 win over Turpin.
Cameron Giesler, Highlands, Jr, RB – Had seven totes for 70 yards and three rushing touchdowns as the Bluebirds flew past Dixie Heights, 59-14.
Dylan Giffen, Jr, Scott, RB/WR – Touched the ball on offense four times for 103 yards and a rushing and receiving touchdown as the Eagles eked out a 37-34 road win at Rowan County.
CJ Hayden, Indian Hill, Jr, WR – Caught six balls for 96 yards and two first half touchdowns (the only touchdowns of the game) as the Braves notched their first win of the year by getting past Taylor, 17-0.
Curtez Hill, Holmes, Sr, RB/DB – Ran for 166 yards on 15 carries, amassed 224 all-purpose yards, had an interception and a pair of rushing touchdowns in the Bulldogs 40-27 victory over Holy Cross.
Jacob Fitzgerald, Colerain, Sr, DL – Tallied five solo tackles, had two sacks, three tackles for losses and forced a fumble as the Cardinals picked up a second straight victory downing Oak Hills, 22-17.
Quinten Kaylor, Mason, Sr, QB – Accounted for three touchdowns (two rush, one pass) and threw for 168 yards in his first start at quarterback as the Comets got past Lakota East, 21-6.
Michael Mulvihill, Blanchester, So, QB/LB – Churned out 230 yards and five scores rushing on 23 carries, threw for 66 yards and recorded 10 total tackles as the Wildcats roared past Clermont Northeastern, 45-21.
Josh Ringer, East Central, Jr, RB – Ran for 338 yards and a school record six touchdowns as the Trojans handed South Dearborn its first loss of the season, 48-6.
Alex Ritzie, Badin, Jr, QB – Went 9-9 for 159 yards and two touchdown passes on 29 and 61 yards and the Rams beat Carroll, 42-0 for their third straight shutout.
Da'Quawn Roberson, Talawanda, Sr, RB – Had career highs of 139 yards and three touchdowns rushing as The Brave nudged Harrison 18-14 for their first win of the year.
Ben Schoster, Elder, Sr, QB – Had career bests of 103 yards and three touchdowns rushing and threw for 152 yards with a scoring toss and led the Panthers to six consecutive touchdown drives as they had no problem handling St. Xavier, 42-10.
Alec Weeder, Moeller, Sr, RB – Found the end zone three times (two rush, one rec) as Moeller mauled La Salle, 47-14.
Demetrick Welch, Newport Central Catholic, Jr, RB – Dominated the Thoroughbreds 42-26 win over Newport running for 209 yards on 18 carries and four touchdowns.
*Nominate players weekly before Sunday at 9AM by emailing us.