2023 Snapshot: Clermont Northeastern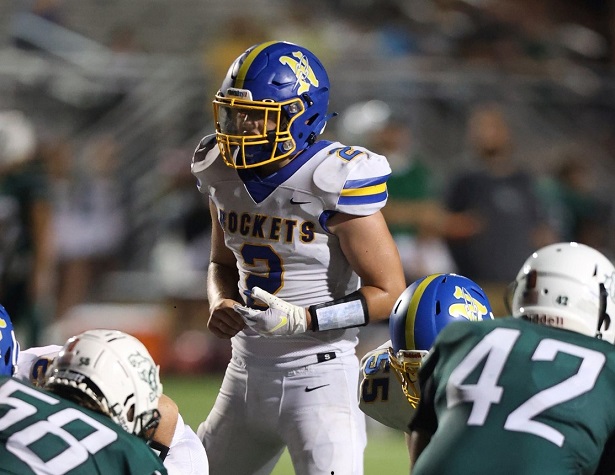 Clermont Northeastern QB/LB Josh Groeber (photo from Facebook: ESsportspage)
Clermont Northeastern was so close to having a winning campaign a year ago. The Rockets lost four games by a touchdown or less and finished 17th in the Region 20 computer rankings (top 16 made the playoffs). They win one of those affairs and they are probably in the playoffs for a second time in school history. Couple that with three straight losing seasons and there is more than plenty to motivate CNE in 2023.
"We have incredible experience and leadership from upperclassmen. We will rely heavily on their athleticism and strength," head coach Steve Thompson states. That will be loom large down the stretch as Clermont Northeastern will face four teams in its last seven games that won eight or more games in 2022.
"We have a lack of depth at critical positions, however, that is nothing new around here. We have a resilient attitude and mentality that there is no one coming. It's up to us and we are going to take what's ours," Thompson declares.
The Rockets are in a position and have the pieces to seize the moment and reclaim the winning ways that they enjoyed pre-Covid. To make that happen, will come down to, want and desire. If the players adhere to that "toughness" Thompson is trying to instill in them don't be surprised if CNE becomes one of the "feel good" stories of 2023.
Division V, Region 20
2022 RECORD: 3-7, 1-3 SBAAC National
COACH: Steve Thompson (7-23 at Clermont Northeastern, three years; 7-23 overall)
HONOR ROLL

Connor Yeager, Jr, DL/K/P – Very few punters can flip a field better than Yeager, who was named OPSWA Division V Second Team All-Ohio (P) as a sophomore. In two years as the Rockets punter, Yeager has averaged 41.7 yards on 75 punts placing 25 of them inside the opponents 20-yard line with a long of 70 yards. He also has 41 career tackles, two sacks, a scoop-and-score, and connected on 40-46 extra points as well as 1-2 field goals attempts for 43 kicking points.
Andrew McIntosh, Sr, LB – One of the top defensive players in the SBAAC American. McIntosh set the school record for most tackles in a season last fall. He finished the campaign with 80 total tackles, three sacks, one forced fumble, recovered a fumble and had an interception. For his work, McIntosh was named OPSWA Division V Honorable Mention All-Southwest District for a second straight year. He has 163 total tackles, 13.0 sacks, a fumble recovery and three interceptions in his career.
Josh Groeber, Jr, QB/LB – In a division loaded with quarterback talent, Groeber can hold his own with the best of them. As a sophomore, he threw for 1,021 yards ran for 284 yards and accounted for 17 touchdowns (14 pass, three rush) on his way to being names Second Team All-SBAAC National.
OTHER RETURNEES
Koltyn Bowen, Jr, DB – Showed a ton of promise as a sophomore and should have a big junior campaign. Bowen has the tools to be an all-conference player.
Mitch Braden, Sr, WR/DB – Already established an commodity in the Rockets secondary, Braden will be called upon to play a much bigger role on offense. He has 17 receptions for 363 yards (21.3 yards/rec), two touchdown catches, 80 total tackles, two sacks, one fumble recovery and four interceptions at the varsity level.
NEWCOMER
Senior QB/WR Aiden Brehm, a transfer from Milford, will get his shot a winning the starting quarterback job. If he doesn't get that, Brehm will find his way on the field at receiver or in the secondary.

PLAYOFF HISTORY
(one appearance, 0-1) – 2020
2023 SCHEDULE
Fri – 08/18/23 – at Riverview East Academy (3-7 in 2022) – 7:00 PM*
Fri – 08/25/23 – MVCA (4-6) – 7:00 PM
Fri – 09/01/23 – BATAVIA (1-9) – 7:00 PM
Fri – 09/08/23 – at New Richmond (8-4) – 7:00 PM
Fri – 09/15/23 – CINCINNATI COUNTRY DAY (10-2) – 7:00 PM
Fri – 09/22/23 – at Blanchester (8-4) – 7:00 PM
Fri – 09/29/23 – at Bethel-Tate (5-5) – 7:00 PM
Fri – 10/06/23 – FAYETTEVILLE-PERRY (N/A) – 7:00 PM
Fri – 10/13/23 – EAST CLINTON (2-8) – 7:00 PM
Fri – 10/20/23 – at Williamsburg (8-3) – 7:00 PM
*At Mount St. Joseph University