2023 Snapshot: East Clinton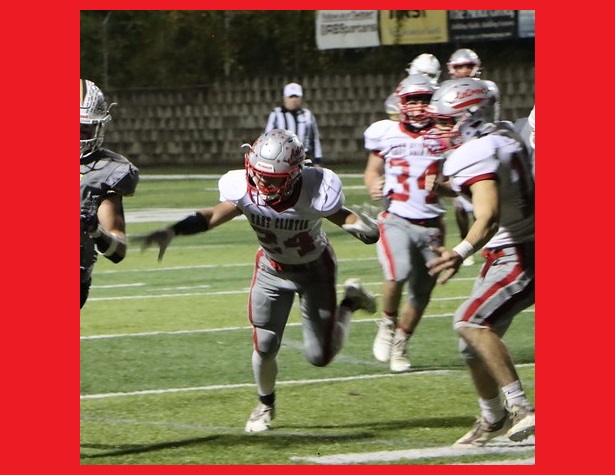 East Clinton RB/DB Glenn Peacock (photo from rogerbaconspartans.org)
Things were progressing quite nicely for East Clinton under head coach Steven Olds. In 2021, the Astros posted their first winning campaign in nine years. Last fall the program hit a roadblock along the route to sustained success. Now Olds feels the team has the talent to re-establish those winning ways.
"It was a tough year in 2022. We graduated 15 seniors after the 2021 season and only returned only two. Injuries were an issue and we never really recovered. We were already a young team and injuries forced even younger players onto the field. We were the youngest team that I've ever coached," Olds states.
Those growing pains are over and East Clinton appears to be ready to forge ahead. "The 2023 Astros will be more experienced and have more depth than ever before. We return 10 starters and several backups from last year's team. Our entire offensive and defensive line returns along with our backfield. It's been a great offseason so far and our boys are excited to see what 2023 will bring," Olds says.

The schedule lines up well for East Clinton to get off to a good start. The Astros won't play a team that had a winning record in 2022 until Week 8. There is no clear-cut favorite to win the SBAAC National title, don't count East Clinton out of the race. The Astros have a very real chance of grabbing their first conference crown since 2011.
Division V, Region 20
2022 RECORD: 2-8, 0-4 SBAAC National
COACH: Steven Olds (15-26 at East Clinton, four years; 15-26 overall)
HONOR ROLL
Dameon Williams, Jr, RB/DB – One of the best players in the Class of 2025 you don't know about. In his first year at East Clinton, Williams ran for 816 yards, amassed 1,578 all-purpose yards found the end zone 10 times (nine rush, one rec), recorded 50 total tackles, forced two fumbles, recovered two fumbles and had an interception as a sophomore. He was named OPSWA Division V Second Team All-Southwest District (RB).
Glenn Peacock, Sr, RB/DB – A four-year starter who is a key piece to everything East Clinton does. Peacock was named OPSWA Division V Honorable Mention All-Southwest District as a junior after running for 791 yards, racking up 1,015 yards, rushing for four touchdowns, getting in on 60 total tackles and snaring three interceptions. Peacock has 1,505 yards rushing, 10 rushing touchdowns, 1,922 all-purpose yard, 101 total tackles and six interceptions in his career.
Denver Day, Sr, OL/DL – Back for his fourth year as a starter, Day is the heart-and-soul up front for the Astros. He had 24 total tackles and six tackles for losses on his way to being named Honorable Mention All-SBAAC National last fall.
OTHER RETURNEES
Owen Roberts, Jr, OL/DL – Will be counted on heavily to be a rock in the trenches on both sides of the ball. Roberts fared well with 32 total tackles as a sophomore.
Clayton Kimmey, Jr, WR/D – A key member of a very good secondary. Kimmey recorded 34 total tackles, had seven passes defended and an interception as a sophomore. He also reeled in three receptions for 52 yards.
Lukas Runk, Sr, QB/DB – Expect much better production out of Runk in his second year as a starter at quarterback. He threw for 367 yards and had a pair of touchdowns rushing and passing as a junior.

NEWCOMERS
Seniors RB/LB Maddix Crowe and WR/DB Payton Spurlock will add depth and senior leadership to the Astros rotation. Crowe missed most of last season due to injuries. Spurlock did not play in 2022.

PLAYOFF HISTORY
(seven appearances, 2-7) – 2021, 2020, 2010, 2008, 2005, 2004, 2002
2023 SCHEDULE
Fri – 08/18/23 – at Huntington (5-6 in 2022) – 7:00 PM
Fri – 08/25/23 – CEDARVILLE (5-6) – 7:00 PM
Fri – 09/01/23 – FAYETTEVILLE-PERRY (N/A) – 7:00 PM
Fri – 09/08/23 – at Greenfield McClain (4-6) – 7:00 PM
Fri – 09/15/23 – HILLSBORO (4-7) – 7:00 PM
Fri – 09/22/23 – at Bethel-Tate (5-5) – 7:00 PM
Fri – 09/29/23 – MISSISSINAWA VALLEY (1-9) – 7:00 PM
Fri – 10/06/23 – WILLIAMSBURG (8-3) – 7:00 PM
Fri – 10/13/23 – at Clermont Northeastern (3-7) – 7:00 PM
Fri – 10/20/23 – at Blanchester (8-4) – 7:00 PM