2023 Snapshot: North Decatur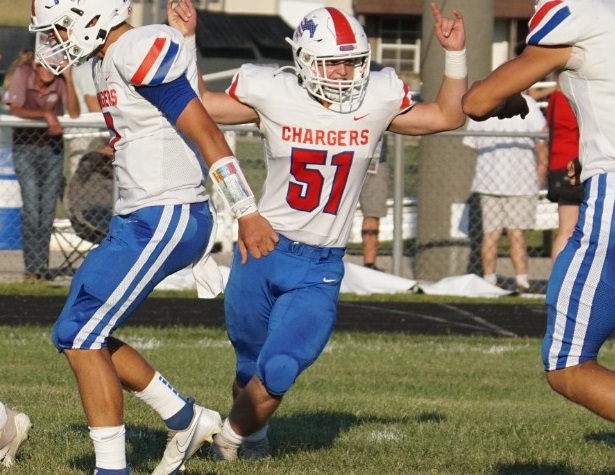 North Decatur OL/DL Owen Wiseman (photo by Nils Parnell)
It was a historic 2022 campaign for North Decatur. The Chargers went a perfect 9-0 in the regular season and won the regional championship, both were first time achievements for the program. Those who are returning believe that the run is not over and that there is another fruitful year ahead.
"2022 was a great season for us. The growth potential in this team is very high. They have worked hard in the off season and have very high expectations for themselves," head coach Steve Stirn states about his 2023 squad.
North Decatur graduated some excellent talent leaving the team lacking some experience at the skills positions. That is a concern for Stirn but there are players in the pipeline ready to step up when their number is called.
Stirn likes the tangibles and intangibles of this squad. "We have experience on the offensive and defensive lines, depth, team speed and expectations." When a small school has depth that leads to competition and the ability to adjust to injuries which usually leads to great results in the long run.
After having had that taste of sweet success last fall, this group of Chargers wants more. It's hunger coach Stirn is very pleased about heading into a new season. Expect another fun ride out of the boys from Greensburg.
Class 1A, Sectional 46
2022 RECORD: 13-1, 3-0 MEC
COACH: Steve Stirn (65-30 at North Decatur, eight years; 152-79 overall, 20 years)
HONOR ROLL
Kaden Muckerheide, Sr, WR/DB – A touchdown making machine. If Muckerheide gets anywhere close to the numbers he had as a junior, the Chargers are going to have another very good year. He amassed 1,320 all-purpose yards (753 rec, 434 ret, 133 rush), found the end zone 11 time on 34 receptions, returned a kickoff for a score, ran for touchdown, recorded 70 total tackles and snared an interception….WHEW! Muckerheide was named IFCA Class 1A Jr. All-State (WR) for his efforts. For his career, Muckerheide has 53 receptions, 1,063 yards receiving, 15 touchdown catches, 2,222 all-purpose yards, 1313 total tackles and four interceptions.
Owen Wiseman, Sr, OL/DL – One of the leaders of the Chargers defense. Wiseman was named All-MEC as a junior. He has 90 total tackles, six sacks and 16.0 tackles for losses at the varsity level.
Cooper Parmer, Jr, LB – An All-MEC performer, as a sophomore. Parmer will be called upon to guide the underclassmen in the right direction. He has 91 total tackles, 12.0 tackles for losses and five takeaways (three FRs, two INTs) in his career.
OTHER RETURNEES
Brad Krieger, Jr – A relentless defender who makes things happen. Krieger heads into his junior year with 96 total tackles, three sacks, three fumble recoveries and 14.0 tackles for losses.
Jack Koehne, Sr, WR/DB – Back for his second year as a starter in the secondary. Koehne was in on 22 total tackles and had two interceptions in 2022.
Aiden O'Dell, Sr, K – A special teams weapon. O'Dell connected on 59/64 extra points and 1/6 field goal attempts for 62 points as a junior.
NEWCOMERS
Junior QB Mason Morris has big shoes to fill but the coaching staff feels he is more than capable of fitting into them. Morris had his first varsity passing and rushing touchdowns a year ago.
Sophomores RB Corbin Thackery, OL/DE Cohen Thackery and OL/LB Conner Larison now get their chance to make something special of the next three seasons. Like Morris, Corbin Thackery will be asked to shine, taking over for Class 1A Player of the Year Reid Messer who graduated. Thackery ran for 290 yards and three touchdowns as a freshman.
PLAYOFF HISTORY (29-38)
Sectional Champion (five) – 2022, 2020, 2019, 1998 & 1982.
Regional Champion (one) – 2022.
2023 SCHEDULE
Fri – 08/18/23 – SOUTH DECATUR (5-5 in 2020) – 7:00 PM
Fri – 08/25/23 – at Eastern Hancock (5-6) – 7:00 PM
Fri – 09/01/23 – MONROE CENTRAL (5-4) – 7:00 PM
Fri – 09/08/23 – at Shenandoah (6-5) – 7:00 PM
Fri – 09/15/23 – LAPEL (7-6) – 7:00 PM
Fri – 09/22/23 – at Rushville (2-8) – 7:00 PM
Fri – 09/29/23 – NORTH DAVIESS (5-5) – 7:30 PM
Fri – 10/06/23 – EDINBURGH (4-5) – 7:00 PM
Fri – 10/13/23 – at Switzerland County (4-6) – 7:00 PM
Fri – 10/20/23 – TBD: IHSAA Sectional 46 Playoffs
2023 Active Leaders: Southeastern Indiana