2023 Snapshot: Miamisburg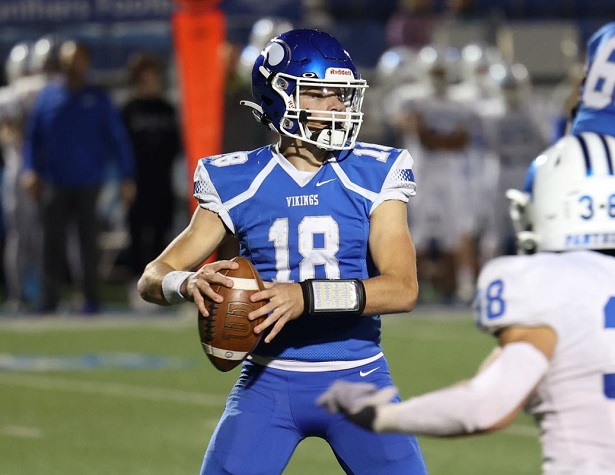 Miamisburg QB Preston Barr (photo courtesy of: ScoutingOhio.com)
Things didn't quite work out the way Miamisburg thought they would in 2022. The Vikings just never clicked on all cylinders finishing under .500. Having an offseason to ponder what could have been and what can be accomplished moving forward the 2023 Vikings are out to prove that they are one of the best in the GWOC.
Head coach Lance Schneider will look for more consistency from his squad. Miamisburg did not win two games in a row, a year ago. In their four wins the Vikings averaged 49.0 points per game with an average margin of victory of 26.0 points. In its six losses, Miamisburg scored a grand total of 70 points and had an average margin of defeat of 17.0 points.

The foundation is there to turn things around for the Vikings. "We have some experience returning at the skill positions and at the back end of the defense," Schneider states. Add in a rotation along the defensive line that has the makings of being something special and it is easy to see why there is so much optimism at Miamisburg.
There are several positions that lack experience and one of those is along the offensive line where only two starters return. That unit has plenty to motivate them to come together. The Vikings have not had a 1,000-yard rusher since 2017.
Miamisburg will fly under the radar to start the season but with three games that they should win to start the year that may change quickly. How the Vikings handle things at that point will forge their identity. With a foundation of high character veterans returning expect the "Burg to rise to the occasion and make the 2023 campaign memorable for this program.
Division I, Region 2
2022 RECORD: 4-6, 2-5 GWOC
COACH: Lance Schneider (15-25 at Miamisburg, four years; 122-88 overall, 20 years)
HONOR ROLL
Baylor Stickel, Sr, DB/LB – An incredible athlete with a wealth of experience. Stickel was named OPSWA Division I Honorable Mention All-Southwest District (DB) as a junior. He 107 total tackles, four takeaways (two FRs, two INTs), 766 all-purpose yards, two rushing touchdowns and one pick-six.  

Drew Dunaway, Sr, DL – Looking to improve on a solid junior season on the defensive side of the ball. Dunaway recorded 33 total tackles, one-and-a-half sacks, four-and-a-half sacks on his way to Second Team All-GWOC (DL) honors as a junior. He also has 15 career receptions for 265 yards and a touchdown.
Abel Ngoh, Sr, C – He gets high praise from Coach Schneider who calls Ngoh, "one of the best I've coached on the offensive line." The four-year starter was named Second Team All-GWOC (OL) as a junior.

OTHER RETURNEES
Mason Penrod, Sr, ILB – A two-year lettermen who returns to strengthen the inside. Penrod has 68 total tackles and two interceptions in his career.
Conner Smith, Sr, slot/WR – A four-year starter who brings a ton experience and productivity to the Vikings. Smith has 62 receptions for 755 yards, 1,338 all-purpose yards and eight touchdowns in a Vikings uniform.
Preston Barr, Sr, QB – Fast and athletic with a very strong arm; Barr had a breakout junior year on offense. He threw for 1,227 yards, had a team high 349 yards rushing and accounted for 17 touchdowns (11 pass, six rush).
Aiden Gillman, Sr, OLB – A very good athlete who will benefit from his experience  last year. The 6-foot-4, 193-pound Gillman had 32 total tackles and five-and-a-half sacks as a junior.
NEWCOMERS
Hunter Derr, Jr, RB – Started last three games of 2022. Derr will be an offensive weapon from many different spots. He finished his sophomore campaign with seven receptions, 107 yards receiving, 61 yards rushing and one touchdown on the ground.
Marco Chambers, Sr, DL – At 6-foot-1 and 390-pounds Chambers is a big, strong space eater inside.
Marshon Gregory-Bey, Jr, DL – The 6-foot-5 Gregory-Bey brings tremendous length to the defensive end position.
Jaylen Johnson, Jr, DL – Another big, athletic, strong player to add to the defensive line. Johnson stands 6-foot-5 and weighs 241-pounds.
Noah Hartley, Jr, ILB – Adds strength and toughness to the inside of the defense.
Darrien Anderson, Jr, OLB – A hard worker who will make plays on the outside.
Colin Shannon, Jr, DB – Will bring athleticism to the defense. Shannon had 14 total tackles in seven games as a sophomore.
Keith Henry, Jr, slot – Should explode onto the scene. Henry is a very dynamic player who will be a focal point of the offense. He had his first two receptions for 29 yards last season.
PLAYOFF HISTORY
(seven appearances, 2-7) – 2021, 2020, 2016, 2015, 2014, 2013, 2000
2023 SCHEDULE
Fri – 08/18/23 – WEST CARROLLTON (0-10 in 2022) – 7:00 PM
Fri – 08/25/23 – at Bellbrook (9-3) – 7:00 PM
Fri – 09/01/23 – PONITZ (3-7) – 7:00 PM
Fri – 09/08/23 – at Centerville (10-3) – 7:00 PM
Fri – 09/15/23 – WAYNE (6-5) – 7:00 PM
Fri – 09/22/23 – at Northmont (5-6) – 7:00 PM
Fri – 09/29/23 – FAIRMONT (8-4) – 7:00 PM
Fri – 10/06/23 – at Beavercreek (2-8) – 7:00 PM
Fri – 10/13/23 – SPRINGFIELD (13-2) – 7:00 PM
Fri – 10/20/23 – at Springboro (8-4) – 7:00 PM