2023 Snapshot: Purcell Marian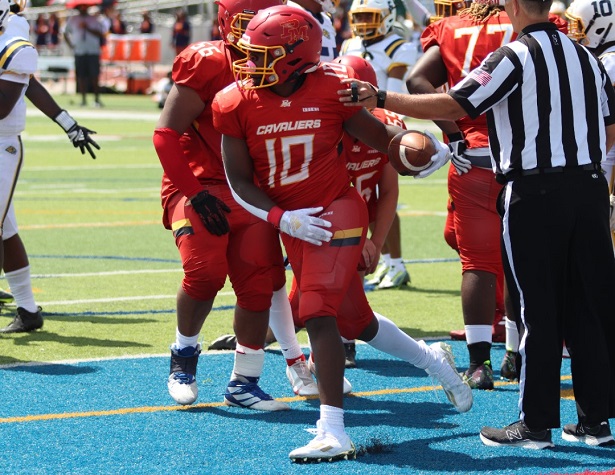 Purcell Marian RB/LB Wathel Phillips (photo by: LaTisha Mosley/purcellmarianathletics.org)
What an amazing time it is to be a part of the Purcell Marian football program. The Cavaliers will play on campus for the first time at the newly constructed Staubach Stadium. The team will be under the guidance of new head coach Jeremy Pflug, a proven winner. The seniors are looking to become the first class in school history to make the playoffs four years in a row. The stars are aligning for this to be a very special season on Hackberry Street.
Pflug has done wonders over the last seven years leading Aiken and CCPA to their first ever playoff appearances and Woodward to the postseason for the first time in 15 years and its second time ever. His teams have been exciting in the power spread offense. With the group of skills positions players that Purcell Marian has, Pflug will have more weapons at his disposal than he has ever had. The Cavaliers should lead the Miami Valley Conference Scarlet Division in scoring just like they did last year.
Defensively, Purcell Marian lost some key players in the pass rush. If they can get pressure on opposing quarterbacks, the unit will find itself coming up with tons of takeaways because the secondary is loaded with opportunistic pickpockets. The Cavaliers have all the ingredients to be just as entertaining on this side of the ball as they will be on offense.
The schedule has three games that will be excellent barometers of measuring how good Purcell Marian is going to be. There are two non-conference tilts to keep an eye on. In Week 3 at Region 20 peer Madeira who they lost to, 21-9, last fall. Taft comes calling in Week 5, the Senators will be the most athletic and gifted team that the Cavaliers will face all season. League rival, Roger Bacon has owned the Cavs, having won seven straight contests in the series, including the last five by an average margin of 32.2 points.
There is another level that Purcell Marian is on the cusp of getting too. Winning against the forementioned schools would go a long way in accomplishing that goal. It would also make the Cavaliers a contender to win a wide-open Region 20 Regional Championship.
Division V, Region 20
2022 RECORD: 6-5, 3-2 MVC Scarlet
HEAD COACH: Jeremy Pflug (0-0 at Purcell Marian, first year; 55-26 overall, eight years)
HONOR ROLL
Jayonn Saunders, Jr, WR/S – The king of thieves. Saunders has great closing instincts on defense. As a sophomore he was in on 55 total tackles and snared nine interceptions on his way to being selected OPSWA Division V Second Team All-Ohio (DB). On offense, he caught 14 balls for 241 yards and two touchdowns.
Levi Smiley, Sr, TE/DE – A team leader and dynamic playmaker on both sides of the ball. Smiley reeled in 38 receptions for 441 yards, had 10 touchdown catches, 49 total tackles, one fumble recovery and a pick six on his way to First Team All-MVC Scarlet honors as a junior. He has 67 career receptions for 746 yards, 13 touchdown catches and 109 total tackles. Smiley has offers from Akron, Kent State, UT-Martin and Wofford.
Aaron Scott, Sr, OL – A strong and athletic offensive lineman who plays with a nasty streak. Scott was named First Team All-MVC Scarlet in 2022 for a second straight season.
Justin Hudson, Sr, OL/DL – A returning starter and valuable member to the o-line. Hudson was named Second Team All-MVC Scarlet as a junior.
Luke Schomaker, Sr, C – The conductor of the offense and anchor up front. Schomaker was an Honorable Mention All-MVC Scarlet selection in 2022.
Wathel Phillips, Sr, LB – The defensive team leader and a tackling machine. As a junior, Phillips had a Cavaliers best 98 total tackles, six tackles for losses and an interception. He was named Second Team All-MVC Scarlet for his efforts. Phillips also found the end zone three times rushing.
Jayel Harris, Jr, RB/DB – A dynamic runner with great vision, this is the season that Harris will turn heads. In six games as a sophomore, he ran for 522 yards, had five rushing scores and completed all three of his pass attempts for touchdowns on his way to Honorable Mention All-MVC Scarlet accolades.
OTHER RETURNEES
Qa'id Wilson, Sr, OL/DL – Is primed for a big senior campaign after playing in just five games a year ago. Wilson has tallied 80 total tackles in just 11 tilts over the past two seasons.
Eyn Phillips, Sr, S – A strong and fast player who was having a monster junior year until an injury cut his season short. Phillips finished with 48 total tackles, one-and-a-half sacks and six tackles for losses in five games.
Carlyun Neal, Jr, WR/CB – An electric player in space who will be a dominant cornerback this fall. Neal had 24 receptions for 271 yards and a touchdown as a sophomore.
NEWCOMERS
Junior transfer QB Sonny Ward will take over as the Cavaliers signal-caller. He threw for 1,370 yards, ran for 648 yards and accounted for 13 touchdowns (six pass, seven rush) last season at Norwood. Senior TE Devin Bedgood adds depth along the line as a blocker and receiver. Sophomore RB Trevor Younge, Jr. is going to have some big moments out of the backfield.
PLAYOFF HISTORY
(seven appearances, 9-6) – 2022, 2021, 2020, 2000, 1999, 1997 (Regional Champion), 1986 (State Champion)
2023 SCHEDULE
Fri – 08/18/23 – DEER PARK (5-6 in 2022) – 7:00 PM
Fri – 08/25/23 – AIKEN (1-8) – 7:00 PM
Fri – 09/01/23 – at Madeira (11-2) – 7:00 PM
Fri – 09/08/23 – KIPP (5-5) – 7:00 PM
Fri – 09/15/23 – TAFT (11-3) – 7:00 PM
Fri – 09/22/23 – at Summit Country Day (6-5) – 7:00 PM
Fri – 09/29/23 – CHCA (5-6) – 7:00 PM
Fri – 10/06/23 – at Norwood (2-8) – 7:00 PM
Fri – 10/13/23 – ROGER BACON (6-5) – 7:00 PM
Fri – 10/20/23 – at North College Hill (2-7) – 7:00 PM
REGION 20 REGIONAL CHAMPIONS
2022 – Valley View
2021 – Versailles
2020 – Roger Bacon
2019 – West Jefferson
2018 – Wheelersburg
2017 – Madison Senior
2016 – Coldwater
2015 – Coldwater (Region 18)*
2014 – CHCA (Region 18)*
2013 – West Jefferson (Region 18)*
2012 – Coldwater
2011 – Coldwater
2010 – Coldwater
2009 – Coldwater
2008 – Marion Local
2007 – Marion Local
2006 – St. Henry
2005 – CHCA
2004 – St. Henry
2003 – Columbus Academy
2002 – Pleasant
2001 – Lehman Catholic
2000 – Reading
*Region 20 teams moved to Region 18 from 2013-2015 when Division I was just two super regions during that time frame.