Preview: #1 Winton Woods at #11 Anderson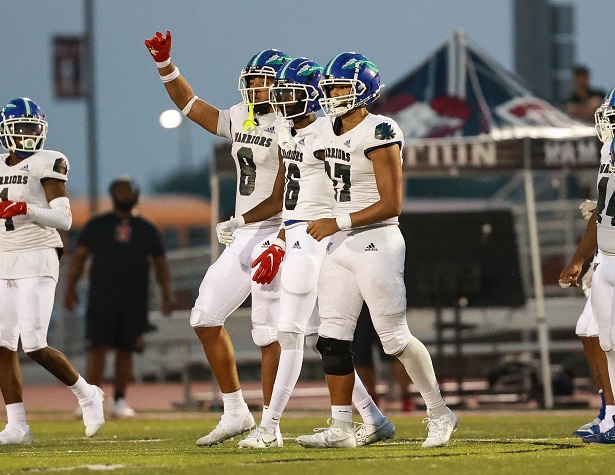 The Winton Woods defense (photo by: Shelby Frieszell/TriStateFootballl.com)
The much-anticipated Blitz 5 Game of the Week between Eastern Cincinnati Conference rivals has finally arrived, as the top-ranked team in the Blitz 5 Top 25, Winton Woods, heads into a hostile environment at Anderson. The two teams have polar opposite identities. Winton Woods makes its living as a defensive juggernaut while Anderson is an offensive powerhouse. Something has to give in this epic ECC battle.
#1 WINTON WOODS (5-0, 4-0) at #11 ANDERSON RAPTORS (4-1, 3-1)
Kickoff: 7:00 p.m.
Charles Brown Stadium
Follow on X: @TSFootball  
PLAYERS TO WATCH: The Winton Woods' backfield tandem of junior Tyler Gooding and freshman Isaiah Garrett has combined for 911 yards rushing, 12 touchdowns. Garrett is averaging 10.6 yards per carry. Linebacker Justin Hill along with defensive backs Donmiel Rogers Jr. and Darrion Lumpkins have played at an all-state level and anchor the defense. Hill leads the ECC with 6.5 sacks. Rogers has three interceptions and six pass breakups. Lumpkins has four pass breakups and three tackles for losses.

So many offensive players are off to great starts for Anderson. Senior running back Brodey Berg has 16 touchdowns (12 rush, four rec), 100 points scored, 29 receptions with team highs of 460 yards rushing and 384 yards receiving. Berg's classmates Mike Smith and West Virginia commit Jack Sammarco have combined for 38 receptions, 470 yards receiving and five touchdown catches. Juniors Caden Piening and Trace Jallick have major college offers. Piening has 13 receptions for 228 yards and three touchdowns (two rec, one rush) from the tight end spot. Jallick has snared 37 balls for 380 yards and four scores.
TEAM TRENDS: No one has been better against the run than Winton Woods. The Warriors have not given up more than 37 yards rushing in a game. They are holding the opposition to a mere 1.8 yards per carry and just 100.4 yards of total offense per contest. On the flip side, Winton Woods has two of the top five rushers in the ECC and is averaging 212.4 yards per game rushing and 8.4 yards per carry.

Anderson is averaging 48.2 points per game and has 31 offensive touchdowns (17 pass, 14 rush). The Raptors are averaging 469.0 yards of total offense (331.2 pass) per game. That potent offensive production has led to them punting only one time through the first five tilts.

HEAD COACHES:
Winton Woods: Chad Murphy (30-4 at Winton Woods, third year; 63-62 overall, 12th year)

Anderson: Evan Dreyer (61-26 at Anderson, eighth year; 105-53 overall, 15th year)

PLAYOFF HISTORY:
Winton Woods (14 appearances, 28-12) – 2022, 2021 (State Champion), 2020, 2018 (Regional Champion), 2017 (State Runner-up), 2013, 2012, 2010, 2009 (State Champion), 2008, 2007, 2006, 2005, 1998

Anderson (16 appearances, 21-15) – 2022, 2021, 2020, 2018, 2017, 2016, 2009, 2008 (State Runner-up), 2007 (State Champion), 2003, 2002, 2001, 2000, 1996, 1994, 1992

WINTON WOODS' KEYS TO VICTORY: Playing disciplined and being sharp down-after-down is about the only flaw that the Warriors have shown this season. The turnovers and penalties need to be cleaned up. Anderson will capitalize on mistakes by Winton Woods.
ANDERSON'S KEYS TO VICTORY: The offense is going to be just fine in this affair. It's time for the defense to step up in a big game. That means stopping the Warriors' rushing attack and making them have to earn the win through the air. Playing error free on special teams is also a must, especially an untested punting unit.
Prediction: Winton Woods 35, Anderson 24