TSF 2016 Cincy OPOY: Ra'Von Bonner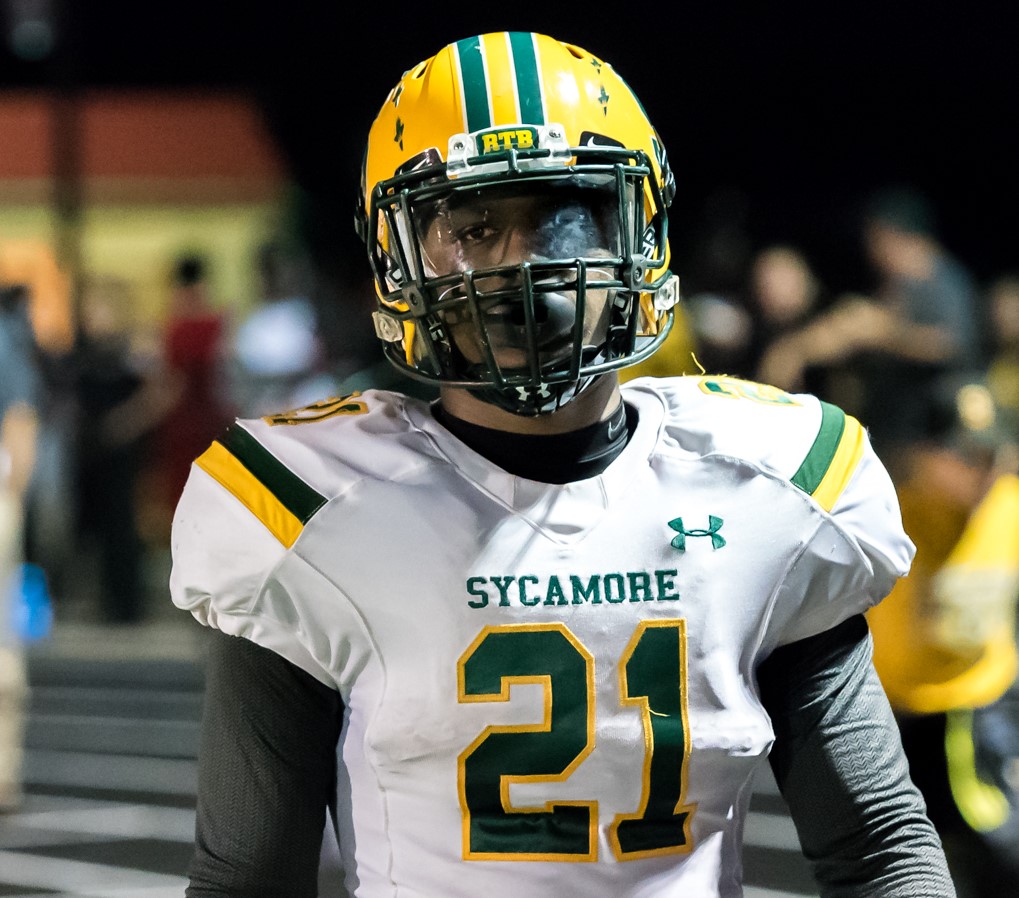 It's always special when a kid realizes his back is against the wall, responds to the adversity and takes his game to another level. It's rare but when it happens it becomes unforgettable and that is just what Ra'Von Bonner did helping Sycamore (8-5) turn around its season from 2-4 start to Regional runner-up. Bonner was a force for the Aviators and for that effort he was named the 2016 TriStateFootball.com Cincinnati Offensive Player of the Year as TSF paid tribute to finest from Cincinnati, Northern Kentucky, Dayton and Southeast Indiana area's high school gridiron at its annual Year in Review Show on Monday night at the Holy Grail, downtown Cincinnati.
Bonner was the catalyst for a Sycamore squad that made the Regional finals for the first time in school history. He capped off a great senior campaign with 2,332 yards with 37 touchdowns rushing had 2,819 all-purpose yards and was named Division I First Team All-Ohio, Southwest District and the GMC Offensive Player of the Year. Five times in his last seven games as an Aviator Bonner ran for 200 yards or more. Sycamore went 6-1 in those affairs with the lone loss coming to eventual state champion, St. Xavier.
As a sophomore and junior, Bonner was named Second Team All-Southwest District. The University of Illinois signee rewrote the Aviators record books which includes 4,881 yards and 80 career touchdowns on the ground. In his last 26 starts, Bonner ran for at least two touchdowns 20 times.
Other finalists included six seniors – Reed Aichholz (Indian Hill), Kesean Gamble (CHCA), Andrew Marty (Wyoming), Christian Turner (La Salle), Jarell White (La Salle) and junior Jay Volpenhein (Anderson).
TriStateFootball.com was founded in 2005 and started its postseason awards in 2007. Bonner becomes the 10th player to be named the TSF Cincinnati Offensive Player of the Year.
2016 – Ra'Von Bonner (Sycamore)
2015 – David Montgomery (Mount Healthy)
2014 – Jeremy Larkin (LaSalle)
2013 – Gus Ragland (Moeller)
2012 – Greg Simpson (Sycamore)
2011 – Jalin Marshall (Middletown)
2010 – Tyler Williams (Colerain)
2009 – Dominique Brown (Winton Woods)
2008 – Mark Miller (Elder)
2007 – Elijah Story (Anderson)