Where They're Headed: Division II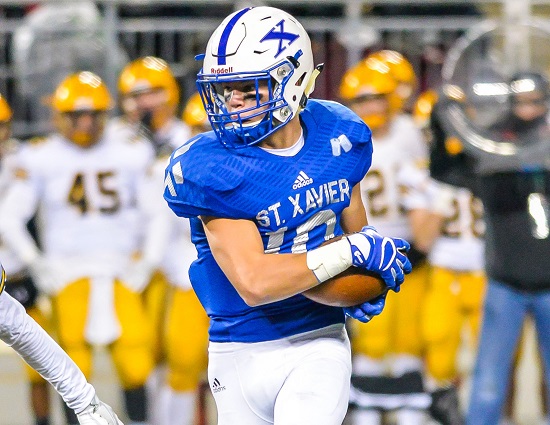 Next fall the landscape shifts in Division II as a handful of teams jump conferences. The realignment by the schools that use the TriState as a fertile recruiting ground will see the "new look" leagues form stronger regional rivalries. The changes will be a good thing, generating on and off the field battles that could lead to some of the best Division II football we have ever been surrounded by.
The Great Lakes Intercollegiate Athletic Conference will look different in 2017. Several Ohio teams are gone but Ashland and Tiffin remain. Ashland added seven locals all who played on winning teams as high school seniors including state champions, Chase Boeckerman (La Salle) and Colton Paul (St. Xavier). Tiffin snared a quartet of fast and athletic defensive that combined for 14 takeaways a year ago.
The Great Midwest Athletic Conference looks to solidify its footing in Division II football. The G-MAC adds GLIAC defectors Hillsdale, Lake Erie, Walsh, Findlay and Ohio Dominican. Findlay loaded up on players who have mad and impact in at least two of the three phases of the game during their prep careers. The Class of 2021 Oilers has all the qualities and characteristics to be very productive at U of F.
The 10-team GLIAC will be made up predominately by Michigan schools. Davenport in Grand Rapids will move from NAIA to Division II beginning in '18 (the third year for the football program). The Panthers continue their pipeline of funneling talent from the Greater Miami Conference. Five GMC players and Southwest Ohio Conference Player of the Year, Trayvon Wilburn (Mount Healthy) head north to suit up for DU.
Sioux Falls from South Dakota is a newcomer to the local recruiting scene. The Cougars won NAIA champions in '06, '08 & '09 before moving to Division II in '11. They ink some offensive line beef in Andrew Johnson (Milford) and Bryce Couch (Edgewood).
Here is a look at the locals who signed with Division II schools:
GREAT MIDWEST ATHLETIC CONFERENCE (G-MAC)
Findlay: Jake Brown, Miamisburg, LB, 6-1/210; Chris Demler, Clinton-Massie, K, 6-5/175; Josh Feld, Sycamore, OL, 6-6/280; Nick Finley, Lakota East, OL, 6-3/300; Ricarie Howard, Dayton Christian, ATH, 5-10/201; Cade Rogers, Tippecanoe, DB, 5-9/178; Terrence Smith, Princeton, RB, 5-10/200; Tyler Tischler, Springboro, DB, 5-10/185; Chandler Wren, Bellbrook, WR, 6-0/187; Nyem Wilson, Wayne, LB, 6-0/185
Ohio Dominican:Eddie Driskell, Edgewood, WR, 6-5/180; Evan Ernst, Moeller, QB, 6-3/215; Devon Garrett, Edgewood, RB, 5-9/170; Lovell Gilbert, Princeton, LB, 5-9/194; Zander Haley, Lebanon, K, 5-10/170; Cooper Johnson, Urbana, K/P, 6-2/170; Julian Linkhart, Beavercreek, WR/DB, 5-11/165; Juan Martin Jr., La Salle, DB, 5-10/165; Jalen Murray, La Salle, OL/DE, 6-4/240; Fred Pitts, Wayne, RB, 5-10/202; Solomon Reed, Princeton, QB, 6-2/187; Eric Richey, Milford, LB, 6-3/220; RaQuon Robinson, Princeton, RB, 5-6/150
GREAT LAKES INTERCOLLEGIATE ATHLETIC CONFERENCE (GLIAC)
Ashland: Chase Boeckerman, La Salle, OL, 6-3/245; Greg Dingledine, Edgewood, LB, 6-0/230; Samson Hairston, Princeton, OL, 6-3/275; Elijah Hollis, Sycamore, DE, 6-1/232; Mike Kopaygorodsky, Mason, RB, 6-0/195; Colton Paul, St. Xavier, WR/DB, 6-2/189; Anthony Rodgers, Princeton, WR/DB, 6-0/175
Davenport: Monalo Caldwell, Colerain, RB, 5-10/215; Eric Jackson, Hamilton, ATH, 5-11/205; Jerred McGuire, Fairfield, K/P, 6-1/220; Zack Richardson, Sycamore, OL, 6-6/288; Trayvon Wilburn, Mount Healthy, LB, 6-2/190; Juwahn Williams, Colerain, DL, 5-11/260
Grand Valley State: Brian Qua, Lakota West, OT, 6-4/315
Tiffin: The-Moor Kelly, Moeller, LB, 6-2/215; Justin Lockett, Walnut Hills, DB, 5-11/180; Chrystian Watkins, Moeller, LB, 6-0/200; Derell Williams, Mount Healthy; WR/RS, 6-0/160; Josh Wills, Wayne, DE, 6-1/225
MOUNTAIN EAST CONFERENCE (MEC)
Glenville State: Steve Summer, Carlisle, OL, 6-5/295
Notre Dame College: Ethan Burch, Fairfield, WR, 6-2/185
Urbana: Gary Beatty, Middletown, LB, 5-9/240; Kevon Cephas, Hughes, WR/DB, 5-9/165; Hunter Boggs, Edgewood, LB, 5-11/220; Tony Buckley, Hughes, WR/DB, 5-10/176; Andrew Covey, Stebbins, LB, 6-2/230; Grant Fansler, Hamilton, OL, 6-3/280; Conner Gleason, Hamilton, OL, 6-4/265; Isaiah Gordon, Ponitz, DB, 6-0/175; Tobias Hailey, Trotwood-Madison, DB, 5-11/170; David Hickey, Stebbins, QB, 5-11/190; Giante Hicks, Winton Woods ,ATH, 5-10/200; Keyshawn Jones, Dunbar, ATH, 5-10/160; Quinn Jones, Edgewood, DL, 6-3/260; Kelly Kinser, Springfield, OL/DL, 6-3/300; Alex Little, Hamilton, DL, 6-4/260; DeArmon Lewis, Trotwood-Madison, DB, 5-22/166; James Mitchell, Fairfield, RB/slot, 5-9/175; Chris Jackson, Dunbar, WR, 6-2/186; Marcus Omosule, Miamisburg, OL/DL, 6-1/250; Konner Smith, Valley View, DE, 6-2/225; Kawantay Staley, Colerain, DE, 6-0/185; Jacob Ungruhe, Little Miami, OL, 6-6/328; Jeffery Wagner Jr., Dunbar, RB/SS, 5-6/150; Nick Winchester, Northmont, K, 5-10/175; Cameron Winding, Middletown, DB, 6-0/190; Jaevan Wright, Middletown, RB, 5-9/170; Logan Zerkle, Northmont, WR, 6-2/207
Charleston (WV): Khadim Fall, Sycamore, WR
West Virginia State: Aaron McKenzie, Fairfield, LB, 6-2/220
West Virginia Wesleyan: Kobe Vinegar, Trotwood-Madison, LB, 5-10/170
GREAT LAKES VALLEY CONFERENCE (GLVC)
Indianapolis: Aaron Bishop, Elder, WR/CB, 5-10/160; Ethan Hirt, Batesville, LB, 6-0/220
Quincy: Kai Kremer, Walnut Hills, OL, 6-1/270
CONFERENCE CAROLINA'S ASSOCIATION (CCA)
Limestone: Grant Coleman, Kings, DB, 6-0/170; Tyler Glenn, Lakota East, RB/LB, 6-0/220
NORTHERN SUN INTERCOLLEGIATE CONFERENCE (NSIC)
Sioux Falls: Bryce Couch, Edgewood, OT, 6-3/270; Andrew Johnson, Milford, OL, 6-3/315
BLUEGRASS MOUNTAIN CONFERENCE (BMC)
Lenoir-Rhyne: Lorenzo Gist, Winton Woods RB/LB, 6-0/214
SOUTHERN INTERCOLLEGIATE ATHLETIC CONFERENCE (SIAC)
Central State: Mikey'ion Hunter, Trotwood-Madison, LB, 5-11, 212
PENNSYLVANIA STATE ATHLETIC CONFERENCE (PSAC)
Mercyhurst: Dylan Browning, Anderson, OL, 6-4/250; Xavier Martin, Lakota East, DL, 6-1/270