Where They're Headed: Division I-AA, FCS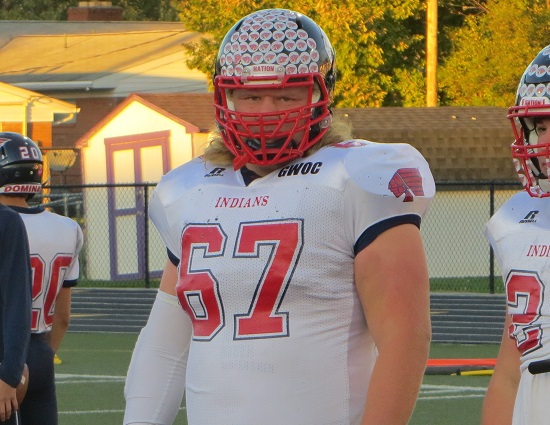 The Southern Conference, Youngstown State and Eastern Kentucky found the end zone, scoring some rock solid Division I-AA TriState Football talent. Competition for players among Pioneer Football League schools is as strong as ever. Local players continue to entertain multiple offers from PFL programs on a yearly basis. As good as the pickings were, there is still some hidden gems left to be signed.
Football in the south is becoming more appealing. SoCon teams inked seven local players of which five were mammoth linemen. The average size of that quintet is 6-foot-3 and 283 pounds. Wofford make have gotten one of the biggest steals by signing Simon Kenton QB Cam Racke who will enter camp with the Terriers as an athlete. Those headed to East Tennessee will compete for playing time early in their careers. This will be the third season of Buccaneers football after the revival of an ETSU program that had laid dormant since 2003.
Eastern Kentucky had one of its strongest recruiting classes, ever. The Colonels add depth from the TriState with the additions of QB Dakota Allen, LB Peyton Van Horn, RB/LB Ridge Reed and ATH Kevin Hyde.
Fresh off an exciting Division I-AA, FCS national runner-up finish, Youngstown State found a trio of pieces to help them get back to the title game in the future. The Penguins fans will love Dan Becker's tenacity on defense while Miles Joyner and Christian Turner will be guys who can stretch the field catching the ball.
Here is a look at the area's FCS (Division I-AA) signees:
PIONEER FOOTBALL LEAGUE (PFL)
Butler: Adam Baker, CHCA, WR, 6-2/190
Davidson: Alex Coburn, Moeller, OL, 6-4/265; Harrison Hill, Anderson, LB, 6-0/190
Dayton: Anthony Best, Covington Catholic, SS, 6-1/195; Brandon Easterling, Fairborn, ATH, 5-10/175; Nate Obringer, Lebanon, DL, 6-3/225
Morehead State: Matt Blank, Bishop Brossart, OL/DL, 6-4/290; Michael Davis, Beavercreek, OL/DL, 6-1/245;
Valparaiso: Conor Beer, Sidney, ATH, 5-9/165; Ryan Markoff, Alter, QB, 6-2/190; Kevin Wright, Wayne, DB, 6-0/160
MISSOURI VALLEY CONFERENCE (MVC)
Indiana State: Dante Hendrix, Cooper, WR/DB, 6-3/180; Max Morgan-Elliot, Wayne, OL, 6-3/260
Youngstown State: Dan Becker, Indian Hill, LB, 6-5/220; Miles Joyner, Butler, WR, 6-4/200; Christian Turner, La Salle, RB, 5-10/190
OHIO VALLEY CONFERENCE (OVC)
Eastern Kentucky: Dakota Allen, Lebanon, QB, 6-4/195; Kevin Hyde, Colerain, DB, 5-10/165; Ridge Reed, Carlisle, RB/LB, 6-1/220; Peyton Van Horn, Conner, LB, 6-2/205; Alex Shelton, Covington Catholic, LB/LS, 6-1/215 (PWO); Luke Vance, Simon Kenton, WR, 5-10/190 (PWO)
Tennessee-Martin: Ryan Davis, Colerain, LB, 6-0/215; Andrew Kerobo, Winton Woods, DL/OL, 6-5/265
SOUTHERN CONFERENCE (SOCON)
East Tennessee State: Miles Manigault, Moeller, DL, 6-2/250; Tyler Richardson, La Salle, DB, 5-10/165
Elon: Tristen Cox, Piqua, DL, 6-4/294; Michael Purcell, Centerville, OL, 6-4/300
Western Carolina: Clark Willhoite, Roger Bacon, OL, 6-6/295
Wofford: Zak Kurz, St. Xavier, OT, 6-4/275; Cam Racke, Simon Kenton, ATH, 6-0/205
IVY LEAGUE (IVY)
Dartmouth: Hunter Ziegelmeyer, Covington Catholic, OL/DL, 6-6/280
Princeton: Delan Stallworth, St. Xavier, DB, 5-10/170
Yale: Ethan Campbell, La Salle, DL, 6-2/187
PATRIOT LEAGUE (PL)
Fordham: Jack Gildea, Wyoming, TE/DE, 6-4/230
Lafayette: Reed Aichholz, Indian Hill, QB, 6-5/215
BIG SOUTH (BS)
Coastal Carolina: Baden Pinson, Reading, SS, 5-9/170
NORTHEAST CONFERENCE (NEC)
Robert Morris: Alek Kwasniewski, Kings, DB, 6-0/190
MID-EASTERN ATHLETIC CONFERENCE (MEAC)
Howard: Bryan Cook, Mount Healthy, CB/WR, 6-0/165
COLONIAL ATHLETIC CONFERENCE (CAA)
Albany: Mazon Walker, Wayne, DL, 6-0/300