New look SBAAC American rich in talent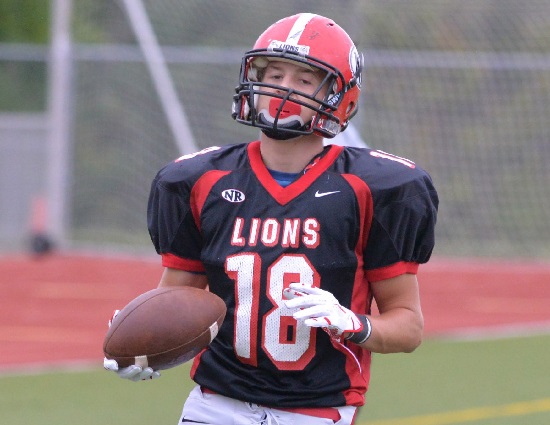 New Richmond WR Chandler Kinhalt (photo by Mike Noyes/TSF)
They say change can be good and for the Southern Buckeye Athletic and Academic Conference several alterations should bring a bright and promising future. The SBAAC American division (the larger school division) will be going into its new look loaded with offensive players who have already established themselves varsity level.
Wilmington and Clinton-Massie join the American division from the now defunct South Central Ohio League (SCOL). They replace Norwood who is moving onto the Miami Valley Conference (MVC) and Amelia which merged with Glen Este to form West Clermont High School and will play in the Eastern Cincinnati Conference (ECC). Moving over from the SBAAC National division is Batavia. Those three schools will join current members Western Brown, New Richmond and Goshen to form the new version of the SBAAC American. The SBAAC National (smaller school division) will consist of six schools – Williamsburg, Fayetteville-Perry, Blanchester, Bethel-Tate, Clermont Northeastern and East Clinton.
Don't be surprised if three of the six SBAAC American teams make the playoffs. Everyone is loaded in talent and experience. This could be a historic year for the conference. The Friday night wars will make the schools which advance to the postseason one of the most battle-tested groups to ever represent the conference in the playoffs.
New Richmond looks to head back to the postseason. The Lions fell in the second round of the Division III playoffs to eventual state runner-up, Trotwood-Madison. For the Lions it all starts with QB Josh Anderson who amassed 3,263 yards of total offense (2,068 passing, 1,195 rushing) and accounted for 35 touchdowns (20 rushing, 15 passing) with four interceptions on defense last fall as a sophomore. That earned him Second Team All-Ohio and SBAAC American Offensive Player of the Year honors. Anderson along with RB TJ Gelter and WR Chandler Kinhalt all have more than 1,400 all-purpose yards and have combined for 53 touchdowns at the varsity level.
Perennial playoff power Clinton-Massie will join the conference as a favorite to win it. They will be aiming for their 12th straight season of 10 wins or more. The Division IV Falcons are also looking for their 16th consecutive postseason berth which already includes state titles in '12 and '13. Don't be surprised if Clinton-Massie has a pair of 1,000 yards runners in Christian Poynter and JT Wolf. The duo combined for 1,754 yards and 23 touchdowns rushing as juniors.
Newcomer Wilmington has been knocking on the door of the playoffs but hasn't been invited in all three years under current head coach Scott Killen. Even though the Canes haven't made the Division III playoffs under Killen (former coordinator at Clinton-Massie) they have compiled a 22-8 record during his tenure. The fantastic WR/DB Dylan Beaugard will give Anderson a run for his money for the SBAAC American OPOY in '17. Beaguard is a difference maker in all phases of the game. He has 117 career receptions, nine interceptions, more than 3,000 all-purpose yards and 32 touchdowns in his three years as a starter. Wilmington QB Brady Evans made his debut in '16. All he did was throw for 2,055 yards, with 21 scoring strikes, 435 yards rushing and six touchdowns on the ground as a freshman.
No returnee in the division has run for more yards (1,846) or touchdowns (27) than Goshen senior RB Jimmy Strunk. His classmate QB Kyle Proffitt is one of three SBAAC American signal-callers to have thrown for more than 1,500 yards in his career. The Warriors went 5-5 last season with three losses by eight points or fewer. They have to beat teams they are supposed to. Defeats to Amelia and Ross who were a combined 3-15 not including their wins over Goshen took the Warriors out of the Division III playoff picture.
Western Brown seniors RB Zach Stacy and WR Wyatt Fischer are as dangerous and proven as any players in the division. Fischer has had back-to-back seasons of with at least 66 receptions, 1,100 yards and 11 touchdowns receiving. Stacy has been a model of consistency the past two campaigns racking up 2,016 yards from scrimmages (1,028 rushing, 988 rushing), with 75 receptions and 24 touchdowns (14 rushing, 10 receiving). The Broncos will be a factor in the race for a league title if a young defense that took its lumps in'16 (going 3-7) progresses like it should after having had a year to age.
As RB Austin Maham goes so goes Batavia. Maham barely played in five games as a junior with injuries getting the best of the back. The Bulldogs offense was absolutely lost without him. In the eight games that Maham carried the ball five times or less the Batavia offense scored a grand total of grand total of 27 points. The two contest in which carried the ball 13 times the Bulldogs scored 59 total points. He is one of seven returning players in the division that has more than 1,000 career yards rushing.
This is just scratching the surface of the firepower SBAAC American teams will have at their disposal this fall. There is a whole other tier of players that are going to have opposing coaches losing hair deciding who to concentrate on covering ono-on-one. The opportunities will be plentiful for this group to take advantage of making plays.