Taylor, Hilliard big on GCL South NSD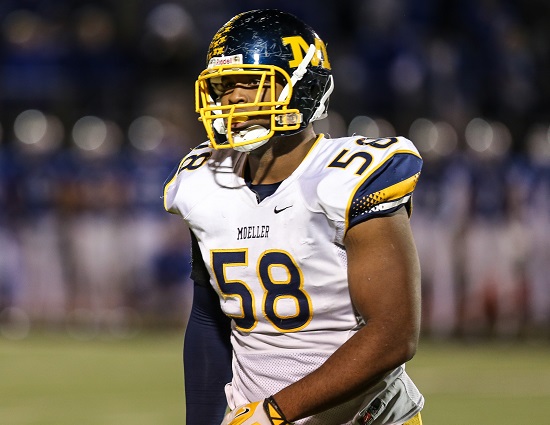 As we have become accustomed to seeing from the GCL South, it was another exceptional National Signing Day. There were plenty of Letters of Intent signed on Wednesday as the league will scatter players through Division I, II and III colleges.
The marquee signing came out of St. Xavier where linebacker Justin Hilliard (Ohio State) made it official that he was going to be a Buckeye.
Classmate Ben Glines (Boston College) will be a good fit for BC in the ACC.
It is pretty ironic a pair of Bombers, Ronnie Fricke (Army) and Cole Jones (Army) are headed to West Point.
Offensive linemen Dan McHale (Indianapolis) and defensive back Carter Raleigh (Butler) will head west to play in the Circle City.
Jonathan Brockhorst (Furman), kicker Myles Homan, defensive lineman Simeon Lane (Princeton) and secondary stud David Leisring (Dayton) are also going to test their skills at the next level.
For Division II state champion LaSalle it would be the defense who stole the show on Wednesday.
Defensive lineman Jordan Thompson (Northwest) will take his talents to the Big 10. The Lancers secondary saw a trio of players sign their letters of intent as Kevin Ferguson (East Tennessee State), Pierre Hunter (Mount St. Joseph) and Avery Larkin (Youngstown State) all off to play on Saturday's next fall.
Defensive end John Junker (Lake Erie College) will suit up for play in the GLIAC while linebacker Quintin Herbert (Yale) couldn't pass up the opportunity to get an Ivy League education. Offensive lineman Tim Rowell (Dayton) won't travel far from home.
It was a big day at Moeller with 12 seniors signing LOI's.
The pipeline from Montgomery road to South Bend, Indiana rolls on as Elijah Taylor will be the next Crusaders to play at Notre Dame.
It made head coach John Rodenberg extremely proud that several first-year starters for Big Moe managed to sign, including Evan Horst (Furman), Austin Ringel (University of Charleston) and Daniel Shirk (University of Charleston).
Ryan Stofko (Ashland) and Mitch Brauning (Ashland) will continue to be teammates in Stark County. The Moeller offense has several signees that could make impacts in college in Chase Pankey (Boston College), Doug Bates (Cincinnati) and quarterback Matt Crable (Grand Valley State).
The Moeller secondary did themselves proud as Miles Hayes (William & Mary), Noah Able (Wofford) and Christian Wersel (Dayton) are all moving on.
It was a relatively quiet NSD on the west side with Elder not reporting any signings of note.