Anderson sees strength in numbers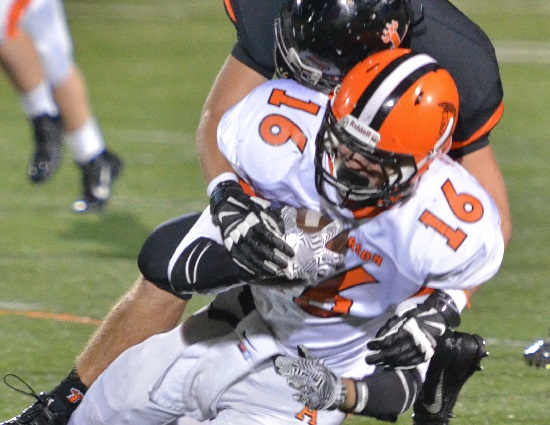 There is strength in numbers for the first time in several years at Anderson. With over 70 players on the roster including eight starters back on offense the Redskins will have plenty of competition fighting for playing time this summer. There is more size on the offensive line and special teams will be aided by a kicker and punter coming back.
"We are a young team with over half our roster being sophomores (45 in all). This is a close knit group who are working very hard in the off season" head coach Jeff Giesting says.
Inexperience may come into play especially on the defensive side of the ball. If Anderson can weather the storm of youthfulness the next few seasons promise to be very exciting at Brown Stadium.
Division II, Region 6
2014 RECORD: 4-6, 4-3 ECC
COACH: Jeff Giesting (59-34, eight years @ Anderson, 59-34 overall)
HONOR ROLL
Blake White, Sr, TE/DL – A First Team All-ECC performer as a junior White is a vital cog on both sides of the ball for the Redskins. White can get himself free to make plays as a tight end and a d-lineman. He caught nine balls for 118 yards and a touchdown as a junior.
Dylan Smith, QB/P – Don't be surprised if Smith run and throws for 1,000 yards he is more than capable of accomplishing that feat. He earned Second Team All-ECC accolades after throwing for 1,136 yards, rushing for another 306 yards and accounting for 12 touchdowns (eight passing, four rushing) as a junior.
Connor Wheeldon, Sr, WR/DB – Expect a big senior campaign from Wheeldon who has 56 receptions for 886 yards and six touchdown catches in his career. He was a Second Team All-ECC selection a year ago.
OTHER RETURNEES
Jack Mangan, Sr, LB – Mangan adds depth and leadership to the young Redskins defense.
NEWCOMERS
Harrison Hill, Jr, RB/LB – Coach Giesting feels like this could be a breakout season for Hill, who is still an unproven commodity at the varsity level.
Zeke Correll, Fr, RB/LB – Already at 6-foot-2, 215 pounds Correll is physically ready to play at the varsity level. He has wonderful pedigree as several brothers before him have already excelled for the Redskins.
PLAYOFF HISTORY
(10 appearances, 12-9) – 2009, 2008 (runner-up), 2007 (State Champion), 2003, 2002, 2001, 2000, 1996, 1994, 1992
2015 SCHEDULE
Getting out of the gate quickly is a must for the Redskins. That is a tall order considering the first three non-conference opponents were a combined 24-10 a season ago. In conference play Anderson will host Kings and Loveland….FULL SCHEDULE
NON-CONFERENCE WOES
Since ECC play began three years ago Anderson is a combined 1-10 in non-conference affairs. The Redskins are just one game below .500 (9-10) in league play during that same time frame.
FRIDAY NIGHT NO LIGHTS
In Week 2 Anderson will travel to east side rival McNicholas for an early 5:00 p.m. start. Penn Station Stadium on the McNicholas campus has no lights and has decided to move the start time up from the traditional 7:00 p.m. kickoff.