Winning a constant at Kings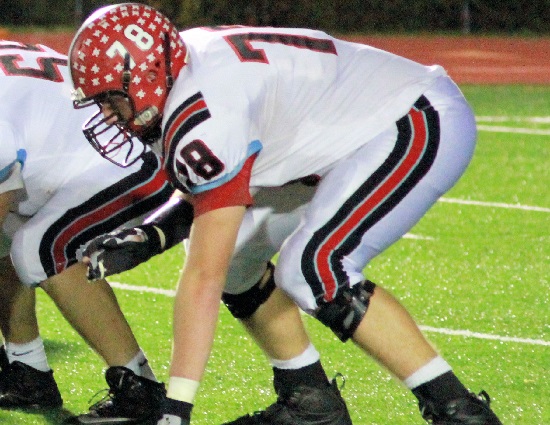 The tools and talent are in place for Kings to have another big season. The Knights are still chasing that elusive first regional title for the school. It is not out of the question that this squad can get to the promise land.
The program has been a model of consistency under head coach Andy Olds. They have averaged more than eight and a half wins a year in his 17 seasons at the helm. Executing a play here or there in the playoffs could see this Kings team reach the apex in Region 6.
The journey to the top will not be easy in a league loaded with quality opposition. Getting past that gauntlet unscathed is going to take a gargantuan effort. The challenges will be even tougher once post-season starts with the likes of reigning state champion LaSalle, Mount Healthy, Winton Woods, Wapakoneta and possibly Sycamore looking to stake their claim on the regional crown. This much is known the Knights aren't going to back down from any of these foes and will give them the dogfights of their lives come November.
Division II, Region 6
2014 RECORD: 11-1, 7-0 ECC
COACH: Andy Olds (147-45, 17 years @ Kings, 147-45 overall)
HONOR ROLL
Jacob Bedinghaus, Sr, OL – The 6-foot-5, 278 pound Bedinghaus was Division II Third Team All-Ohio selection as a junior.
Blake Bockrath, Sr, DE – Bockrath was a sack machine registering 14.5 sacks as a junior. He also forced four fumbles and came up with three takeaways (two fumble recoveries, one interception) on his way to Second Team All-Ohio honors.
Tyler Knecht, Jr, QB – Knecht was cool as a cucumber in his first season as a starter under center. He threw just one interception in the regular season and amassed 2,314 yards of total offense (1,784 passing, 530 rushing) while accounting for 20 touchdowns 912 passing, eight rushing) as a sophomore. He earned First Team All-ECC honors for his efforts.
Jared Dorsa, Sr, LB – A real ballhawk for the Knights defense Dorsa was in on 116 total tackles with six takeaways (four fumble recoveries, two interceptions) in '14. He was named First Team All-ECC for his work.
Josh Rayman, Sr, DB – Rayman finished second in the ECC with four interceptions as a junior. He also recovered two fumbles on his way to earning First Team All-ECC honors.
Jacob Henderson, Sr, DB – A Second Team All-ECC selection as a junior, Henderson has 116 tackles and three interceptions during his career.
Aaron Wyatt, Sr, OL – The mammoth Wyatt is a two-time Second Team All-ECC heading into his final year.
OTHER RETURNEES
Matt Sichterman, Jr, OL – Sichterman is a returning starter on the Knights offensive line.
Justin Wise, So, WR – Rarely do freshmen play at Kings but the talented Wise was just too good to keep off the field. He finished '14 with 36 receptions for 363 yards and a touchdown.
PLAYOFF HISTORY
(11 appearances, 11-11) – 2014, 2013, 2011, 2010, 2008, 2007, 2005, 2004, 2003, 2002, 1999
2015 SCHEDULE
A pair of GWOC South teams kick off 2015 for the Knights followed by another non-conference affair with Division I Hamilton. Kings will be at Loveland, Milford and Anderson in league play. There is no reason that the Knights can't make the playoffs for a third straight season.
TAKEAWAY ARTISTS
The Knights created 35 turnovers while giving the ball up just 13 times in '14. Kings had one turnover or less in nine of its 12 contests. They forced three or more turnovers on seven occasions.
SCORING IN BUNCHES
Kings scored 30 points or more in seven straight games and nine times in 10 weeks last season before falling in the Regional championship to Mount Healthy in the playoffs.