Turpin has tough road to a title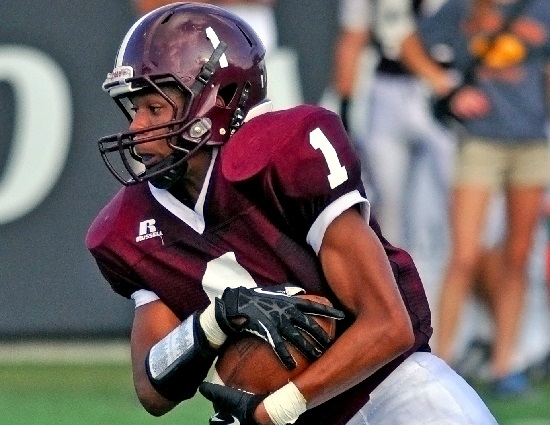 It's hard to believe that Turpin hasn't been to the playoffs the last two years after a run of seven post-season appearances in a row. The Spartans were on a roll and then their train jumped the tracks. Turpin went 12-1 in 2012 but have since won just eight games over the past two campaigns. Getting back to being one of the ECC's top teams is the goal but that is going to a tall order in a league loaded with quality squads.
"We have good chemistry with 17 players returning with varsity experience. The 2015 team has really put in the hours in the weight room and shown exceptional strength gains. Their attitude has been tremendous," head coach Rob Stoll says. Transferring the effort into wins is the next step for the Spartans. Count on Turpin being a menace on the field this fall.
Division II, Region 6
2014 RECORD: 4-6, 3-4 ECC
COACH: Rob Stoll (101-45 @ Turpin, 13 years, 101-45 overall)
HONOR ROLL
Lang Evans, Jr, LB – Evans set a school record with 178.5 tackles on his way to First Team All-ECC honors as a sophomore.
Austin Jackson, Sr, K – What a weapon Jackson was for Turpin in '14 finishing the year with 49 total points (19/20 XPs, 10/13 FGs). Over the last three games he kicked seven field goals, five of which were 31 yards or longer including a career best 45-yard blast in the Spartans finale. Jackson was named Second Team All-ECC for his efforts.
OTHER RETURNEES
Adrien Baker, Sr, RB – Baker is a threat as a runner, receiver and return specialist. He has 1,929 all-purpose yards at the varsity level.
Luke Bohenek, Jr, WR – With so many of Turpin's top receivers having graduated Bohenek should be a top target for the Spartans.
Ethan Farley, Sr, LB – The linebackers will be a strength of the Spartans in '15 and Farley will play a large role in their success.
Max McCann, Sr, DL – McCann had some monster games as a junior getting that done each week as a senior will be a huge boost for the Spartans.
Dylan Padget, Sr, FS – Padget will need to be a leader in a young Spartans secondary.
Ben Rackley, Sr, DL – A pleasant surprise for the Turpin defense a year ago expect coach Stoll to unleash Rackley on opposing quarterbacks this fall.
Zach Rowland, Sr, OG – The 6-foot-4, 240 pound Rowland is one of the biggest players on the Turpin roster.
Drew Spencer, Jr, OT – A member of a strong junior class Spencer will be a staple on the Spartans o-line the next two seasons.
Bennie Stoll, Sr, QB – When healthy Stoll has proven he is an asset to the Spartans offense with 1,550 yards passing in 12 games.
Colin Thompson, Jr, LB – With the opposition focusing on containing Evans look for Thompson to have a breakout campaign.
NEWCOMERS
Wade Hock, TE – Coach Stoll is looking for Hock to contribute at the varsity level for the first time.
Nathan Hooper, Jr, slot – The speedy Hooper is going to get his fair share of balls thrown his way as a junior. He must capitalize on his opportunities early in the season in order to keep getting those looks.
Tyler Schnitzler, Jr, TE – Schnitzler will move from quarterback to tight end this fall.
Jack Tyszkiewicz, Jr, OLB – Tyszkiewicz adds depth to the Spartans linebacking corp.
PLAYOFF HISTORY
(Nine appearances, 9-8) – 2012, 2011, 2010, 2009, 2008, 2007, 2006, 1995
2015 SCHEDULE
The first five weeks of the season the Spartans are going to be going up against some very physical teams. Staying healthy and getting out of that stretch with three victories would be quite the accomplishment. That would set Turpin up in good shape for its 10th trip to the playoffs
POINTS EQUAL PLAYOFFS
Over the past two seasons Turpin has averaged 19.1 and 15.8 points per game. In the seven years prior, all playoff years for the Spartans the averaged at least 29 points per contest and never scored less than 309 total points in any of those campaigns.