Pilcher makes Glen Este an aeriel threat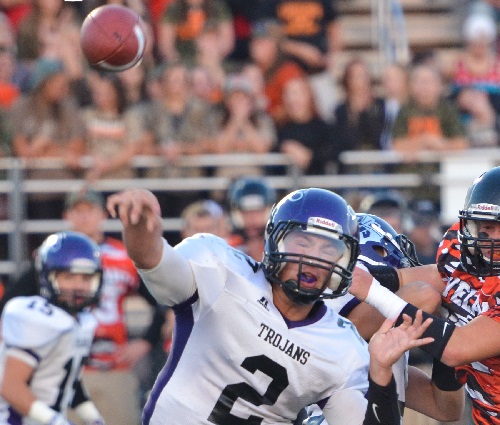 At school known for its its hard-nosed running style of play very rarely do quarterbacks post the kind of stats at Glen Este like Tyler Pilcher has done for the Trojans. Pilcher has changed the way the Glen Este approaches offense. The two-time First Team All-ECC selection heads into his senior season as one of the most prolific passers in school history.
Here is a look Pilcher: By The Numbers.
1 – Touchdown pass as a freshman
1 – Rushing touchdown as a sophomore
5 – Rushing touchdowns as a junior
5 – Most passing touchdowns in a game (vs. Anderson 10/18/13)
6 – Rushing touchdowns in his career
11 – Games with at least two touchdown passes in his career
16 – Touchdown passes as a junior
19 – Touchdown passes as a sophomore
36 – Touchdown passes in his career
87 – Career high rushing yards in a game (vs. Amelia – 8/29/14)
290 – Career high passing yards in a game (vs. Loveland – 9/18/14)
355 – Yards rushing as a junior
366 – Yards rushing in his career
1,632 – Yards passing as a sophomore
1,815 – Yards passing as a junior
3,483 – Yards passing in his career