Loveland hoping to bounce back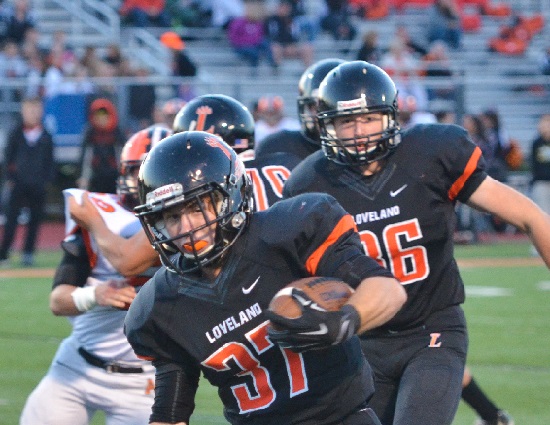 A loss to Milford in last season's finale kept Loveland out of the playoffs and with no possibility of defending their 2013 state title. That defeat has left a bad taste in the current Tigers mouths. Hungry to get back on the field and prove that they are once again one of the best clubs in Region 6 and beyond Loveland realizes that failure is not an option in 2015.
This is a veteran team that saw several seniors play prominent roles on the state championship squad as sophomores. They understand that underclassmen have to step up so making them feel accepted is vital as everyone has an important part to play in the Tigers success. That unselfishness bodes well in forming great team chemistry. This group gets it and there should be nothing holding them back from being a force in 2015.
Division II, Region 6
2014 RECORD: 6-4, 5-2 ECC
COACH: Fred Cranford (21-4 @ Loveland, two years, 58-38 overall, nine years)
HONOR ROLL
Jake Saunders, Sr, DL – One of the best Division II d-linemen in Ohio Saunders was a Special Mention All-Ohio and First Team All-Southwest District selection as a junior. He has offers from the likes of Wisconsin, Purdue, Maryland and Oregon State as well as others.
Luke Waddell, Jr, RB – Waddell followed up a fine freshman campaign by setting the single season record at Loveland for rushing yards with 1,464 as a sophomore. He added another 361 yards on 19 receptions while finding the endzone 21 times (16 rushing, five receiving). Those efforts earned Waddell Special Mention All-Ohio and First Team All-Southwest District honors. Waddell heads into his junior year with 3,057 yards rushing, 45 receptions, 819 receiving yards and 42 total touchdowns (34 rushing).
Colton Lakes, Sr, LB – A breakout season for Lakes saw him get in on 74 tackles on his way to First Team All-ECC accolades. Lakes has an offer from Eastern Michigan.
Drew Plitt, Sr, QB – The polished Plitt earned Second Team All-ECC acclaim after throwing for 1,346 yards and13 touchdowns. Plitt will be back for his third year as a starter, He has thrown for 2,959 yards while accounting for 34 touchdowns (27 passing, seven rushing) at the varsity level. He has verbally committed to Ball State.
Michael Newbold, Sr, DL – A returning starter Newbold was a Second Team All-ECC choice as a junior.
Eric Popp, Sr, LB – A Second Team All-ECC pick as a junior Popp has 101 career tackles.
Matt Bezjak, Sr, TE – Big play Bezjak had eight receptions of which three went for touchdowns in '14. He was named Honorable Mention All-ECC for his work.
OTHER RETURNEES
On defense the secondary will be deep with seniors Drew Steinbrunner, Blake Schlesner and junior Drew Grafflin all returning. Andrew Hesse is part of a outstanding linebacking corp.
Offensively, many receivers are gone but everyone is expecting big things out of Michael Peters who is healthy for his senior season. Running back Ryan Bagnoli will spell Waddell. He is more than capable of breaking off long runs.
PLAYOFF HISTORY
(four appearances, 6-3) – 2013 (State Champions), 2002, 2000, 1986
2015 SCHEDULE
What an intense start for Loveland. The Tigers start with five potential playoff teams the first five weeks. There will be no time to back down Loveland will have to bring it's "A" game on every down. The good news is that the Tigers will have plenty of opportunity to pick up big Harbin points before October begins.
BUILDING A WINNER
Loveland's 21 total wins over the last two seasons is one more than they compiled in any four year stretch since 2006. The Tigers have had only one losing season since 2008 when they went 4-6 in '10.