Bearcats Dominate District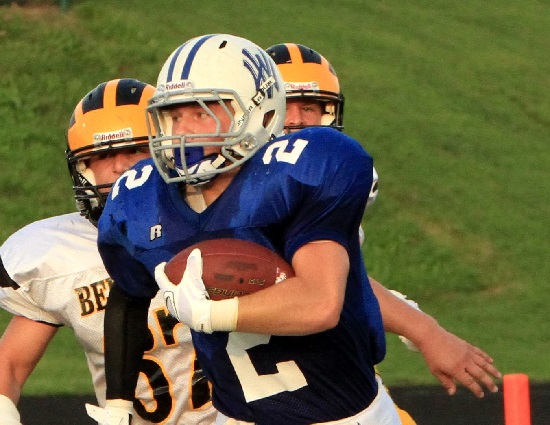 Outside of Walton-Verona's fine season 2014 is a year that the other four Class 2A, District 5 teams would just as soon lay to rest. While Walton-Verona went 10-2 the rest of the district was a combined 12-31.
Depth and experience have hindered the progress and consistency for teams in the district over the past several years.
As the 2015 campaign nears a fresh outlook and hope springs eternal for new beginnings for those squads. For those programs the hope is that victories will build confidence to perform at a high level this August.
Here is a closer look at some of the NKY Class 2A District 5 top returnees and its teams this season.
District Dominance – Walton-Verona was terrific in district play last season. The Bearcats went 4-0 and outscored their rivals by an averages score of 57.75 to 12.25 (45.5 margin of victory) in those contests. Over the past three seasons Walton-Verona is 11-1 in district play. The last 10 of those victories have all been by 27 or more points.
Grinding It Out – The reason Walton-Verona went 10-2 in '14 was because of its ground game. The Bearcats completed two passes or less eight times in 12 games. They ran for 3,899 yards (324.9/game) with 57 rushing touchdowns.
Tumble at Trimble County – The last time Trimble County had a winning season was in 2007. The Raiders went 3-8 last year and that is one less victory than they had in the previous four years combined (4-36 from 2010-'13). Trimble County has lost at least eight games for six straight seasons.
Raiders Become Offensive – The Trimble County offense had been pitiful the prior two seasons before 2014 scoring just 66 total points in '13 and only 43 in '12. The Raiders erupted for 212 points last fall. Four times in their last nine games they scored 30 points or more.
Owen County Woes – It was a tough year for Owen County, who had to rely on its depth coming from sophomores and freshmen as they went 1-9. The youngsters experience paid dividends late as the Rebels scored 43 and 26 points in their final two games which included a win over Carroll County. The team had not scored more than 22 points the first nine weeks of the season with just 101 total points in that span.
Building with Barnette – One freshman that made an impact in 2014 was Owen County's Dominick Barnette. A receiver on offense and defensive end on the other side of the ball the Rebels Barnette is one of the district's rising stars in the Class of 2018.
A Rose and his buds – Carroll County running back Cameron Rose and classmates, quarterback Isaiah Hogan, receiver Logan McIntyre and Kyle Prosser are primed for a big senior year in the Panthers' offense. Rose is a huge threat running and catching the ball out of the backfield. His emergence as the teams "go-to" guy in '14 has things looking bright in Carrollton come August.
Panthers defense needs bite – Keeping teams out of the end zone was tough for Carroll County in '14. The Panthers yielded 41.7 points per contest and allowed 28 points or more in all 11 games while going 3-8. They gave up 42 or more six times including 50-plus three times in their last seven tilts.
Gunfights for Gallatin County – It was shootout central for Gallatin County last season. The Wildcats and their opponents combined for 66 total points five times in the team's last nine games. Gallatin County went 2-3 in those affairs.