Better comp in Class 2A, District 6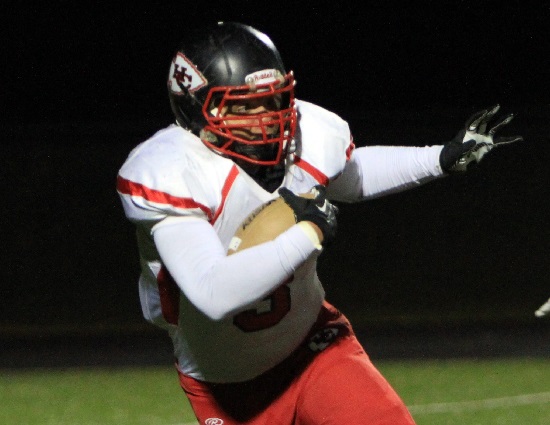 The road to Title Town has gotten a bit narrower for perennial powerhouse Newport Central Catholic. Young head coaches at Lloyd and Newport have made the Thoroughbreds work harder to maintain their reign on supremacy in Class 2A, District 6 the past couple of years.
The 2015 campaign promises to be more of the same from the challengers. There may not be a more competitive district from top to bottom in Class 2A throughout the entire Commonwealth of Kentucky.
Here is a closer look at some of the NKY Class 2A, District 6 top returnees and its teams this season:
District Dominance – Since joining Class 2A, District 6 in 2007 Newport Central Catholic has not lost a regular season district game. They are 28-0 over those eight years. Holy Cross did beat the Thoroughbreds on its way to the 2011 state championship. NewCath is 8-1 versus district foes in the playoffs since '07.
Great Expectations – Newport Central Catholic has been to the state title game eight times in the past 10 years having won four titles in in that span.
Eight is Not Enough – Three of the district's five teams – Lloyd, NewCath and Newport all won eight games in 2014. The trio was also a combined 7-3 in the playoffs with NewCath being state runner-up for a second straight season.
Woe-ly Cross – Things have not been easy for Holy Cross since winning the Class 2A state title in 2011. The Indians went 12-3 that season since then they are a combined 6-28, including 1-10 in each of the last two years.
Running Wild – The district's four teams will return five players who have more than 1,000 yards rushing at the varsity level. Jacob Smith (NewCath) – 2,777; Hamilton Scott (Holy Cross) – 1,217; Xavier Abernathy (Holy Cross) – 1,202; Tyree Bolden (Newport) – 1,067; Justin Durham (Lloyd) – 1,063. All will be seniors except Abernathy who will only be a junior.
Lloyd Lights it Up – In its eight wins last fall Lloyd never scored less than 42 points and averaged 45.0 in those victories. They did not beat a team with a winning record. The Juggernauts foes were a combined 18-53 in 2014. In their three losses Lloyd scored 19, 17 & 0 points.
Juggernauts Have Skills – Lloyd will not have any trouble putting points on the board this fall with their veteran group of skill position players. Running back Justin Durham ran for more than 1,000 yards with 20 touchdowns in 2014. Receiver Charles Gaines had 50 receptions and found the end zone eight times as a junior. The versatile LaShaun Townsend burst on to the scene hitting pay dirt 13 times in his sophomore campaign.
More than Secondary Stars – Ryan Ochoa (Newport) and Erik Anderson (Newport Central Catholic) are two of the district's top returning defensive backs. Ochoa, who has 135 tackles and five takeaways during his career, also hauled in 28 catches for 456 yards and three scores as a junior. Anderson intercepted four passes a year ago will be counted on more as a receiver as a senior as he looks to increase his 10 reception total.