Unfinished business at NewCath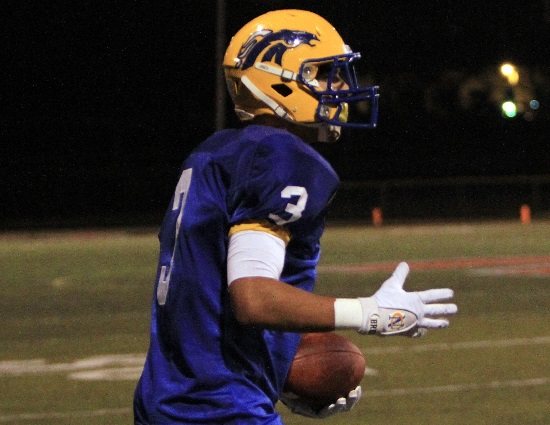 There is little doubt what will be driving the Newport Central Catholic football team this fall. Back-to-back losses to DeSales in the state finals the past two years has left the Thoroughbreds' senior class with a void that they desire to fill.
A proven nucleus returns for NewCath and one that knows they have to turn it up a notch to bring home the sixth state title in school history.
The defense returns a very good core of talent. Head coach Dan Wagner will be able to unleash a veteran group and really put pressure on the opposition this fall.
That will play right into NewCath's hands with an offense that should be very potent at the skill positions. When the Thoroughbreds get ahead early and it will happen often they are going to give their foes fits.
All the pieces are in place it is just about finishing the job. Wagner won't have to dig deep to motivate this bunch, they know what their mission is and will be focused on achieving the ultimate goal.
Class 2A, District 6
2014 RECORD: 8-6, 4-0 Class 2A, District 6, State runner-up
COACH: Dan Wagner (18-11 @ NewCath, two years, 18-11 overall)
HONOR ROLL
Jacob Smith, Sr, RB/DB – One of Northern Kentucky's top players, Smith ran for 1,490 yards and 25 touchdowns last season. He earned First Team All-NKFCA for his efforts. Smith has 2,777 yards with 43 touchdowns rushing and 51 trips to the end zone during his career.
Maleek Lawrence, Sr, OL/DL – Lawrence became a real leader on the defensive side of the football for the Thoroughbreds last fall. He was in on 98 tackles with two fumble recoveries on his way to being named First Team All-NKFCA.
TOP RETURNEES
Erik Anderson, Sr, DB – The top secondary player for the Thoroughbreds, Anderson came up with four interceptions as a junior. He also serves as the team's backup quarterback.
Konner Carmack, Sr, DL – Carmack has 56 tackles over the past two seasons and is an anchor in the trenches of the NewCath defense
Peyton Davis, Sr, LB – Lost in the shuffle of some very good talent on the T'breds defense, Davis came up big with 105 tackles a year ago. He also came up with three takeaways (two fumble recoveries, one interception).
Job Freppon, Jr, LB – Don't be surprised if Freppon has a breakout season. He showed signs of being a very good football player as a sophomore.
John Harris, Sr, RB/LB – Harris brings it each week a leader on both sides of the ball for NewCath.
Patrick Henschen, Jr, QB – Henschen did an excellent job of taking care of the football with only six interceptions and 12 touchdowns tosses. Three of those picks were in the finale after he had gone 10 weeks without an interception. He finished the year with 1,480 yards passing.
Luke Kues, Sr, DE – Kues should be able to take advantage of one-on-one matchups and post more than a handful of sacks as a senior. He has 119 tackles in his career.
Austin Neff, Jr, DE – A key member in what should be a potent pass rush for the Thoroughbreds this season, Neff finished his sophomore year with 47 tackles.
Kurtis Sutkamp, Jr, LB – A solid varsity debut saw Sutkamp get in on 46 tackles as a sophomore.
Kobe Tallon, Sr, LB – Tallon is a tackling machine finished his junior year with 154 total tackles. He has 259 tackles at the varsity level.
PLAYOFF HISTORY
Eight finals appearance in 10 years and the Thoroughbreds have four state titles in that span.
State Champions (5) – 2012, 2010, 2006, 2005, 1984
Regional Champions (14) – 2014, 2013, 2012, 2010, 2008, 2007, 2006, 2005, 2001, 2000, 1986, 1985, 1984, 1983
District Champions (22) – 2012, 2013, 2014, 2011, 2010, 2009, 2008, 2007, 2006, 2005, 2003, 2001, 1993, 1990, 1989, 1987, 1986, 1985, 1984, 1983, 1974, 1965
2015 SCHEDULE
Class 2A, District 6 will be much tougher as Newport and Lloyd are coming off eight win seasons. There is a big target on the Thoroughbreds back. Another tough non-district schedule will get NewCath prepared to handle the barrage and make another long post-season run.
CLASS 2A DOMINANCE
All eight of NewCath's victories in 2015 were against Class 2A squads. The Thoroughbreds started the season 0-4 versus three Class 6A schools, including state runner-up Dixie Heights and Cooper a Class 5A final four squad. The T'breds caught fire after that winning eight of nine contests by an average of 26 points. There only losses down the stretch were to Class 1A Beechwood and DeSales in the state final.