Things turning around at Milford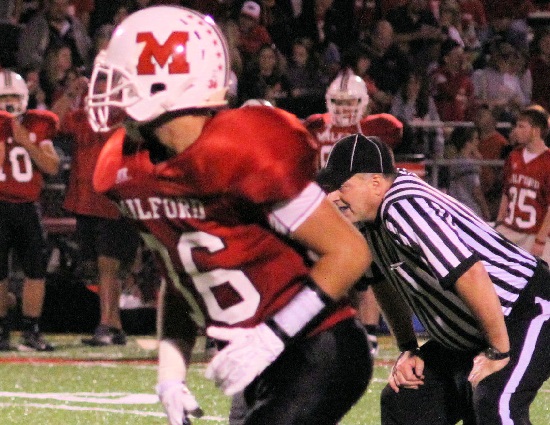 Things might have finally turned the corner for Milford head coach Shane Elkin and his troops. The Eagles finished last season on an up note winning there finally two games including a three point thriller over Loveland in the finale. That victory gave the program its first non-losing season since 2009.
Keeping that mojo going is the next hurdle for Elkin and the Eagles. "We graduated an outstanding senior class and will replace 13 starters from last year's team. While we are very excited about this year's senior class we are replacing our starting quarterback, our starting running back and our most productive defensive player. It is my belief the future looks bright for the Milford Eagles. We anticipate a senior class of over 30 athletes and continue to see increased competitiveness. We are also having a great off-season" Elkin says.
Division I, Region 2
2014 RECORD: 5-5, 3-4 ECC
COACH: Shane Elkin (14-36, five years @Milford, 14-36 overall)
HONOR ROLL
Ben Greenwell, Sr, WR – Greenwell was named First Team All-Southwest District as a punter last fall. His skills go way beyond kicking as Greenwell also caught 50 passes for 624 yards and seven touchdowns.
Noah Robinson, Sr, DB – A First Team All-ECC selection as a junior of his three takeaways Robinson returned a fumble 82-yards and an interception 96-yard for touchdowns.
OTHER RETURNEES
Josh Bobo, Sr, LB – When healthy Bobo is a key member of the Eagles defense he has been in on 45 total tackles in 14 games over the past two campaigns.
Dominic Dalessandro, Sr, DB – Had a team high 43 solo tackles in '14 Dalessandro also had a fumble recovery and an interception.
Clay Knecht, Sr, OL – One of the leaders up front for the Eagles offense the team will need Knecht to step up and be a leader.
Alex Shiplett, Sr, DB – Had a team high three interceptions in '14 and also recorded 32 total tackles.
NEWCOMERS
"After graduating two year starters at both quarterback and running back we are looking forward to this off-season. At quarterback rising juniors Eric Richey and Tyler Smith will be battling transfer Zack Buhler along with rising sophomores Blake King and Kyle Music. At running back senior Tyler Brandon will be competing against rising juniors Dawson Slone and Jake Davis. Finding quality replacements at these positions is crucial to our programs success" coach Elkin states.
PLAYOFF HISTORY
(one appearance, 0-1) – 1986
2015 SCHEDULE
If you want to be considered an upper echelon team you need to answer the call against quality competition. The Eagles will face Kentucky's big School state runner-up, Dixie Heights as well as Hamilton and Division IV Norwood during their non-conference schedule. Milford will host Withrow, Anderson, Kings and Turpin in ECC play. They will have plenty of opportunities to show they have taken the next step up.
SINK OR SWIM
Milford averaged 35.8 points in its five wins last fall. The Eagles averaged just 14.4 points per outing in their losses.