Waynesville looks to take next step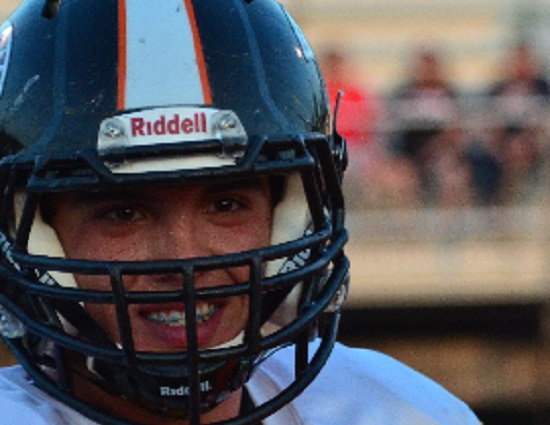 Day by day, inch by inch the Waynesville football program just continues to get better and better under head coach Brandon Philpot. The Spartans churn out senior class after senior class of winners and this fall will be no different.
The members of the Waynesville Class of 2015 will enter their final go round having been a part of 15 wins at the varsity level. They were also two and four point losses away from advancing to the second round of the playoffs in each of the last two seasons.
Waynesville has made the post-season seven times in the last eight years. "We will have consistency within our program and our players know how to win," Philpot states of his group in '15.
That is important because the Spartans lose plenty of quality skills players from last year's squad. They will be "inexperienced in many key positions. We have a lot of competition for spots and the younger players are hungry to get on the field," Philpot states.
In the end, expect what we normally see out of this program under Philpot. The seniors will lead and the other players will contribute when their number is called. The next man up is always prepared and usually produces and that is what has made the Spartans a perennial playoff contender.
Division V, Region 18
2014 RECORD: 7-4, 5-1 SWBL Buckeye
COACH: Brandon Philpot (41-14 @ Waynesville, five years, 41-14 overall)
TOP RETURNEES
Chase Struewing, Sr, DL – An outstanding junior campaign saw Struewing be named the SWBL Buckeye Defensive player of the year and Third Team All-Ohio. He was in on 63 total tackles with three and a half sacks and recovered a fumble for a touchdown.
Eli Elton, Sr, OL – The anchor of the o-line Elton was a Honorable Mention Team All-SWBL Buckeye pick in '14.
Isaiah Bauer, Sr, WR/DB – A First Team All-SWBL Buckeye pick as a junior Bauer had 23 receptions for 354 yards with four touchdowns. On defense he picked off two passes.
John McCloud, Sr, DL – McCloud was a Second Team All-SWBL Buckeye member as a junior. He had two sacks for the Spartans.
Cole Phillips, Sr, OL – Phillips will be called upon to provide leadership up front for Waynesville.
NEWCOMERS
Eli Bennett, So, Slot – A real threat in open space Bennett lettered as a freshman after playing in nine games. He had a receiving and a rushing touchdown on 14 offensive touches.
Chris Bradley, So, LB – Coach Philpot is looking for Bradley to make an impact in his first season at the varsity level.
Jimmy Plummer, So, LB – Plumber played in six games as a freshman and had a sack.
Dagan Stiles, Jr, DB – Keep an eye on Stiles who will likely be a factor on defense but may also ame his presence felt on defense.
PLAYOFF HISTORY
(nine appearances, 2-9) – 2014, 2013, 2011, 2010, 2009, 2008, 2007, 1999, 1981
2015 SCHEDULE
Waynesville has big changes in the non-conference schedule highlighted by the omission of rival Clinton-Massie. The Spartans replace the Falcons with a young and talented Indian Hill team in Week 2. The opener at Bellbrook, a pair of road affairs at Blanchester then Carlisle and a crossover SWBL matchup versus Franklin in the first six Friday's will test the fortitude of Waynesville. All of those teams will be in the running for playoff berths deep into the year. Grabbing wins in those affairs will do the Spartans favors in the Harbin Ratings…..FULL SCHEDULE
BIG WINNERS, TOUGH LUCK LOSERS
Over the past three seasons Waynesville has gone a combined 22-10. In 1012 & '13 they won 13 of their 15 games by 18 points or more. The Spartans other two victories were by seven and three points. Last fall Waynesville won all seven of its affairs by nine points or more.
Of the Spartans 10 loses in the past three seasons, seven of them have been by seven points or fewer (five by four points or less). Five times over the past two campaigns Wayensville has lost by seven or less. That includes a four-point loss to West Jefferson in round one of the playoffs in '13 and a two-point defeat to CHCA in '14.
Greg is a co-founder of TSF and is now entering his ninth season as a Featured Analyst for the website. The Xavier University grad also serves as the Content Manager for the website and is widely considered one of the top high school football experts in the region. If you are interested in covering your team, please CONTACT US.