Mohawks backfield runs wild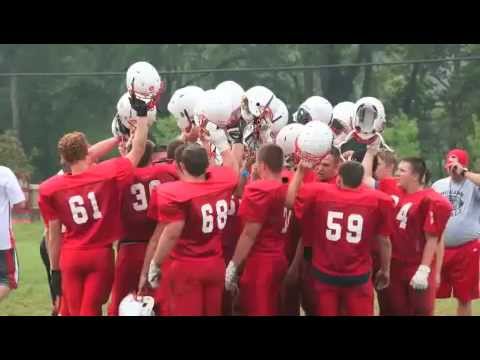 One of the hottest small school teams heading into 2015 is Madison Senior. The Division V Mohawks won their final five contests last season. They did so with an impressive rushing attack lead by a trio of juniors – Nick Svarda, Zach Friend and Stephen Melton. Take a look at how impressive this combination was to close out last season.
Svarda, a transfer from Carlisle ran for 160 or more yards four times in Madison Senior's final five wins including a career high 251 yards on 25 carries versus playoff against Waynesville (playoff team). He finished the season with 1,030 yards and 14 touchdowns rushing in eight games of which 853 of those yards and 13 of those scores came in the Mohawks final five games.
Friend finished the year with back-to-back outings of 101 yards rushing while scoring six of his eight touchdowns on the ground in the final three affairs. He ended the season with 692 yards on the ground of which 210 came in a Week 4 loss to Preble Shawnee. Over Madison's last four victories Friend averaged 84.8 yards rushing and 9.0 points per game.
Melton missed the first two games of Madison winning streak after running for 83.8 yards with four total touchdowns during the first five contests of the year. He returned with a fury running for 143, 108 and 88 yards (113.0/game & 9.9/carry) with six total touchdowns in the Mohawks final three wins. In eight tilts Melton rang up 758 yards and 10 touchdowns on the ground.
Svarda, Friend and Melton accounted for 90.7% of Madison Senior's yards on the ground (2,480 of 2,734 yards) and 86.5% of the Mohawks rushing touchdowns (32 of 37) a year ago. With all that production coming back and confidence building you have to like this squad's chances to make its post-season debut.
Greg is a co-founder of TSF and is now entering his ninth season as a Featured Analyst for the website. The Xavier University grad also serves as the Content Manager for the website and is widely considered one of the top high school football experts in the region. If you are interested in covering your team, please CONTACT US.
– See more at: https://tristatefootball.com/articles.asp?ArticleID=6642#sthash.iIJFwpVg.dpuf