Milton-Union could be fierce up front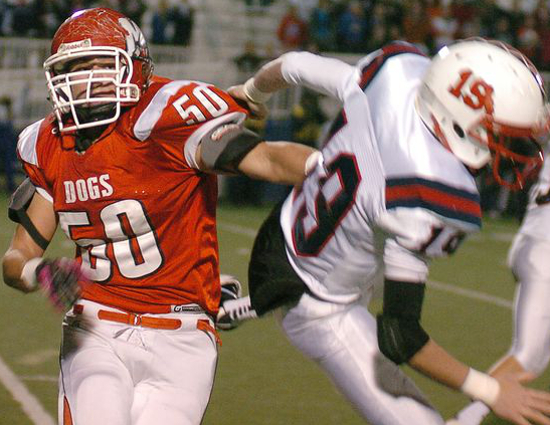 At first glance of the 2015 Milton-Union squad one thinks there are a ton of holes to fill and lots of unproven players at the varsity level to try and fill them with. That may sound daunting but the Bulldogs have the talent to step up be a pleasant surprise this fall. It will be all up to them to make plays and their ability to do so will be the difference in Milton-Union's success in the win column.
The Bulldogs aren't going to overwhelm anyone with their size up front but. The Milton-Union linemen do have experience at there advantage. They are a good mix of young and veteran players. This team will have a 1,000 yard runner like they do on an annual basis.
Who emerges as the Bulldogs top threats out of the backfield remains to be scene. The good news for head coach Mark Lane is that there are options and that will make for good competition going into the opener at Miami East. "Our strength will be our team speed and quickness," Lane says
"I am looking forward to teaching a great group of young men the game of football," Lane states. He will need those youngsters to forget their age and act like they have been there before. That will be a huge plus if this team can get past its lack on field snaps.
Division V, Region 18
2014 RECORD: 3-7, 3-3 SWBL Buckeye
COACH: Mark Lane (5-15 @ Milton-Union, two years, 5-15 overall)
TOP RETURNEES
Zac Bambic, Sr, OL/LB – Coach Lane would enjoy nothing more than to see Bambic have a breakout senior season.
Tyler Courtright, So, OL/DL – Even though he is only a sophomore Courtright will be called upon to take on some leadership roles. He could emerge as a hidden gem for the Bulldogs this season.
Jacob Hill, Sr, C – The offense starts with Hill expect him to be a great asset to whomever Milton-Union settles in under center.
Keaton Lucous, Jr, OL/DL – There is no reason why Lucous can't be an all-league or all-district performer. He has all the tools to be special. Lucous had three sacks and recovered a fumble as a sophomore.
Austin Menker, Sr, LB – Having Menker play a full 10 games at linebacker will help stabilize the Bulldogs defense and leadership.
Alex Moore, So, QB – The Bulldogs used three different quarterback last season but it was Moore who finished the year under center. He only completed eight passes on the year but three of those went four touchdowns and he did not throw an interception.
Zac Shields, So, RB/DB – Shields made an impact late in his freshman season. He ran for 152 yards, averaged 9.5 yards per carry with two touchdowns over the Bulldogs last three contests. Appearing in all 10 games Shields also racked up 253 return yards with a punt return for a touchdown.
Joey Swafford, Sr, WR – Swofford will move to receiver but don't be surprised to see him get some carries each week. He had two interceptions in seven games as a junior.
Krue Thwaits, Jr, RB/LB – Coach Lane is expecting big things out of Thwaits on both sides of the ball over the next two seasons.
PLAYOFF HISTORY
(six appearances, 5-6) – 2012, 2011, 2007, 2006, 2005, 2002
2015 SCHEDULE
There is no reason that Milton-Union can't get back to .500. They should be competitive with everyone on their schedule except for Division II Tippecanoe. The Bulldogs rivalry with Tipp is doing Milton-Union no favors on a yearly basis.
SINK OR SWIM
Milton-Union scored 50 points in all three of its wins last season. In six of their seven losses the Bulldogs scored 14 points or fewer.