Cougars aim for top tier of MVC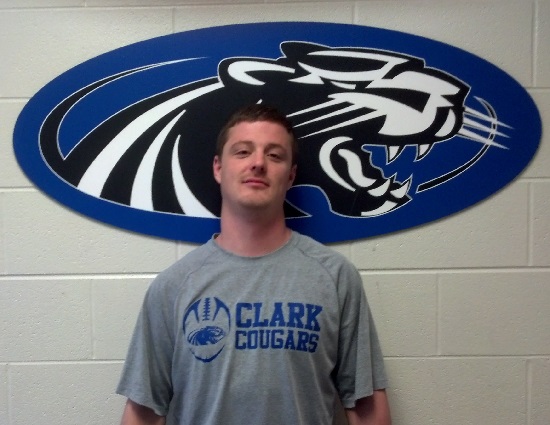 The table is set for Clark Montessori to get to the playoffs for the first time in school history. It will be up to the Cougars to execute on the field.
"We have a very experienced senior class, with most entering their third or fourth year as starters. We have a strong pass rush with ends Charles Behanan and Damian Blythe and look to improve upon a rushing attack that flourished the last six weeks of the season as the offensive line (four returning starters) began to understand key concepts," head coach Joe Berta states.
Staying healthy will be a key as injuries to a very good first team could derail this teams trek to the postseason.
Division V, Region 18
2014 RECORD: 5-5, 4-3 MVC
COACH: Joe Berta (11-9 @ Clark Montessori, two years, 11-9 overall)
HONOR ROLL
Damian Blythe, Sr, LB – Blythe set the school record with 14.0 sacks last season. He was in on 103 total tackles with three forced fumbles and two fumble recoveries on his way to earning Second Team All-Southwest District as a junior.
Darius Chatman, Sr, WR/DB – A force in all phases of the game Chatman scored six touchdowns (three rushing, three receiving) on 27 offensive touches. Defensively he was in on 44 tackles and returned a fumble for a touchdown on his way to First Team All-MVC accolades. Chatman has eight career takeaways (four fumble recoveries, four interceptions).
Micah Blythe, Sr, WR/LB – A First Team All-MVC selection Blythe set the school record with 1,682 all-purpose yards (976 rushing) while finding the endzone 13 times (10 rushing, three receiving)
Charles Behanan, Sr, TE/DE – The 6-foot-3, 195 pound Behanan recorded 7.5 sacks and get in on 53 tackles to earn Second Team All-MVC honors as a junior.
Eric Prather, Jr, OL/OLB – As a sophomore Prather 75 tackles with 2.5 sacks and a fumble recovery. He was named Honorable Mention All-MVC for his work.
OTHER RETURNEES
Mark Secen, Sr, QB/DB – Injuries cut Secen season short after six games last fall. He has thrown for 804 yards and seven touchdowns during his career.
Patrick Herbst, Jr, OL/DL – Herbst has a high-motor and was in on 36 total tackles and had two sacks as a sophomore.
NEWCOMERS
Joseph Cook, S, QB – Don't be surprised if Cook finds his way into a rotation at quarterback.
Gary Bryant, Jr, OL/DL – Look for a big junior season from Bryant who was in on 16 tackles as a sophomore.
Alonzo Corbin, So, LB – A smashing varsity debut saw Corbin was in on 45 tackles with four sacks as a freshman.
PLAYOFF HISTORY
(no appearances, 0-0 overall)
2015 SCHEDULE
A tough league schedule that includes games versus North College Hill, Summit Country Day and CHCA and a non-conference game with Division III Ponitz Tech will leave little margin of error for the Cougars in their other six contests if they want to make the playoffs.
CLOSING THE DEAL
The difference between a good season and a great one came down to finishing off opponents in 2014. The Cougars lost three games by five, six and eight points. A 59-0 loss to league and Region 18 rival CHCA lets Clark Montessori know just how hard they need to work to make the playoffs.