Clifford's heart is in Happy Valley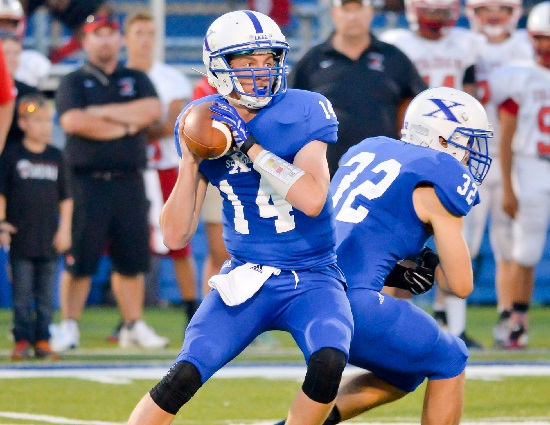 Saint Xavier junior quarterback Sean Clifford did not waste any time deciding on his college of choice. According to Saint Xavier head coach Steve Specht, Clifford's heart was in Happy Valley at Penn State University.
"Sean (Clifford) made an unofficial visit in June and then attended camp," Specht said. "The coaching staff made an impact during the spring by coming in and recruiting, watching him throw, and showed a lot of interest. After Sean (Clifford) camped he knew where his heart was. As soon as they offered it was over. He knew this is where he wanted to be."
Ten other schools offered Clifford a scholarship, including Cincinnati, Kentucky, Northwestern and Louisville.
Clifford was very quick to announce his intentions as he was the first player to join the Penn State 2017 recruiting class. According to Yahoo Rivals.com, Clifford ranks as the best quarterback in the state among his class, and 157th overall among all positions in the nation.
"Sean was diligent in his evaluation of all the school's that recruited him," expressed Sprecht. He was able to visit a few places. Ultimately Penn State offered Sean everything for which he was looking."
Clifford led St. Xavier to a 10-3 record last season. Two of those losses were against Moeller, which one came in the second round of the state playoffs. As only a sophomore, he threw for 832 yards and nine touchdowns in nine games.
His ability to throw the football did not just come overnight. He was throwing the pigskin around on the middle school level where he played for CHCA. He was taller and faster than most of his competition, and was throwing so hard at that level that the receivers were having a difficult time catching the football. After talking with his middle school coach, Chad Leland, Clifford was a leader even at that level.
"Sean has a special talent, and that was evident as a 6th grader," said Leland. "He's a great young man and is going to do great things."
For this upcoming season expectations are even higher than a year ago, and a majority of that success will fall in the hands of Clifford and the rest of the offense.
"I think we have the opportunity to be special offensively and that rests with how Sean develops and plays," Specht said. "I expect Sean to be the best he possibly can, nothing more, nothing less."