Mariemont performs for Commins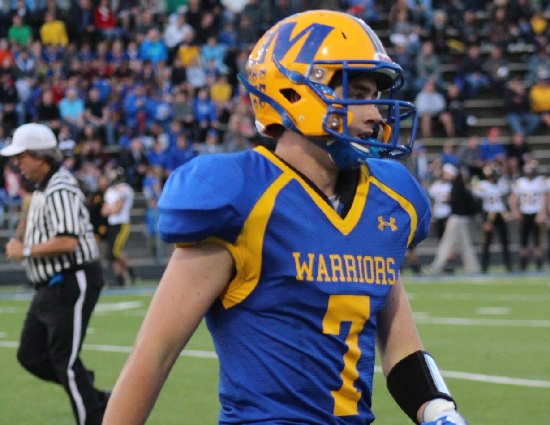 The Mariemont football program is back on track under the guidance of head coach Kurry Commins. The Warriors will be looking for their third straight post-season appearance in 2015. It is a feat that has only been accomplished by the program one other time in its history (1994-'96). A move up to Division IV, Region 14 did not do Commins and his boys any favors. Getting back to the playoffs is going to be a monumental task in such a stacked region.
Look for Mariemont to be explosive on offense as they bring back a group of speedy skill players. The Warriors defense will be tested big time against some high-powered opponents. Mariemont lost four of its final six contests a year ago. The average margin of defeat in those losses 24.7 points. It all comes down to stopping good, playoff caliber foes. Solving that mystery is not going to be easy but the Warriors will have plenty of opportunities to figure that out during the regular season.
Division IV, Region 14
2014 RECORD: 7-4, 4-3 CHL
COACH: Kurry Commins (14-8 @ Mariemont, two years, 82-57 overall, 13 years)
TOP RETURNEES
Danny Woodruff, Sr, DL – An Honorable Mention All-CHL performer as a junior Woodruf registered91 total tackles with 3.0 sacks.
Aaron Urevick, Sr, RB/DB – One of the great comeback stories of '14 Urevick ran for 694 yards and nine touchdowns. He also caught 16 passes for 119 yards and two scores.
Ryan Fields, Jr, RB – Fields will be part of a potent 1-2 punch out of the backfield with Urevick. He finished his sophomore season with 533 yards and six touchdowns on the ground.
Charlie Zack, So, WR – Playing at the varsity level wasn't difficult for Zack who had 17 receptions for 282 yards in seven games as a freshman.
Ethan West, Sr, LB – West emerged as one of the Warriors top defenders in '14. He was in on 88 total tackles with a sack as a junior.
Seniors Will Ciolino, Collin Widecan and Joey Kromer are the nucleus of a solid secondary which should be one of the Warriors strengths this fall. Widecan has seven career interceptions and more than 100 total tackles. Kromer and Ciolino each had a pick last season.
Gunnar Nixon, Jr, K – Every team could use a "gunner." Nixon was outstanding as a sophomore going 30/33 on extra points and connecting on 5/7 field goal attempts.
PLAYOFF HISTORY
(12 appearances, 8-12 overall) – 2014, 2013, 2005, 2003, 1996, 1995 (State Runner-Up), 1994, 1991, 1990, 1984, 1980 (State Runner-Up), 1974 (Regional Champions)
2015 SCHEDULE
Mariemont will face four teams that made the playoffs in '14 – Shroder, Taylor, Wyoming and Madeira. Wyoming is still the gold standard in the CHL. The Warriors have fallen to the Cowboys the past two seasons by a combined 86-17 score. Add in affairs with Oakwood, Batavia, Indian Hill and Reading who are all vying for Region 14 playoff berths and the Warriors are in for a dogfight.
WILL THE REAL WARRIOR PLEASE STEP FORWARD
Mariemont has won 14 games during the Kurry Commins era. Four of the last 11 victories have been by seven points or fewer. The last six losses by the Warriors haven't been pretty (including two playoff defeats. The club has fallen by an average score of 38.0 to 9.8 in those games.
PICKS LEAD TO PLAYOFFS
One big reason why Mariemont has made the post-season the past two years is the ability to come up with timely takeaways. The Warriors have a combined 23 interceptions over the last two campaigns.